When it comes to online appointment scheduling, Calendly is often the go-to solution. However, different businesses and professionals have varying needs, making it essential to explore the array of alternatives available. In this comprehensive guide, we focus on 15 alternatives to Calendly, kicking off with Setmore and Book Like A Boss, detailing their unique features, pros, cons, and which subscriber they'd best serve.
1. Setmore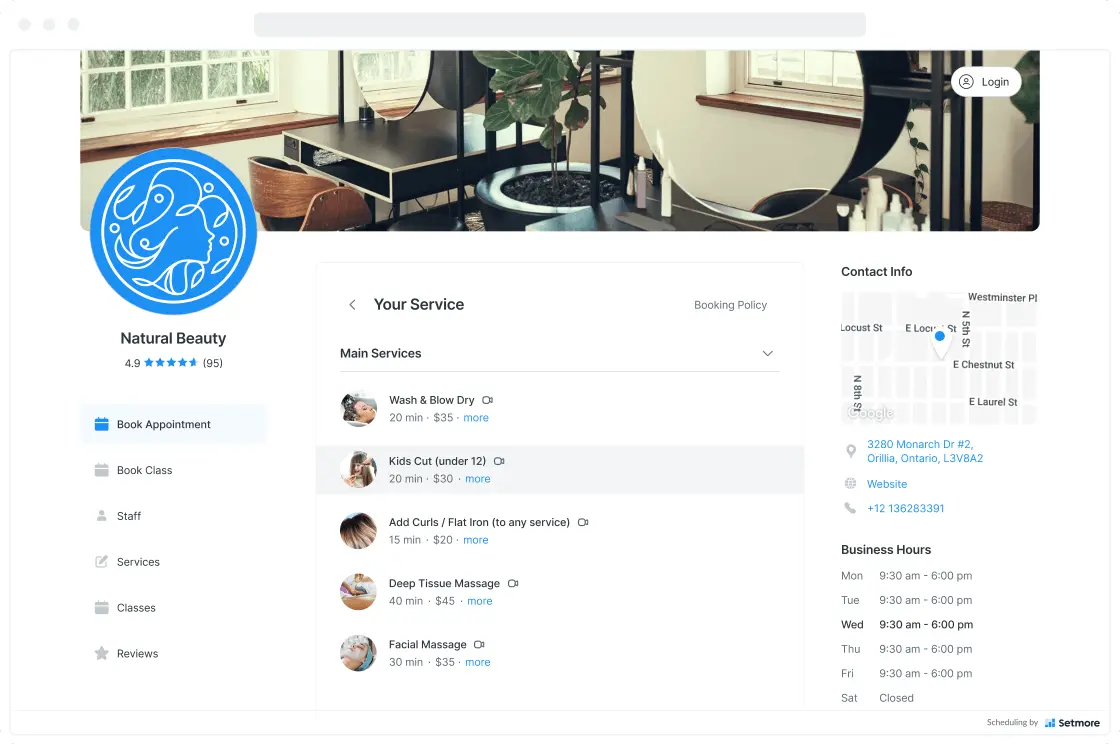 SetMore is a comprehensive appointment scheduling software that allows businesses to manage their bookings, appointments, and schedules efficiently. This software offers a wide range of features, including online booking, automated reminders, customer reviews, and staff management.
SetMore is designed to streamline the appointment scheduling process, making it easy for both the business and its clients. Clients can book appointments online at their convenience, and businesses can easily manage these bookings.
The software also includes automated reminders, which can help reduce no-shows and ensure clients remember their appointments. The customer review feature also allows businesses to receive and manage feedback, helping them improve their services.
The staff management feature of SetMore enables businesses to manage their staff's schedules, assign tasks, and track their performance. This feature can help businesses ensure their staff is working efficiently and effectively.
SetMore is a versatile and user-friendly software that can benefit businesses of all sizes and industries. It is a valuable tool for businesses looking to improve their appointment scheduling process and enhance their customer service.
Setmore Website
Pros: Free tier, easy to set up.
Cons: Limited customizability, fewer integrations.
Best For: Small businesses or individual freelancers seeking simplicity and basic scheduling options.
2. Book Like A Boss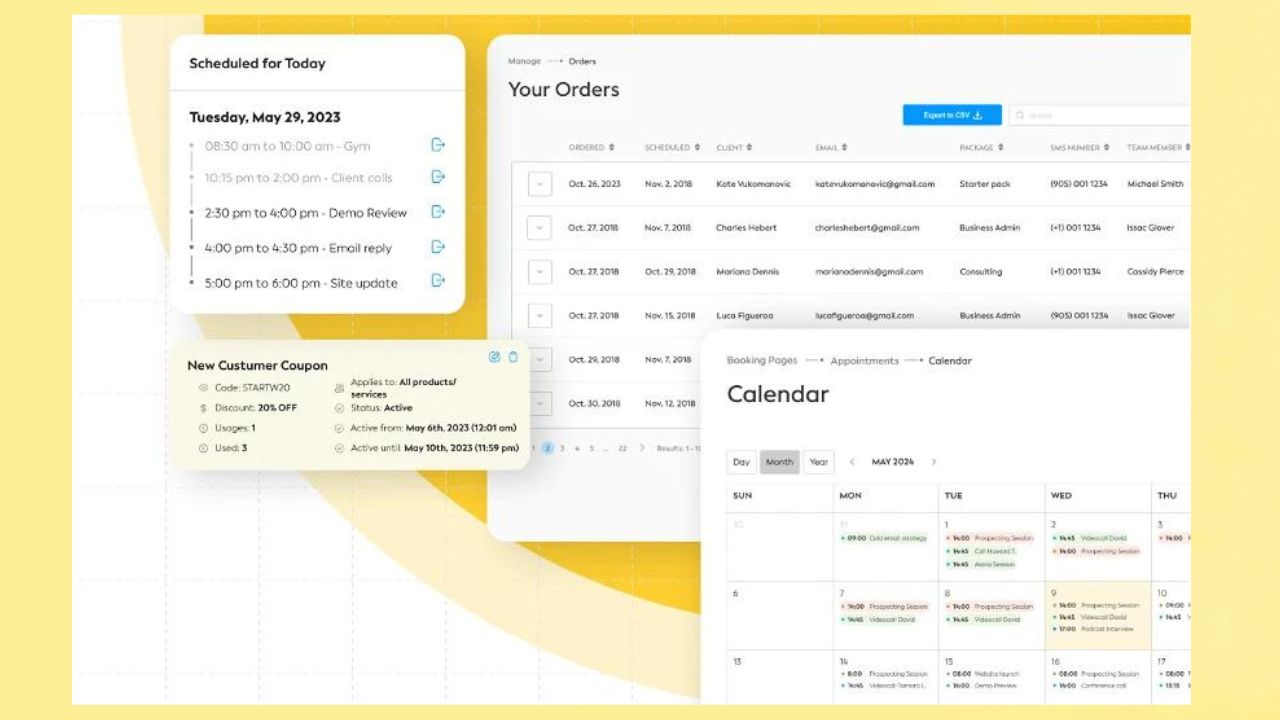 Book Like A Boss is a robust scheduling software that simplifies the process of managing and booking appointments for businesses. This platform offers a suite of features including online scheduling, payment processing, and customizable booking pages, making it a one-stop solution for all your booking needs.
With Book Like A Boss, clients can easily schedule appointments at their own convenience, reducing the hassle of back-and-forth communication. The platform allows businesses to set their availability and services, giving them full control over their schedules.
One of the key features of Book Like A Boss is its integrated payment processing. This allows businesses to accept payments at the time of booking, streamlining the payment process and ensuring secure transactions.
The software also offers customizable booking pages, enabling businesses to create a professional and personalized booking experience. These pages can include service descriptions, pricing, and even multimedia content like videos and images.
Furthermore, Book Like A Boss integrates with popular calendar apps and social media platforms, making it easy for businesses to manage their schedules and promote their services.
Whether you're a small business owner, a freelancer, or part of a large corporation, Book Like A Boss is a versatile and efficient tool that can help you manage your appointments, boost your productivity, and enhance your customer service.
Book Like A Boss Website
Pros: Combines scheduling with eCommerce features, customizable landing pages.
Cons: May be overkill for simple scheduling needs, paid plans only.
Best For: Entrepreneurs and businesses requiring more than just a scheduling tool; offers a feature-rich, comprehensive solution.
3. TidyCal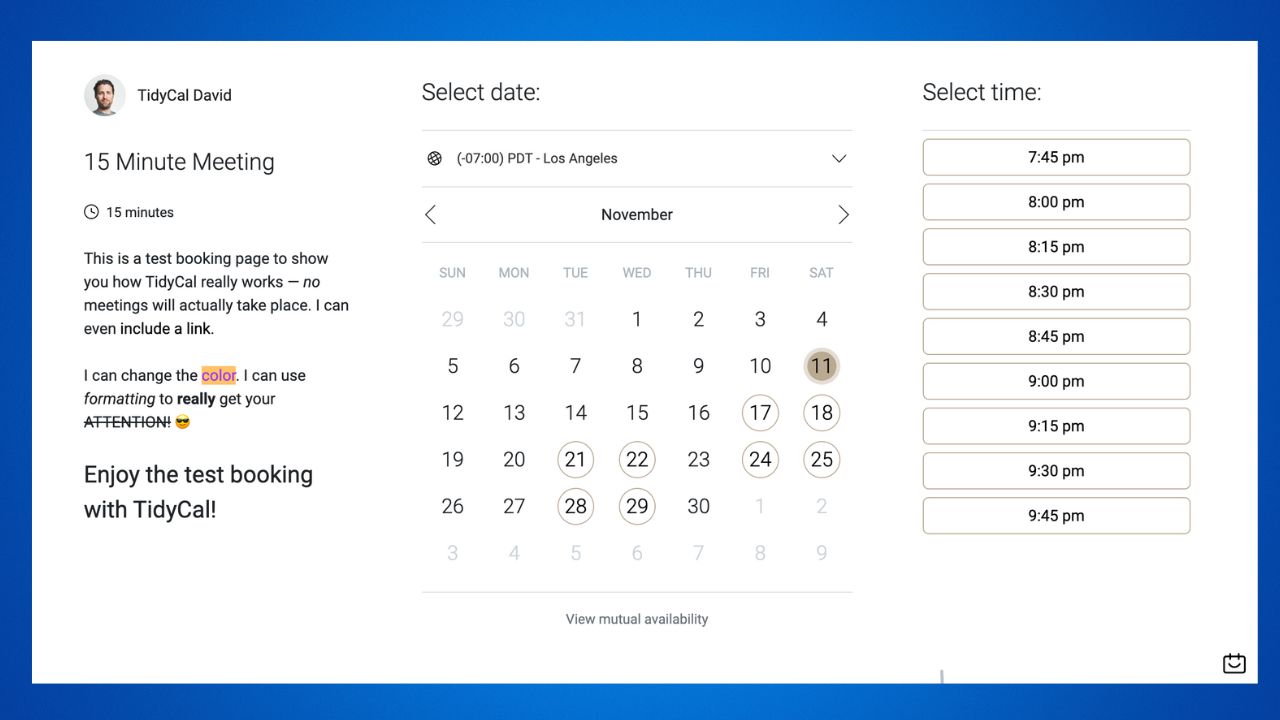 TidyCal Website
Tidycal is a sleek and minimalist scheduling software designed for individuals and freelancers who value simplicity and efficiency. Its clean and intuitive interface makes scheduling appointments a breeze, eliminating unnecessary complexity and focusing on the essentials.
One of the biggest pros of Tidycal is its minimalist design. The platform is stripped back to only the most necessary features, making it incredibly easy to use. It's perfect for those who want a straightforward solution for their scheduling needs without the distraction of complicated features.
Despite being new on the market, Tidycal has already made a name for itself thanks to its user-friendly design. It allows users to easily set their availability, schedule appointments, and manage their calendar. The software also integrates with Google Calendar, allowing users to keep all their appointments in one place.
One of the potential cons of Tidycal is its limited features compared to more established competitors. However, for users who value simplicity and ease of use over a wide range of features, this is unlikely to be a problem.
In summary, Tidycal is best for individuals or freelancers who need a simple, no-frills solution for their scheduling needs. Its minimalist design and ease of use make it a great choice for those who want to streamline their scheduling process without the hassle of complicated software.
Pros: Highly customizable, extensive integration options.
Cons: Best suited for intricate scheduling scenarios, no free plans.
Best For: Businesses that require complex scheduling and high-level customization.
4. Doodle
Pros: Simple to use, free tier available.
Cons: Limited automation and integration capabilities.
Best For: Individuals or small teams seeking a basic, no-frills scheduling tool.
5. Microsoft Bookings
Pros: Smooth integration with Microsoft tools, comprehensive features.
Cons: Best suited for businesses already using Microsoft services, no free plan.
Best For: Organizations deeply entrenched in the Microsoft ecosystem, who can benefit from seamless integrations.
6. 10to8
Pros: In-built messaging, strong analytics tools.
Cons: More suitable for larger teams, steeper learning curve.
Best For: Larger businesses and enterprises that value data-driven decision-making and client interaction.
7. SimplyBook.me
Pros: Tailored for service-based industries, free tier.
Cons: Complex UI, additional features may add to costs.
Best For: Service-based businesses requiring industry-specific tools like online payments and promotions.
8. vCita
Pros: Comprehensive business tools, high degree of customizability.
Cons: Potentially expensive, may include unnecessary features.
Best For: Businesses looking for a robust all-in-one platform for client management, billing, and scheduling.
9. YouCanBook.me
Pros: Focuses exclusively on booking, excellent calendar integrations.
Cons: Limited feature set, higher cost for additional features.
Best For: Those who need a straightforward, calendar-centric booking solution.
10. Appointy
Pros: Comprehensive features, 24/7 support.
Cons: Overwhelming interface, no free tier.
Best For: Businesses that need a wide range of features and prioritize customer support.
11. Square Appointments
Pros: Integrated with Square's business tools, user-friendly.
Cons: Best for those already using Square, can get expensive.
Best For: Businesses already integrated into the Square ecosystem and needing scheduling to complement existing tools.
12. Schedulista
Pros: Simple to use, excellent customer support.
Cons: Limited features, not highly customizable.
Best For: Small businesses looking for a basic, easy-to-use scheduling tool.
13. Chili Piper
Pros: Designed for enterprise, robust analytics.
Cons: Expensive, geared towards larger organizations.
Best For: Larger enterprises needing a solution that offers strong analytics and integration with CRMs like Salesforce.
14. Plandok
Pros: Free tier available, multi-language support.
Cons: Limited features in free plan, may require add-ons.
Best For: Global businesses needing a basic scheduling tool with multilingual support.
15. AppointmentCore
Pros: Built for automation, strong Infusionsoft integration.
Cons: Geared towards a specific user base, expensive.
Best For: Businesses using Infusionsoft who need an automated, tightly integrated scheduling solution.
Conclusion
Calendly may be the industry leader, but it's far from the only player in the game. This comprehensive list showcases 15 robust alternatives, each with its unique set of features, advantages, and shortcomings. Whether you are a small business owner, a freelancer, or a large enterprise, there's likely a scheduling tool out there that's better tailored to your specific needs. Evaluate, choose wisely, and may your scheduling be ever seamless!