To help you navigate the confusing variability in pricing and ensure you get value for your hard-earned money, here is a short guide answering how much does a logo design cost.
Like road signs and emojis, logos are a universal language of sorts, as pioneering fashion designer Karl Lagerfeld once observed.
Many people around the world can quickly identify the logos of Apple and Coca Cola, among other companies, and perhaps even describe the perceptual appeal they represent, such as 'cool,' 'fun', or 'sophisticated.'
It is this memorability and capacity to evoke emotion that makes logos so valuable. If you need to boost the visibility of your business, stand out from the competition, and create a visceral attachment to your brand, having a logo should be high up on your list.
So, how much should you pay for a logo design? That depends on a variety of factors, which include the location and level of skill of the designer.
---
$0 to $50
If you want a logo without paying a dime, the only reasonable option is to make it yourself. This course of action will only work if you have some mastery of computer graphics, know how to use Adobe Illustrator or its competitors, and have the time.
The next cheapest do-it-yourself option is a logo generator. While the typical generator charges nothing for the service, you will have to pay anywhere between $10 and $50 to buy your design.
Logo generators offer a limited selection of icons and fonts, meaning that the eventual output may be somewhat generic. Your creation may also look a bit off if you lack training or experience in design.
You may also be able to find a freelance logo designer willing to do the job for as low as $5 on one of the numerous freelancing platforms on the web.
Check out, Fiverr artists.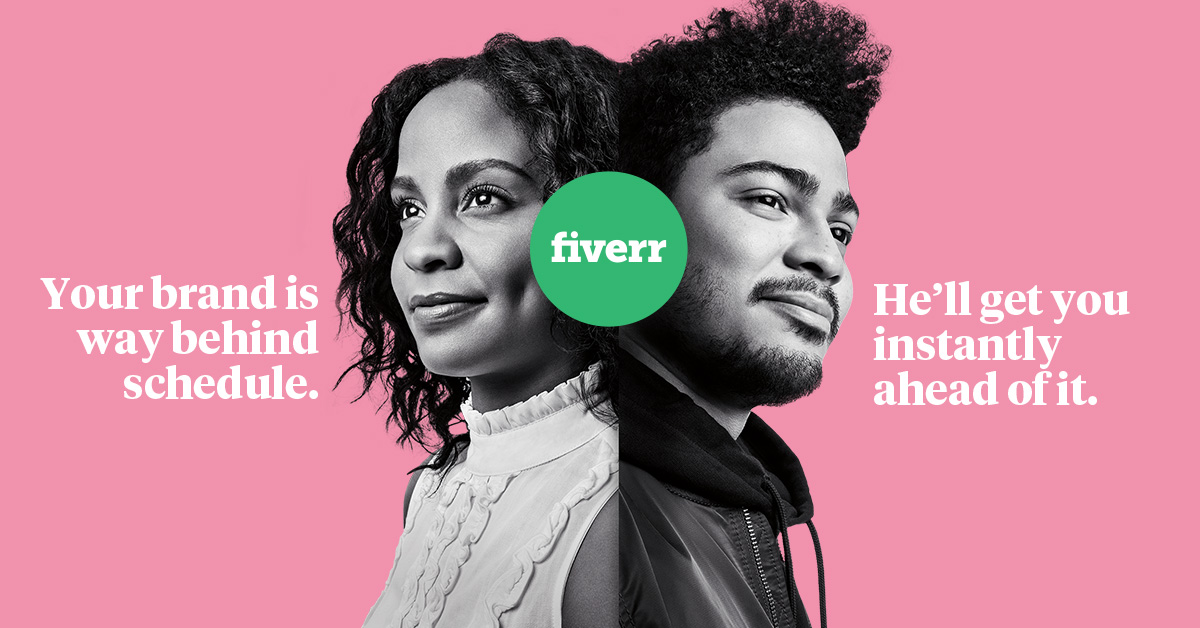 However, keep in mind that someone charging that little will definitely cut corners and give you a generic result at best – or a stolen design at worst, which could put you at risk of getting sued for copyright infringement.
That is not the only reason why you should steer clear of most low-cost logo design options.
Generic, low-quality logos practically guarantee that the design process has to be repeated. The costs of such redesigns and the attendant rebranding can quickly add up.
A bad logo design can also tarnish your business brand and put off prospective customers. In short, cheap can turn out to be very expensive.
For these reasons, most of the low-cost options discussed above are, perhaps, a sound choice if your branding requirements are short-term and unexacting – say, if you are promoting an informal, one-off concert. For critical, long-term branding needs, the options below are a far better choice.
---
$100 to $300
Unless your time or budget are extremely limited, $100 is arguably the least you should consider paying for a logo design.
For up to $300, you can expect a simple but professional design with a unique, well-defined company name and mark. Most designers will also be willing to provide at least two design concepts and, should the customer require them, a similar number of revisions.
Keep in mind, though, that what counts as 'simple' tends to vary from designer to designer. For this reason, look for a designer who is willing to work with you throughout the design process, and ensure that you make your expectations crystal clear.
Logo design contests on websites like 99 Designs are another option if you are planning to spend between 0 and 00.
These contests have several advantages – your pick of designs, depending on how many designers participate; a flat fee; and a quick turnaround time – but the drawbacks – the possibility of plagiarism and the attendant risk of lawsuits, for example – may make this option unsuitable if you are working on a longer-term branding plan.
In addition, design contests require a detailed brief that anticipates problems and provides solutions; if your grasp of design is wanting, you may struggle to create a suitable one, which can lead to disappointing results.
And if you would prefer to swap thoughts with a designer throughout the course of the design process, these contests will probably not work for you.
---
$400 to $1000
If you want a logo design with more complex fonts and patterns, expect to pay between $400 and $1000.
At this price range, most designers will provide up to 10 design concepts and an unlimited number of revisions, should you require them.
They will even throw in made-to-order design concepts for business cards, letterheads and envelopes; expect at least three concepts for each type of stationery.
Once you make your picks, your designer will save the logos in a web-optimized format for social media, blogs and websites, and a high-resolution vector format for printing.
---
$1500 to $2500
If you have been in business for a while and want the perfect logo for long-term branding, you will need to invest anywhere between $1500 and $2500.
Designers charging this much usually boast vast experience and require minimal supervision, which can be an advantage if you have a limited grasp of design or need help to refine your logo concept.
At this price range, you can expect creative designs, the right blend of colors and refined typography.
---
$2500+
If you want your logo designed by a professional design or branding agency, expect to pay anywhere between $2500 and $10000, or even more.
As you would probably imagine, this much cash nets you the whole shebang, including a team of professionals and specialty branding services.
Agencies typically conduct market research and competitor analyses during the design process to ensure that your logo design and brand stand out from the competition – and stand the test of time.
---
Closing Thoughts
Good logo designs are a sound investment. Apple's logo is a case in point; while it cost tens of thousands of dollars to create and eventually digitize, the logo was worth $39.3 billion in 2011, according to brand valuation consultancy Brand Finance.
Not a bad return on investment.
Of course, no business pays for a logo design with the intent of selling the results.
The value lies elsewhere – in anchoring a brand, differentiating a business from its competitors, winning business, and most importantly, winning hearts.