KWfinder is a WordPress plugin that helps you to boost your search engine rankings. It allows you to analyze the most popular keywords on Google traffic for your website, so you can optimize and focus on writing keyword-rich article content around those terms.
In this article, I will show how it works and give my honest review after taking a trial of the KWfinder software. Personally, I've always used SEMrush for my keyword research. SEMrush, however, is a more comprehensive SEO tool, and many of my followers have requested something that is cheaper and just focused on keyword research.
That's where KWFinder comes in.
KWFinder Pricing
KWFinder is not as comprehensive as SEMrush, but it's way cheaper at just $30 per month vs $99 per month. The great thing about KWFinder is that it will only show keywords that have search volume from Google Search Console, which means you'll know for sure that the keyword has traffic potential without having to do further research yourself. With the free trial, I did run into limitations after a few searches. If you are going to take the KWFinder free trial, make your first few searches key targets for your niche.
There are 3 pricing plans with annual discounts. You are getting the Mangools suite plans which range from $29.90 to $79.90 for the agency plan. While this tool is cheaper than the higher-end SEO tools like SEMrush or AHrefs, there are limitations to your searches.
For example, with the basic plan, you can research 24 keywords in a 24-hour time span. You can only get 200 keyword suggestions and 25 competitor keywords. In the agency plan, the competitive research is unlimited.
You can perform 200 searches in the SERPchecker in a 24-hour period, track 200 keywords, and analyze 20 URLS.
My takeaway after viewing the plans is that for me, this would be very limiting. I don't like limitations on research. That being said, for most beginners, this plan would be just right.
Keyword Research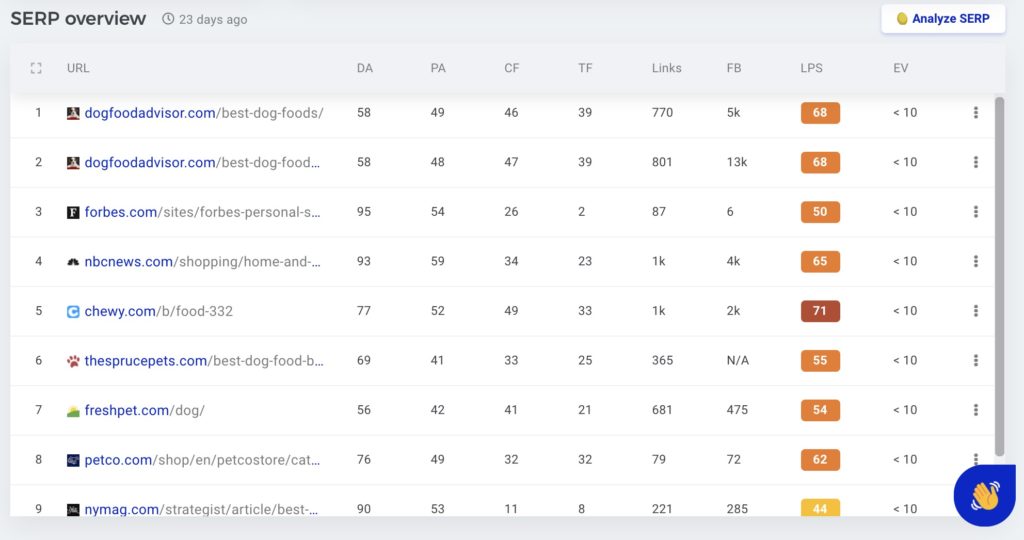 I tested the keyword research tool by entering a seed keyword into the search bar. The ability to search by any language or location is a nice feature. The results provide a list of related phrases to the seed keyword, their estimated search volume, cost per click, trending information, pay-per-click competition score, and the SEO keyword difficulty.
This is the correct information I would expect to see when performing keyword research. Another nice feature is Google Autocomplete. It takes the seed keyword and then pulls in other related searches people are performing on Google.
The questions feature is nice because it allows you to see the questions people are searching for on Google, which is useful in building out content ideas.
Competitive Analysis
Instead of using a seed keyword, you can enter any domain and see the keywords that it ranks for. This is great for competitive analysis to find ideas for content you could create for your own website.
While it's not as complete as the competitive research tool that SEMrush offers, it's a nice starting point. For me, the limitation of how many keywords I could access was a bit frustrating.
My practice is to perform competitive analysis on domains in my niche. I would then use filters to find the best opportunities including keyword difficulty, CPC, and search volume.
Next, I export all to a spreadsheet to create a content calendar. With KWfinder, you won't be able to access all of the competitor keywords at one time unless you upgrade to the premium pricing plan.
Therefore, I would automatically choose the premium pricing plan if I was going to subscribe to Mangools KWFinder.
KWFinder Chrome Extension
The chrome extension is a nice feature. If you are a chrome user, you can download the extension and access your keyword research easily.
KWFinder Alternatives
KWfinder is an affordable keyword research tool that offers a free trial, basic plan, premium plan, and agency plan.
Before making a decision, you might want to explore some KWFinder Alternatives such as:
Similarweb
Longtail Pro
Pro Rank Tracker
My final word on Mangools KWFinder is that it's a solid tool for someone who does keyword research on a regular basis and doesn't need all of the bells and whistles. You can get started with just their free plan, but to really take advantage of everything it has to offer, you will have to upgrade to the premium pricing.