In this article, we'll discuss some of the best productivity apps for Mac, and why you might want to use them.
Everyone has only so much time in a given day that they can commit to working on their Mac, and that means you'll probably want to be as productive as possible during those hours you have available. There are, of course, a few things you can do personally to improve your productivity, for instance, making sure that you're as alert as possible before you begin work.
But most of the gains in productivity that you'll see will involve finding the next great productivity app you can use on your machine.
Fortunately, quite a few of these productivity apps have been developed recently, so you'll have your choice about which of the different apps you care to use.
How much time do people spend on their Macs?
Professionally, the average user spends roughly 1,700 hours every year using their Mac to accomplish work tasks. That doesn't even take into consideration the amount of time they spend on personal use, and that could amount to a great deal more time spent on the machine. Most people will spend another 4-8 hours at home using their Mac for personal tasks, and even for enjoyment.
Given the fact that people spend so much time on their Macs, it would seem highly desirable to be as productive as possible when using it, even if it's just for home use. When you know about better ways of doing something, you really don't ever want to go back to doing things in the tedious, more difficult ways.
How productivity apps made our list
The criteria we used for determining whether or not a particular Mac app should make our list are as follows:
simple interface – any app you use should be very easy to access and put to use, and it should provide some major benefit to you. Navigating around a particular app is essential, and it can make the difference between something that's appreciated and something you'd rather avoid.
non-intrusive – when you use a productivity app, you'll want it to blend in easily and not disrupt your usage of other apps and features. There should be no disruptions at all when using add-on productivity apps.
good pricing – in many cases, the productivity apps we've recommended below allow you to work with it for some period of time before deciding to buy. If you do decide to go ahead with a purchase, you should be paying a reasonable amount each month, and not getting gouged for a product. We've tried to include only those apps that provide great value for the money you have to pay.
1) Droplr
Taking screenshots is a necessity almost every day, and when you use Droplr you'll be able to take professional-looking screenshots every time. How many times have you been frustrated by needing to capture a screenshot and having it fail? This screen capture tool relies on teamwork, and this is not something that's commonly addressed in most Mac apps.
Everyone knows that screenshots are quite often the quickest way to get an idea across, and this app allows you to capture screenshots and share them with team members easily and accurately.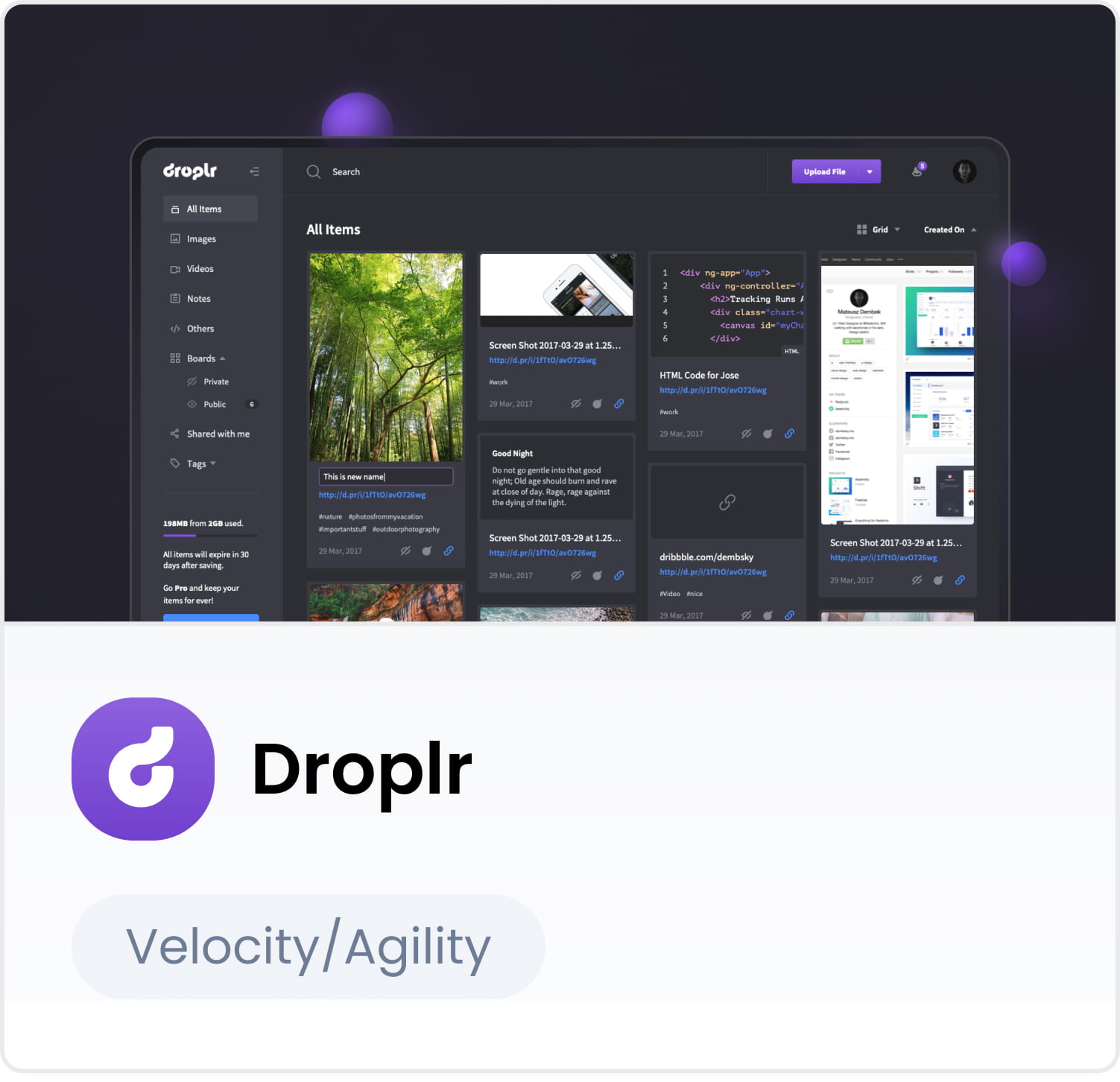 2) Todoist
Todoist is an app for Mac users that facilitates note-taking and will automatically organize your work better, and as the name suggests, it should help you stay on top of your to-do lists.
This note-taking app will help you to create to-do lists and stay on top of all your work, whether it's for your job or for personal use. It has a number of excellent features, including interactive boards, browser extensions, and the ability to create tasks.
With this app, you'll be able to organize all your notes, and that alone will make you more productive because you won't constantly be wondering what you're working on, and which notes refer to which projects. For an extra $29 each year, you'll also be able to enjoy some of the more advanced features like reminders and automatic backups. However, the free version of this app will give you a big boost all by itself in the productivity area.
3) Nudge
From the category of Browser Apps, Nudge is an app that will help keep you in focus mode and help you to avoid any distractions, and that can make you much more productive simply by keeping you on task. One of the most useful features offered by Nudge is its ability to conceal specific features and aspects of popular websites.
Those features can still be accessed, but you will have total control over whether or not you choose to access them. This will be a godsend in terms of keeping you focused on your task, and not allowing distractions to interfere with your work.
You'll notice over a period of time that you spend much less time completing a project when your focus is better, and you're not being diverted to the appealing features of other websites you have open on your desktop.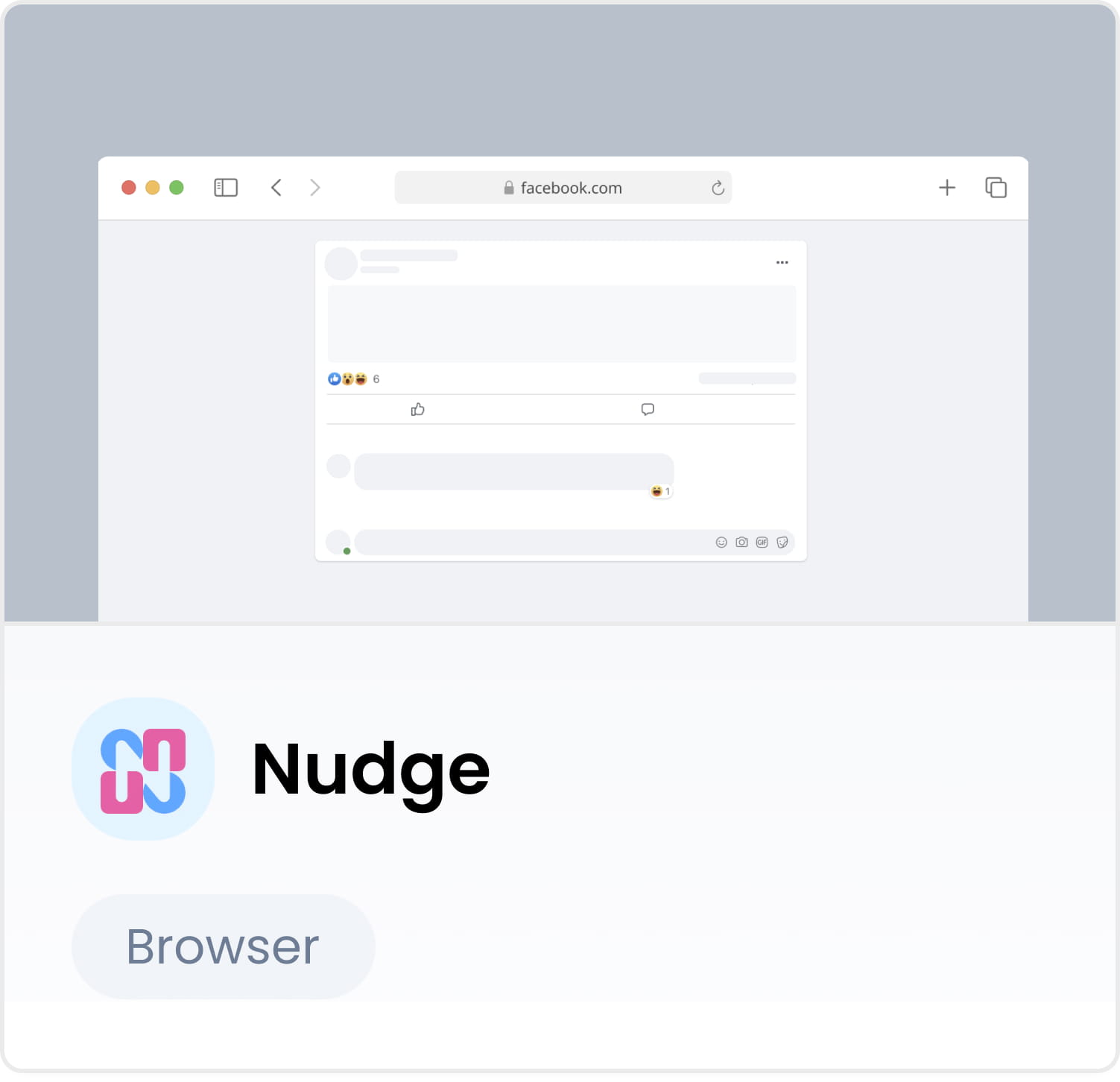 4) I Don't Care About Cookies
Have you ever been bothered by having cookies pop up on you while you were working on your Mac? When you use I Don't Care About Cookies, you won't have to worry about this. If you didn't have to contend with a bunch of cookie pop-ups that seem to appear every time you visit a new website, you could save a ton of time.
That's exactly what this app does, speeding up your browsing experience so that all those annoying pop-ups don't have a chance to intrude on your project work. Not only will you save lots of time by not having to deal with the cookies, but you'll end up being much less frustrated too because you won't even see them on your screen.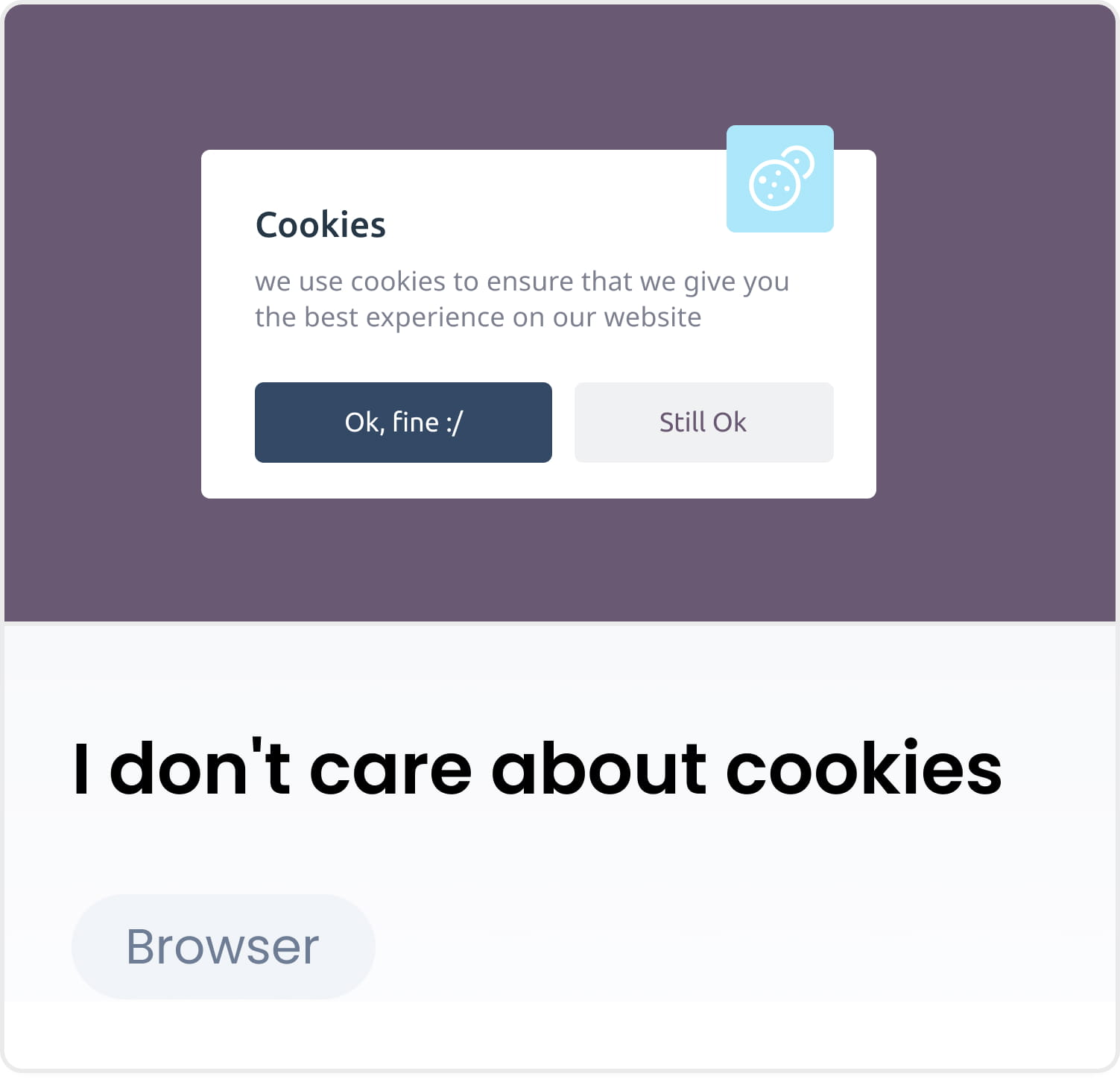 5) Meeter
From the category of meeting apps, you have the wonderfully productive app known as Meeter. This app connects directly to your calendar and will help you to join any meeting lightning fast, regardless of which platform the meeting occurs on. It might take you to Zoom, Skype, Hangouts, or any other meeting place, and chances are you'll be there right on time.
The app will also provide frequent reminders about meetings, and you will see a clear display on your menu bar about the next meeting title.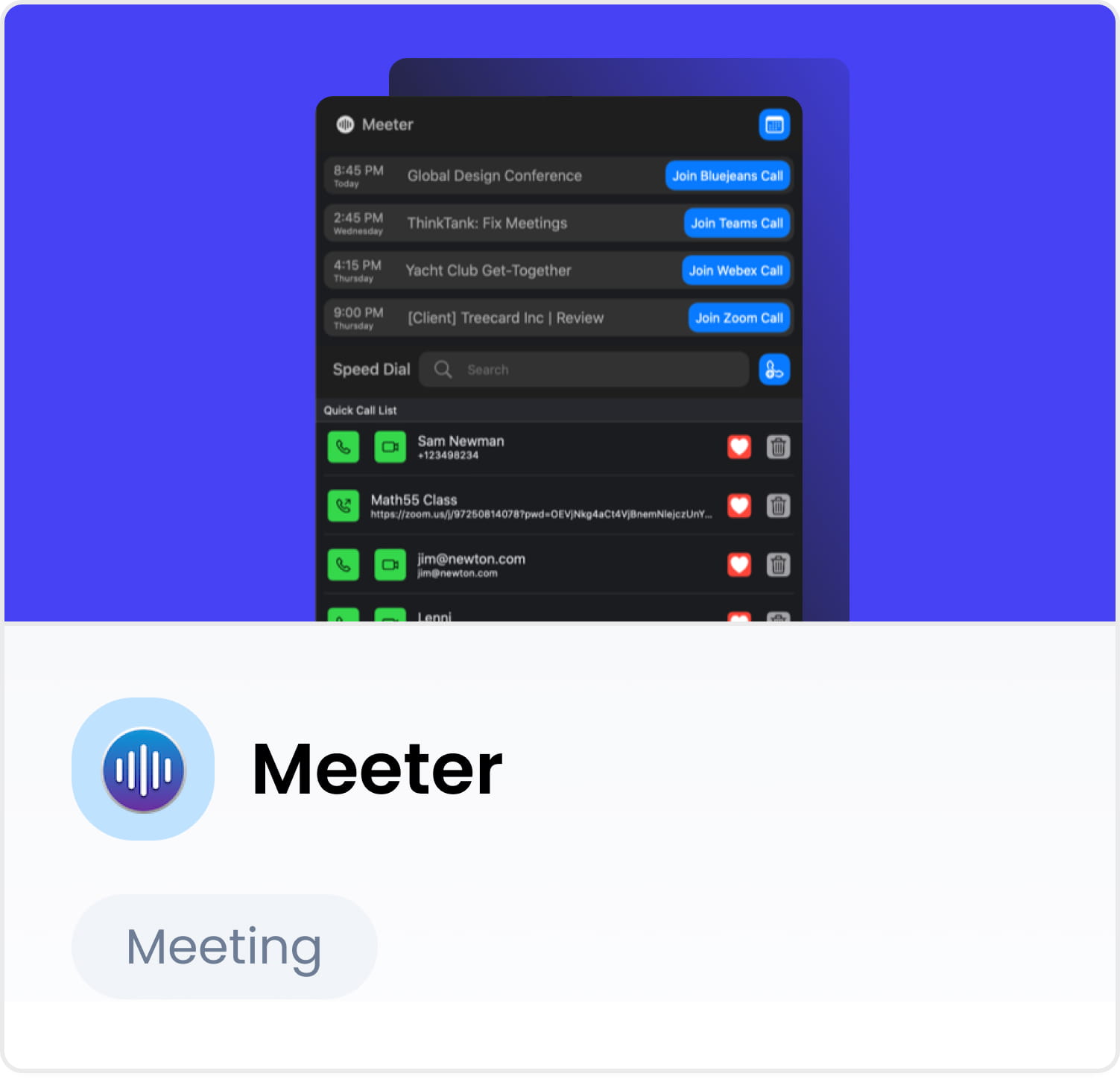 6) SoundSource
For automatic sound volume management, nothing beats SoundSource, especially when you want to minimize background noise and accentuate meeting discussion. If you've ever found yourself having to adjust the sound during a meeting, this app will provide the perfect solution for you. SoundSource has a dynamic volume boost which will automatically increase the level of the volume when it's too low.
If you enjoy listening to music, you can include an equalizer that will tweak the sound of your speakers or your headphones. This is one of the few apps on our list which is not free, but the $48 list price is well worth it if you find yourself constantly playing with the volume of your sound control.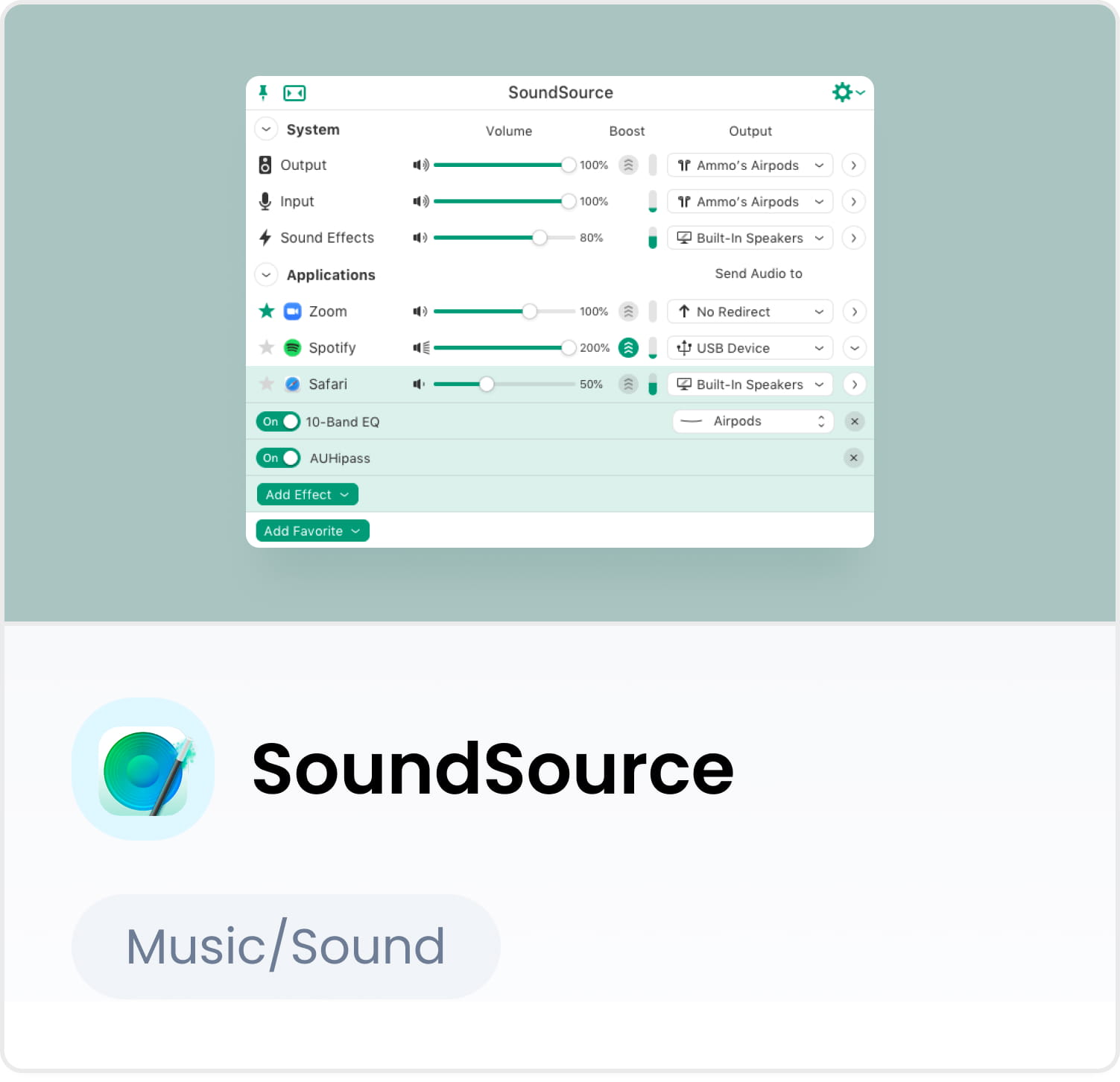 7) Toggl
When you're at work, it will generally be important for you to track the time you spend on your projects, and Toggl is one of the top productivity apps you can use for this purpose. This is a project management tool you can use to track time for projects that you are working on.
One of its key features is that it works extremely well for large teams or even solo freelancers who need to track the time devoted to the many tasks associated with a larger project.
It's also one of the best apps for managing your daily tasks, or for managing multiple tasks and helping you to assign tasks or to complete tasks on time. One of its best features is that project and customer data are compiled and displayed on a dashboard that provides understanding and recognition at a glance of how you're spending your time.
If you work in an environment that requires careful time management and tracking, you simply couldn't have a better task manager than this powerful app.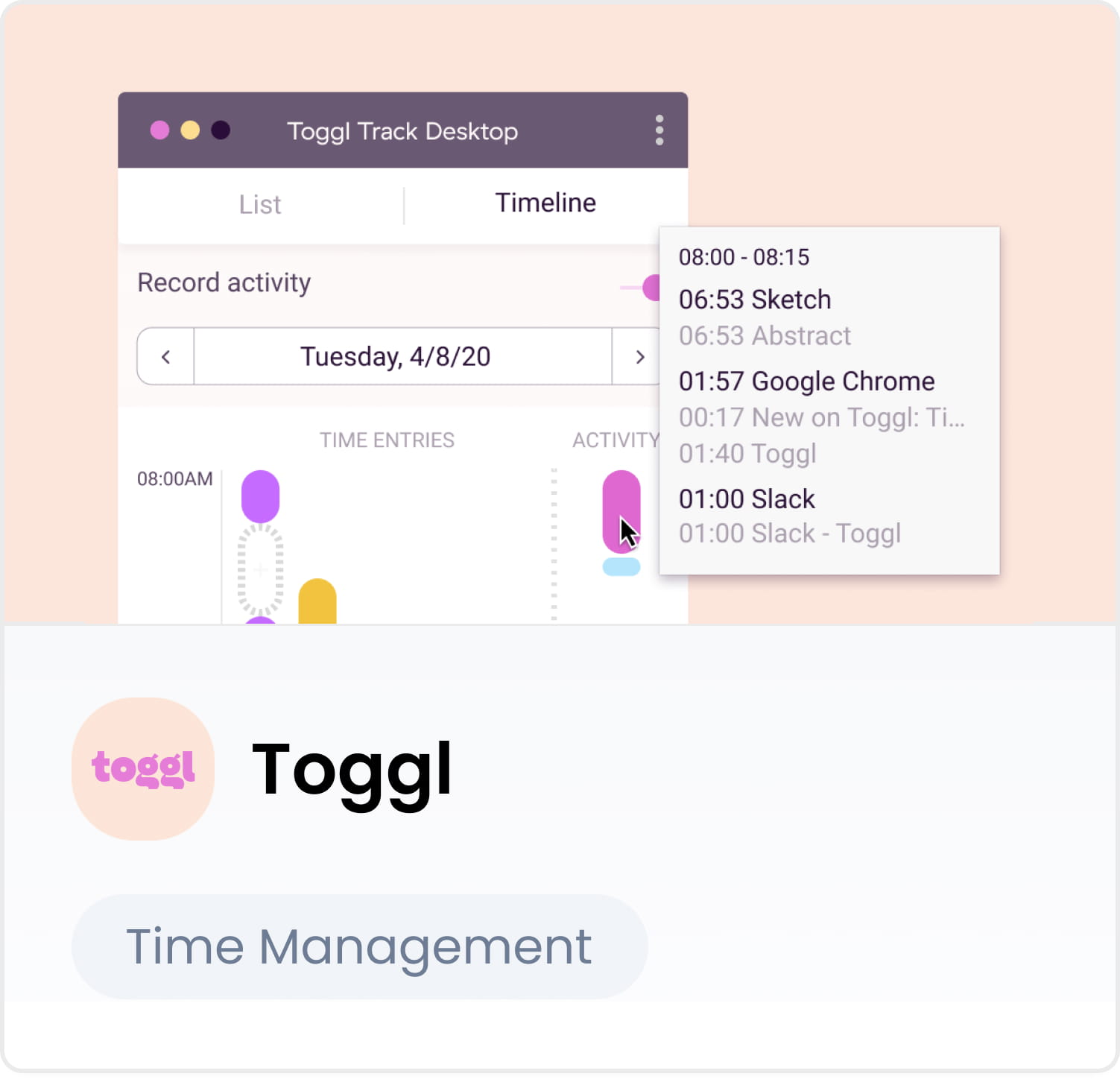 8) Mindful Mynah
Setting smart reminders is a breeze when you have Mindful Mynah. Everyone needs to set reminders in order to make sure they don't overlook or forget about important tasks that have to be accomplished by a certain timeframe. It's also great for reminding yourself not to get consumed with your work and to take some personal time in order to maintain a healthy outlook at work.
For instance, if you're the kind of person who gets totally absorbed in your work, you may need to set a reminder for yourself to get up and stretch once in a while, to breathe deeply, or to get a drink of water.
Many people get in the habit of sitting at their desks in front of a computer for hours at a time, so you may need to set a reminder that tells you to get up and walk around a bit to get some circulation going in your legs again.
You might also be the kind of person who has a tendency to slouch at their desk, so you can set a reminder to maintain better posture. If you simply want to have a greater appreciation for your life, you can set a reminder to find something to be grateful for each and every day.
Of course, there are also a great many business requirements that you might have to remind yourself about, and all these can be recorded in this app, so as to be sure that nothing gets forgotten.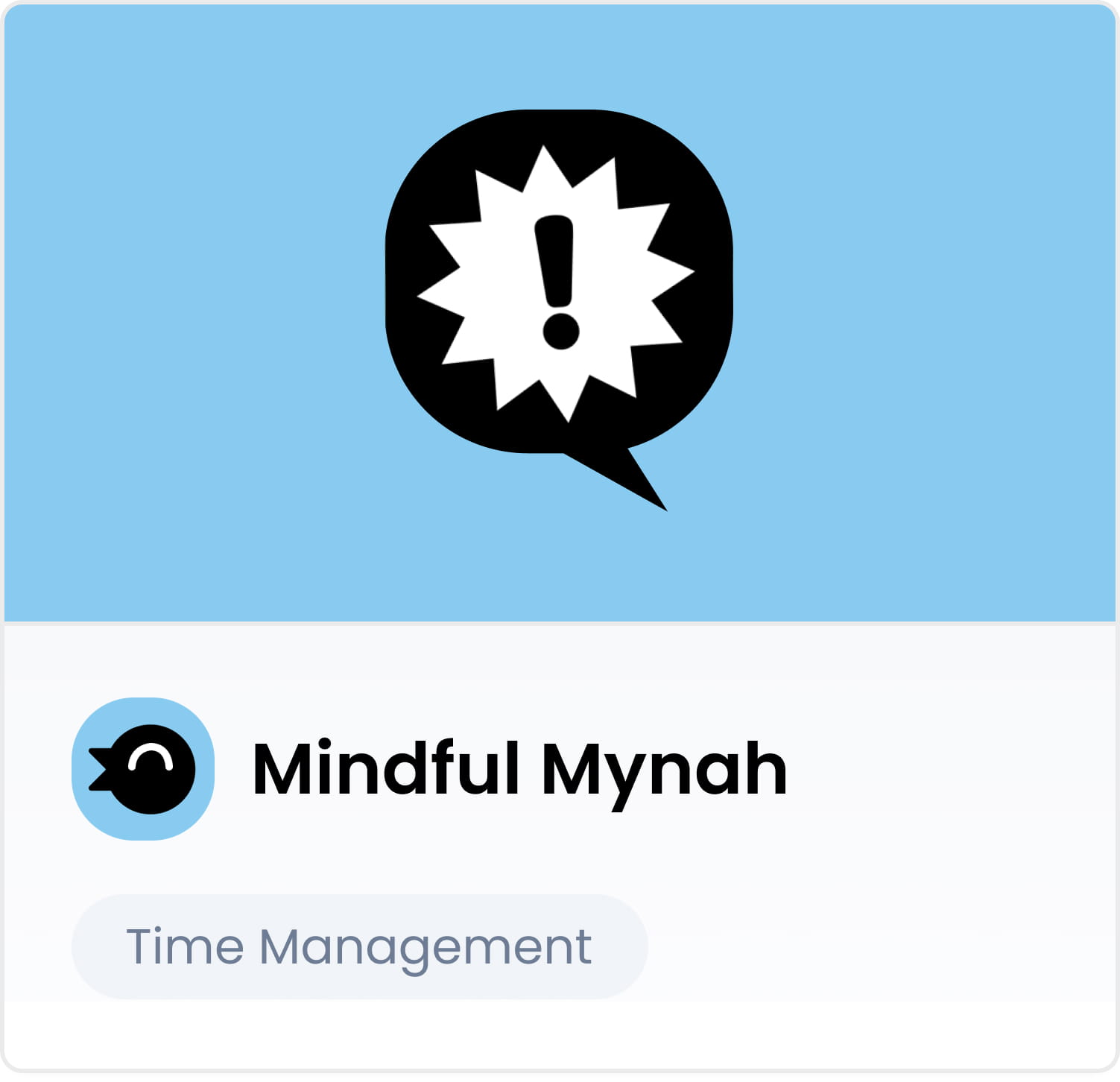 9) BetterTouchTool
From the category of agility apps that improve productivity, BetterTouchTool is one of the best for creating personal shortcuts.
Your professional life will be made much easier by using this app, which will help you establish useful keyboard shortcuts that save tons of time. Using this app, you can create intuitive and universal keyboard shortcuts that work across your whole operating system and are so natural that you simply can't forget them.
For those tasks that you do multiple times every day, it will certainly be worth your while to set up a keyboard shortcut that will contribute to your time-saved bucket every day.
When you add up all the time that you save by using these shortcuts, you'll probably find that you are more productive now than you have ever been in the past. All shortcuts set up by this app are established as Trigger/Action combinations, with the trigger being what you do, and the action being all events that take place as a result of your trigger.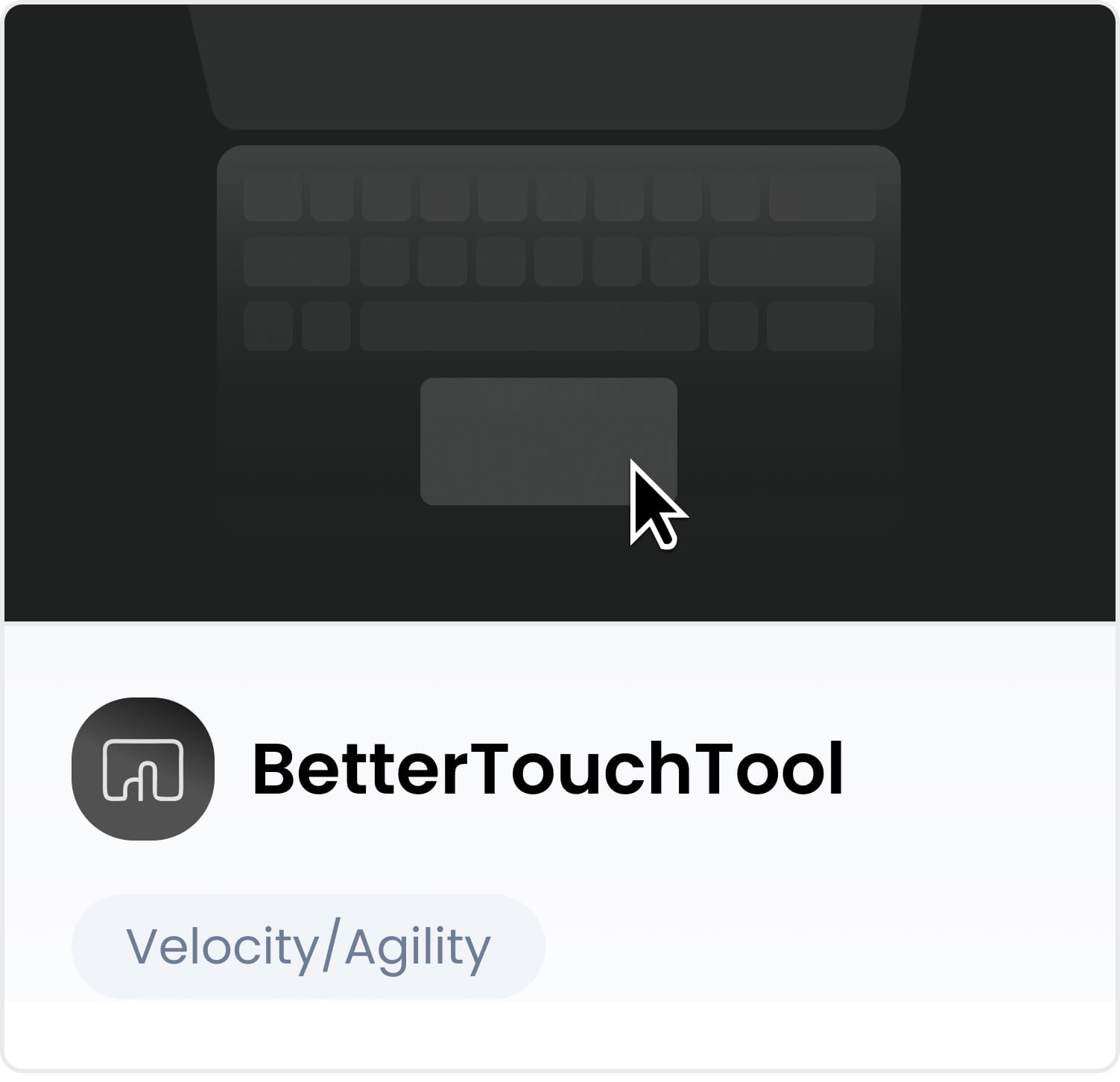 10) Contexts
Anytime you need to switch windows in the blink of an eye, you can use your Contexts app to do so. Most developers are aware that files can be opened quickly simply by typing a few letters and having the file opened up for work that day.
You can do the same thing with all opened windows. For instance, if you press down on the Fn key and type 'CHR', you'll see Chrome appear. If you press down on the Fn key and type in 'SPO', you'll see Spotify come up.
Granted, these are not huge time-saving actions, but when you add them up over the course of a day and a week, they can start to become pretty significant.
This app offers a great deal more besides the quick file open capability. It also replaces the default app switcher for Mac as well as the windows switcher. It will even allow you to place an additional dock on all your displays when you only have the windows for that display available.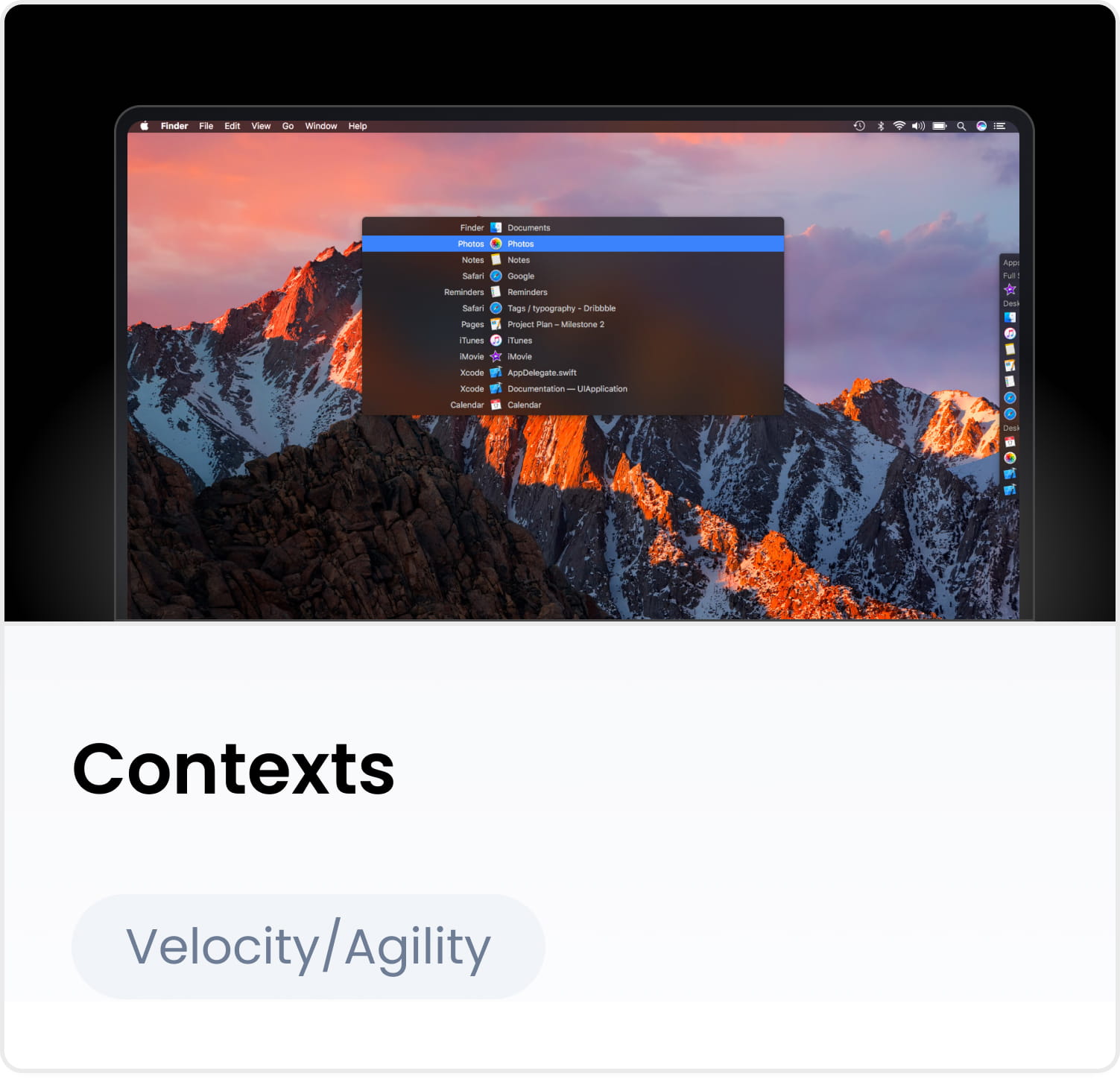 Conclusion
By using some of the productivity tools described above, you should find yourself far more efficient at using your Mac machine, whether in a professional setting or simply for enjoyment at home. Of course, not all of them will be apps that you want or need, so you'll have to decide whether the productivity gains are in an area that will be useful to you.
But even if you find one or two Mac productivity tools that provide good benefits for you, they will make the full power of your Mac available to you, so you can get the most out of it. That will also allow you to achieve more than you ever have before, and it will add to your growing skillsets list.
Frequently Asked Questions
In this article, we'll discuss some of the best productivity apps for Mac, and why you might want to use them.
There are five general categories where you can expect productivity apps to provide value for you: agility, time management, meetings, browser productivity, and task management.
In the context of Mac apps, what exactly does productivity refer to?
Productivity refers to the value of any goods you create, and how long it takes you to create them. Your goal should always be to produce the best possible results in the least amount of time and to have a stable method for maintaining that good output.
Why should I bother working with productivity apps for Mac?
f you're using your Mac in a professional capacity, you'll want to be as productive as possible, so as to become as proficient as possible at your work. Developing that kind of expertise will usually result in you getting more favorable reviews and earning more money. The iOS system is extremely powerful, and these productivity apps allow you to maximize that power by taking advantage of some features you may not have been aware of.
Won't all apps made for Mac make you more productive?
To some extent. However, when you're trying to be as productive as possible, you'll probably want to use those apps that give you the most bang for the buck – the apps that capitalize on Mac features that might be unknown to you, or which might be more difficult to use. In some cases, Mac productivity apps will also just do things much faster than you could possibly do them on your own, and that will end up saving you tons of time and effort.