Ever since Yoast was released, it's been one of the top-rated WordPress plugin downloads. WordPress SEO Plugins like Yoast are helpful for on-page SEO?
You may be wondering if it's worth spending extra money on a Yoast subscription. After all, you don't want to pay for something that isn't going to help your website's search engine rankings.
The free version of Yoast is an excellent tool that provides more than enough features for most users. However, there are many features offered by the premium package which you may need someday.
Yoast Premium Features
In this guide, you'll learn the upgraded features in Yoast Premium to help you determine if upgrading to Yoast Premium is worth it. I upgraded for the redirect feature, but you may not care about that, so read on.
Internal Linking Suggestions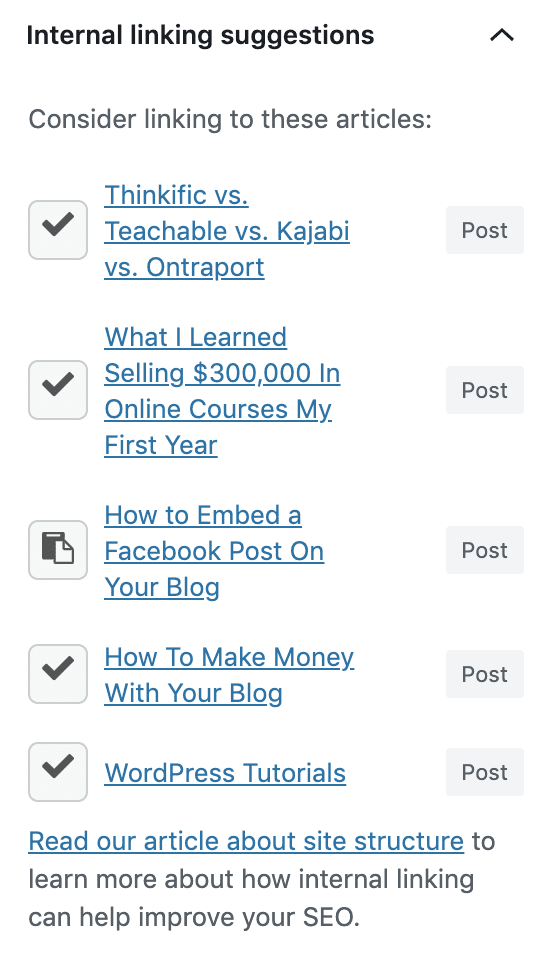 Yoast will make suggestions on each page or post of other pages on your website that could be valuable to the consumer for you to link to.
Why is this important?
Internal linking helps with internal site search and keeps customers on your site longer – both of which help with the overall SEO ranking.
How does it work?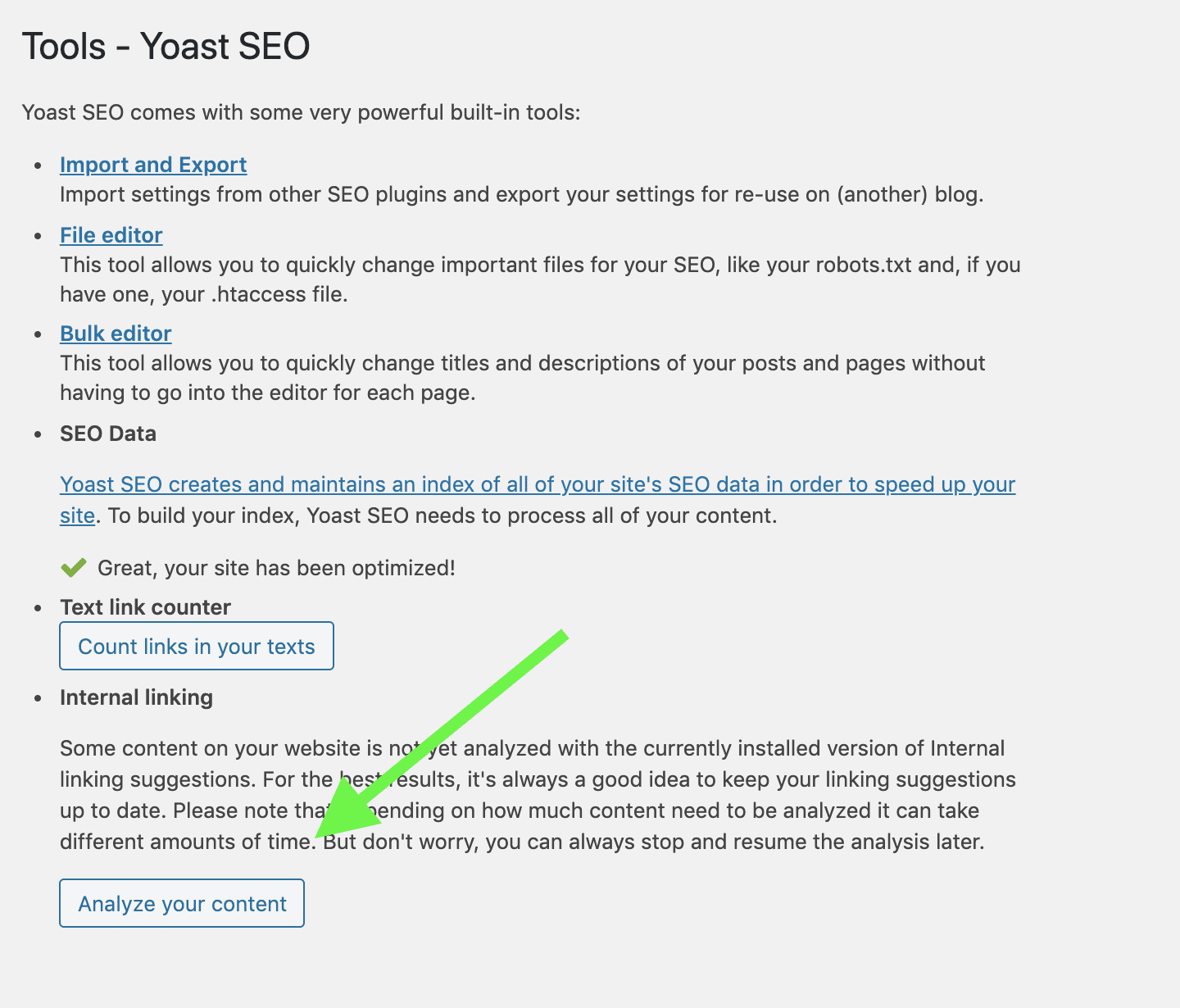 After you set up your internal links once, Yoast will then suggest potential internal links per blog post in the right column.
While it's not an auto-linker like you would see with the Link Whisper internal link tool, or with Thirsty Affiliates automated links, it does make suggestions based on the content on the page.
SEO Training Courses
Yoast has created an academy of SEO training courses. As a premium license holder, you'll be able to take these courses.
There are five levels to the courses. Each level covers a certain topic in SEO, which continues into the next course.
It is not too difficult to go through, and it will teach you everything from keyword research to formatting your content for more traffic. The information covered is extensive, which makes sense given that Yoast has been an authority on SEO for years now.
Why are SEO Courses important?
Clearly, if you are using YOAST and comparing the free version vs. premium, you must understand the value of SEO.
These courses can help you learn more about SEO. That's a good thing, especially if you need a refresher or have worked with another SEO company in the past and want to take your skills to the next level.
Premium Readability Analysis
Premium Readability is an integral feature of the Yoast SEO Plugin, and it's a big part of what makes this plugin so beloved among webmasters.
This feature lets you review your content and see how readable your posts are. You can then use that information to edit or rewrite before publishing your post.
Why is this important?
It's important because Google has been putting increasing emphasis on user experience when ranking sites in search results. This means they want to make sure their users find easy-to-read content because if they don't…they'll go somewhere else for their answers.
You should also know that writing in general, even for non-SEO purposes, benefits from having easy-to-read text:
People prefer to read text that they don't have to work hard to decipher.
How does the Premium Analyzer work?
Yoast SEO Premium can analyze a variety of keywords, synonyms, and word forms. It also includes a related keyphrases tool that you may utilize to make your content more interesting and relevant!
Redirect Tool

Another helpful feature is the redirect tool. You can use it to make sure any old pages you want to delete are redirected properly.
That way, if someone tries to access that page they'll still be able to find what they're looking for. It also helps with updating your website and making changes without worrying about broken links or lost content.
Why is this important?
It's important because Google will demote sites with tons of 404 errors in their search engine rankings. When users land on a dead link now, they will simply go somewhere else where there are no dead ends!
How does the redirect tool work?
After you uninstall the Yoast SEO Plugin and clear your site cache, click on the 'Redirects' tab.
From there, you can either search for a URL to delete or upload a file containing URLs to delete…and voila! You'll be able to clean up your errors in no time flat.
If you change the permalink on a blog, Yoast will give you the option to redirect to any page rather than showing a 404 page.
The redirect feature is the reason I upgraded to a premium license, personally.
Rest API
The premium license also includes a rest API.
Now, this is great news for developers, but if you're not one, you may not see the value in it.
In essence, a Rest API lets other applications tap into your WP site and interact with it. Imagine that your website was a big toolbox containing all of this great SEO stuff…the Rest API gives developers access to take things out of the box to use on their own sites!
Why is this important?
It's important because other webmasters want to leverage your content for their own purposes. By using the Yoast SEO plugin with a premium license, you can help them do just that without worrying about any costs or licensing issues.
Cornerstone Content
Another great feature is Cornerstone Content, a SEO Workout feature. It allows you to mark your key pages as cornerstone content so that Yoast will remind you to link where relevant.
You can also see all of your cornerstone content in one place, rather than having to look throughout the site for posts that you might want to link elsewhere.
Why is it Important?
It's important because Google now encourages the use of rich anchor text when linking to authoritative content. Think about it! When you link to Wikipedia, what do you put in the hyperlink?
That's right…the title of their article!
If your site isn't using cornerstone content, you're losing out on free optimization opportunities that don't take much extra effort but can make quite a big difference for your rankings.
Search Console Integration
Yoast SEO Plugin with premium license also includes integration with Search Console (AKA Webmaster Tools). This allows you to quickly see possible errors or warnings so that you know what needs correcting or deleting before getting started.
Why is this important? It's important because Google will hold you to a higher standard if you have a premium license. It's one of the reasons I decided to get a premium license for my own website.
How does Cornerstone Content work?
After you've set up your website and added some pages, head over to 'Features' under the Yoast SEO section of your WP dashboard menu.
There, you'll be able to find 'SEO Workout.' Click on it and follow the steps! When done, click save changes.
Then, when you create a new blog post, Yoast will automatically check your post to see if it's worth linking elsewhere on the site.
If you've assigned a page as cornerstone content, Yoast will let you know via an alert box that pops up at the top of your screen. You can then decide whether or not to link to that page in your new blog post.
You also have more control over how anchor text is used when using Cornerstone Content. For instance, you might want to use branded terms rather than generic ones so that you don't dilute your brand voice or confuse Google about what topic your site is really about!
Orphaned Content
Google views content with links as more valuable. If you have created content, and are not linking to it from any other page on your website, then it's considered orphaned content.
Why is linking to content important?
Linking to your content is important because Google wants to reward those who take the time to link out within their posts.
As such, by marking specific content as orphaned (content that you aren't linking to from anywhere), Yoast will let you know and encourage you to improve the discoverability of that content through internal linking.
This is beneficial because it keeps you on track with best practices and encourages the discovery of more of your own work!
How does orphaned content work?
After setting up a few pages and adding some blog posts, go into SEO Workout under Features. Then, locate 'Orphaned Content' and follow the steps. When done, click save changes!
Then, when you write a new blog post an alert box will pop up at the top of your screen.
If the content is orphaned, you're able to decide whether or not to link to that page in your new blog post.
If it isn't orphaned then no changes will be made.
This is very helpful for keeping your site updated with best practices and recommended linking strategies!
Estimated Reading Time
The estimated reading time is an estimated amount of time it would take someone to read that blog post. If you're working on a post that's over 2,000 words, then the estimated reading time could be up to 3 minutes.
Why is this important?
Giving the user an estimated time of the read can get their early buy-in, which may result in them spending more time-on-page.
How does Yoast estimate reading time?
By default Yoast estimates reading time based on word count. However, if you prefer a different estimation from what they've provided by default, then you can always change it under the 'Features' section of your WP Dashboard menu.
In the 'Reading Time' section, you can change it to another estimation such as minutes or hours.
Then, when you create a new blog post, an alert box will display at the top of your screen letting you know how long it would take to read that article!
Social Previews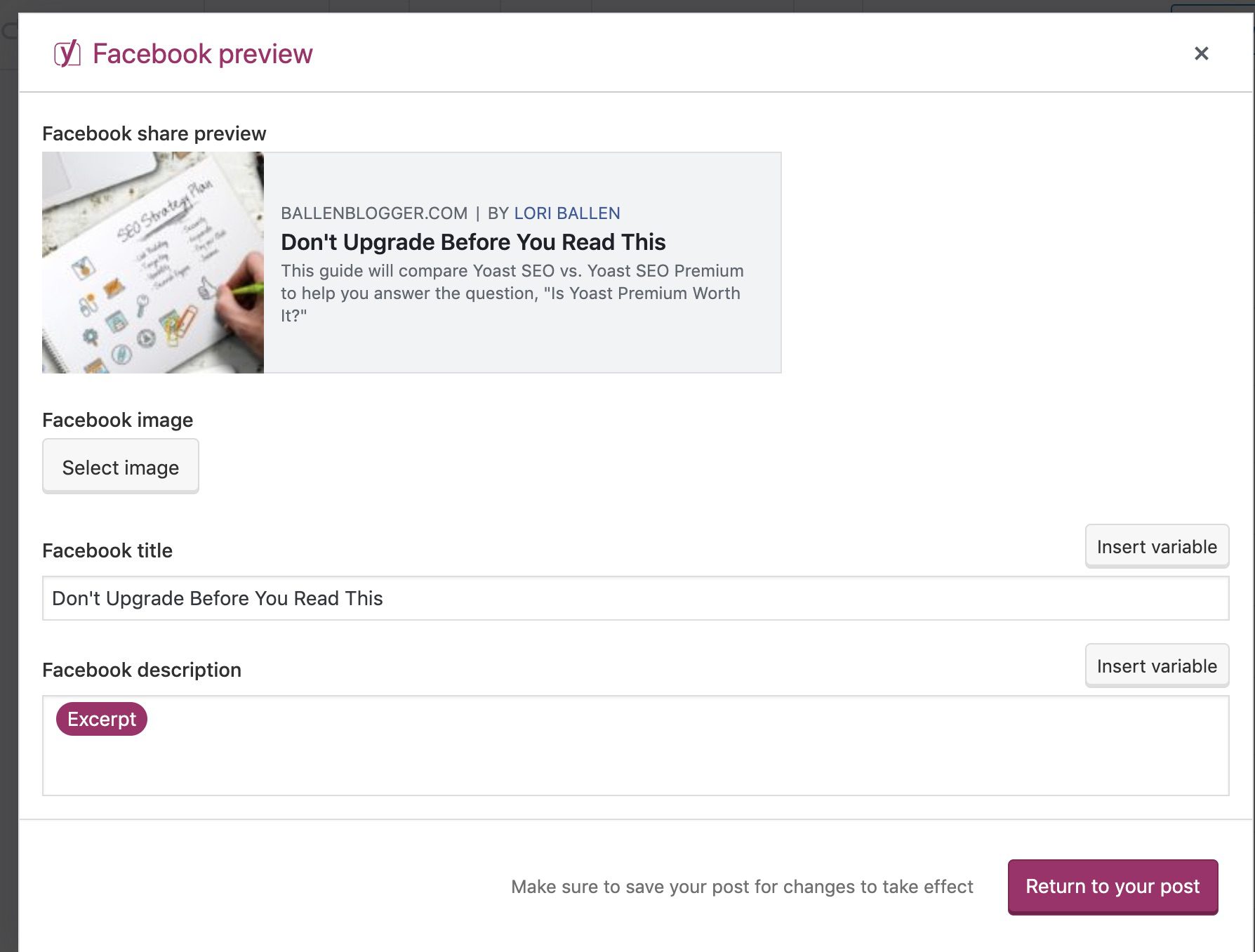 This feature lets you see how your post will look when shared on Facebook and Twitter.
Why is previewing how content looks when shared important?
Previewing how your content will look when it's shared contributes to better engagement because the user has a more realistic view of what they're about to share!
How do Yoast Social Previews work?
By default, Yoast only displays the link preview for Facebook and Twitter. You can also add previews for Google+, Reddit, Tumblr, and many more sites under the 'Features' section of your WP Dashboard menu:
In the 'Social Previews' section, choose between including all available site previews or just adding specific ones like Facebook Twitter:
When you create a new blog post, you'll see previews of how your content will look when it's shared on various social media platforms.
This can preemptively help with engagement because the user has a more realistic view of what they're about to share!
For me, the redirect manager alone makes Yoast SEO worth upgrading to Premium.
---
Focus Keyword Export
The Focus Keyword Export is a premium feature. It allows you to set a specific focus keyword or phrase for each page and then export it to a spreadsheet or CSV file.
With the export, you can also include the readability score and SEO score if desired.
This allows you and/or your team to create SEO projects.
I use SEMrush to track which keywords I rank for on Google, which position, and on what pages.
Using the focus keyword with Yoast, it's then great to compare your results using the two tools.
This is a strong feature for those that want to create a directory of pages and focus keywords without having to create a worksheet manually. I'm not sure I would upgrade to premium for this feature, however, as I've always kept a Google sheet with my pages and focus SEO keywords.
So is it worth upgrading to Yoast Premium?
For me, yes.
For those of you who have many websites to manage or care deeply about website SEO best practices, then yes! Upgrade to Yoast Premium. It's more of an investment but worth it if you can afford it.
FAQ's
What does Yoast Premium Do that Yoast Free Doesn't
1. Internal Links
2. Table of Contents
3. Structured Data Blocks
4. Multiple Keywords
5. Redirect Manager
What Is Yoast SEO?
Yoast SEO is a tool that helps with optimizing the content on a website to improve the odds of ranking on the search engines. There is a free plugin for WordPress as well as the Yoast Premium upgrade which adds more features.
What is a Focus Keyword in Yoast
Yoast SEO allows you to enter a focus keyword in order to measure how well your blog post or page is optimized for that keyword. The SEO score provided turns green when you have done a good job with your on-page SEO. When you open the Analysis results, Yoast gives you ideas on how to improve the page. With Yoast SEO Premium, you can add a 2nd Key Phrase.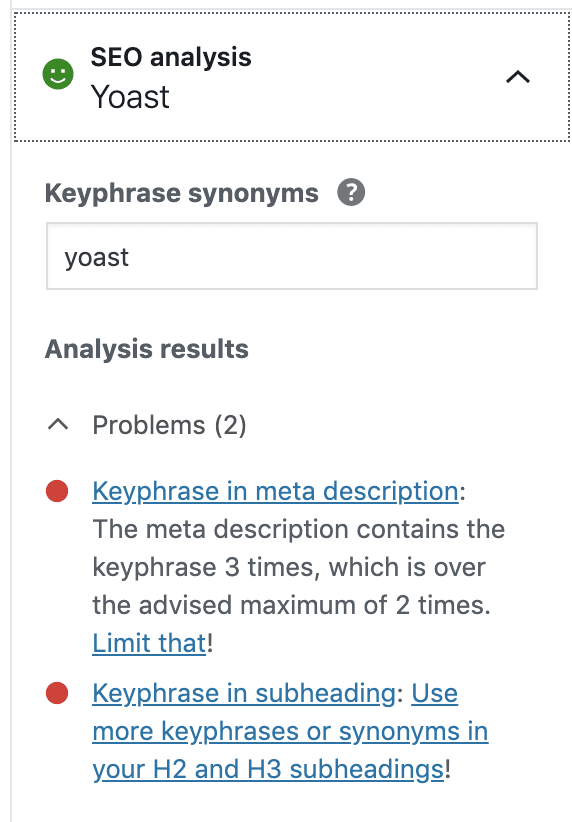 What is the Slug in Yoast SEO?
When optimizing a page using Yoast SEO or Yoast SEO Premium, it's suggested to add your keyword to the slug. The slug is part of the URL. It's the words that come after the top-level domain name. For Example, This Blog has the top-level domain BallenBlogger.com, and this page is ballenblogger.com/is-yoast-premium-worth-it. The slug then is this: is-Yoast-premium-worth-it.

Be careful about changing the slug after you publish your page or the old URL will no longer be found. When someone clicks on the original link with the first slug, they will land on a 404 ERROR page. You would need a redirect from the old URL to the new URL.

Upgrading to Yoast SEO Premium will give you access to the redirect manager which has built-in redirects to help with this issue.
Which is Better: All In One SEO or Yoast
Based on the information that has been published by WordPress.org (one of the most popular tools for building websites), All in One SEO Pack has a rating of 4.4 stars based on more than 400 reviews.

The good news is that there is a free version of All in One SEO Pack that will work for many sites; however, there is also a detailed Pro Version for those who need it.
This makes All in One SEO Pack one of the top SEO plugins on the market today.

Where Yoast SEO offers more features, All In One SEO is said to be less expensive and for some, easier to use.
How Much Does Yoast Premium Cost?
The WordPress Plugin Yoast SEO is Free. While occasional discounts apply, the upgrade to Yoast SEO Premium will cost you around $75-80 per year.
How Do You Install Yoast SEO?
1. In WordPress, open your Plugins dashboard.
2. Click Add New
3. Type Yoast SEO into the search bar
4. Find the Plugin and click Install
5. After Yoast SEO is installed, click Activate.
Does Yoast Create a Site Map?
Yes. Yoast SEO Creates a site Map that you can submit to Google Search Console.
1. Find 'SEO' on your left column of the WordPress Dashboard
2. Hover over SEO until you see the GENERAL OPTION. Click General Option
3. Choose the Features Tab
4. Scroll Down to XML Sitemaps
5. Make sure it is toggled on
6. Use the provided links to See the XML sitemap.
7. Using the sitemaps provided, submit to Google Search Console
Lori Ballen is a real estate agent in Las Vegas. She's a digital marketing specialist, speaker, and marketing coach and loves to share her "Ballen Method" to generate website traffic and leads online. Lori's specialties are SEO content writing (ranking on the search engines), social media strategies, and affiliate marketing. Need a website? Contact Lori's brothers Jeff and Paul Helvin at Ballen Brands.