When using WordPress to build a website, you should take advantage of the content management system's (CMS's) taxonomy elements: categories and tags.
Video Tutorial
In this video, Shane from Thrive Themes shares how to use categories and tags in WordPress.
By using the right tags and categories on WordPress, visitors will be able to find relevant content more easily.
Categories and tags aren't the same, however.
While both are used to classify WordPress posts, each taxonomy element has its own intended purpose.
What Is a Category?
In WordPress, a category is a taxonomy element that classifies posts based on a topic. It's designed to help visitors find all posts on a website about a topic.
Rather than searching through each of your website's websites, for example, visitors can access the category page for their desired topic.
On this blog, for example, there is a category called CANVA. Every post about Canva is listed under the category CANVA.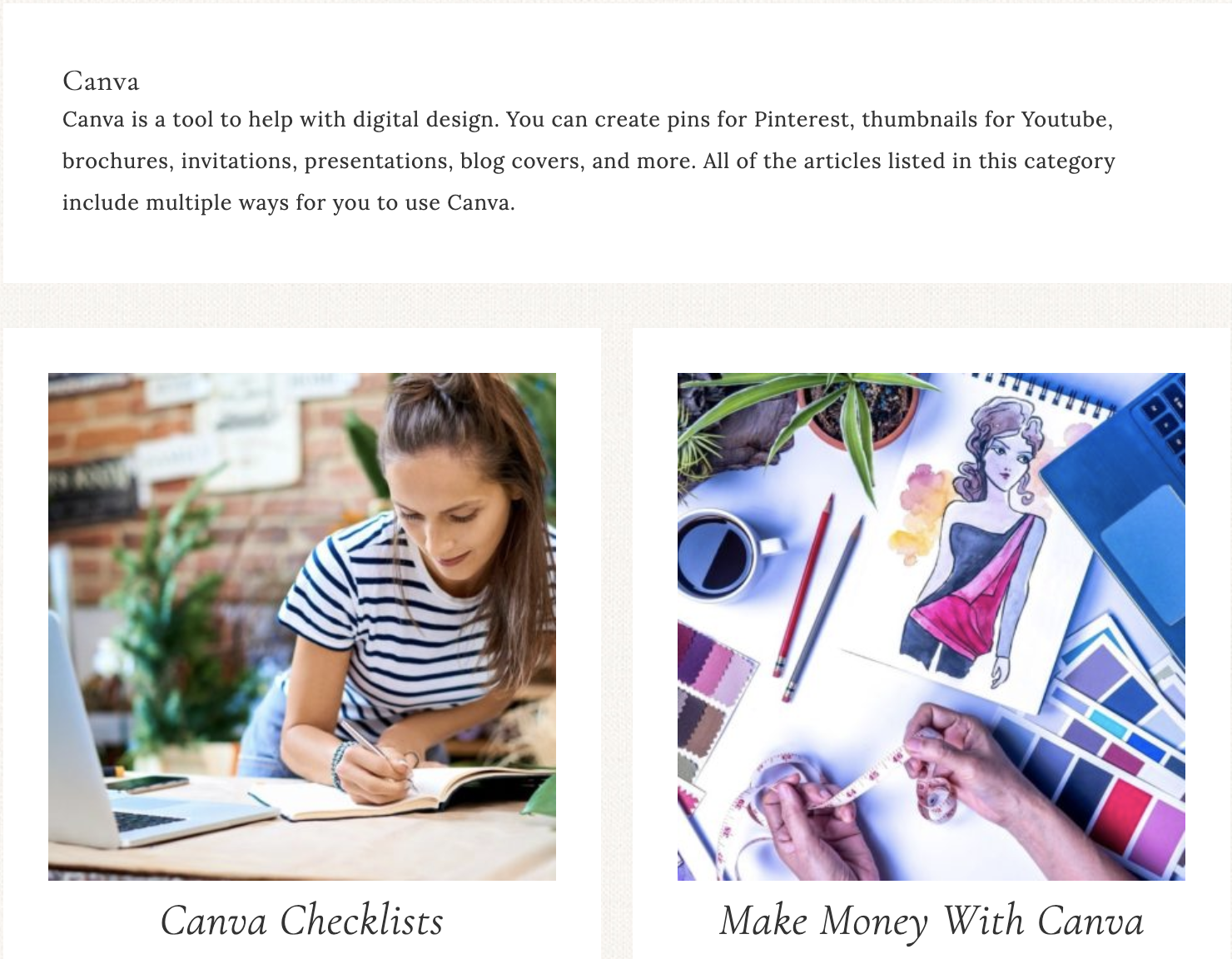 Category pages display a list of all posts assigned to that category, allowing visitors to filter irrelevant posts from their searches.
Categories are designed to be somewhat broad. If you make them too narrow, you'll end up with dozens or hundreds with categories on your website, each of which contains only one or a few relevant posts.
If you run a website about landscaping, you may want to use categories such as:
Lawn Care
Weeds
Fertilizing
Gardening
Erosion
Turf Grass
If you publish a new post on how to choose the right fertilizer, assign it to the "Fertilizing" category. If you publish a new post on ways to control runoff and prevent soil erosion assign it to the "Erosion" category.
All posts created in WordPress must be assigned to at least one category. Pages do not need to be assigned to a category.
With that said, you can assign a post to multiple categories. If a post covers two topics reflected by your categories, assign it to both categories.
For those that are concerned about seo and the indexing of categories creating duplicate content, one solution is with the All in One seo Plugin or Yoast Premium (paid) Plugin for WordPress.
In the image below, you'll see that we put this post in the WordPress Website category and also in the seo category yet selected WordPress Websites as the most appropriate category for Google indexing.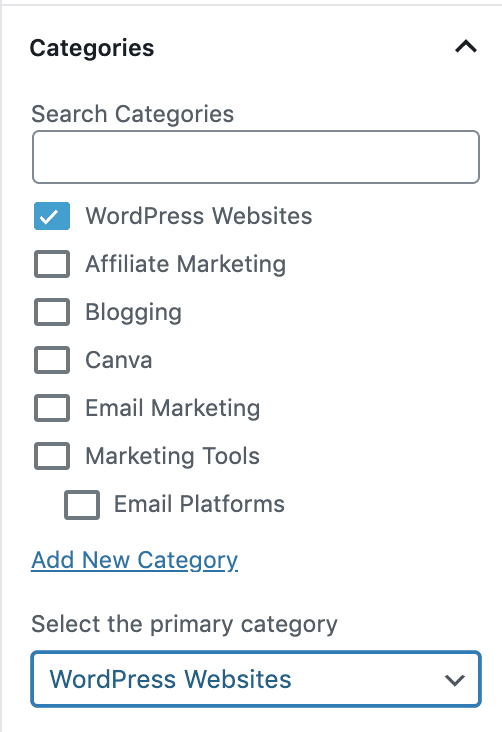 It allows you to select the primary category. It then assigns the rel=canonical attribute to the non-main page indicating to google that the page in the primary category should be indexed.
You can also create a tiered system of categorization using subcategories. A subcategory is essentially a more narrow topic that's related to its parent category's topic.
To assign a post to a new category, click the "+ Add New Category" link in the "Categories" box on the post editing page and enter its associated topic as the name.
To assign a post to an existing category, click the name of the category in the "Categories" box. If you don't assign a post to at least one category, WordPress will automatically place it in the "Uncategorized" category.
Follow these best practices when using categories on your website:
• Don't use overlapping categories. Each category should focus on a unique topic.
• Create categories around a single, broad topic.
• Keep category names short, aiming for a maximum length of no more than 25 characters.
• When naming categories, use title case capitalization in which you capitalize the first letter of the first word, the first letter of the last word and the first letter of all major words between.
• Assign posts to no more than two categories, with one category per post being ideal.
• Create and use subcategories if a topic is related to a broader topic of an existing category.
• Edit your theme to enable assigned categories to display at the top or bottom of posts.
What Is a Tag?
A tag is another WordPress taxonomy element used to classify posts based on a topic.
Like with categories, WordPress automatically creates a new page for each new tag used on your website. By accessing a tag page, either by clicking the tag link at the bottom of a post or by clicking the tag link in a widget, visitors can find all posts to which the tag has been added.
The main difference between categories and tags is that the former consists of broad topics, whereas the latter consists of more narrow and, therefore longer, topics.
Unlike with categories, WordPress doesn't require posts to have tags. If you publish a post without tags, WordPress won't create or use a default tag. Another difference between these two WordPress taxonomy elements is that only categories support hierarchy.
You can create parent- and child-level categories, but you can't create multi-leveled tags.
To add a new tag to a post, click the "Add" button in the "Tag" box on the post editing page and enter a name for the topic. To add an existing tag to a post, click the link labeled "Choose from the most used tags."
Follow these best practices when using categories on your website:
• Create tags around a single, narrow topic.
• While you should try to avoid overlapping tags, it's okay if multiple tags are about similar topics.
• Keep tags under 40 characters long.
• Add between three and five tags to each post.
• Use all lowercase letters when naming tags.
• Edit your theme to enable added tags to display at the top or bottom of posts.
Duplicate Content Issues
For every category and tag used on your website, WordPress will automatically create a new page containing all posts to which the category has been assigned or the tag added.
As a result, the same content is often published in multiple places.
If you publish a post titled "5 Benefits of Local SEO and assign it to the category "SEO" and add the tag "local SEO" to it, it may appear on several URLs, including example.com/5-benefits-of-local-seo, example.com/category/seo/5-benefits-of-local-seo, and example.com/tag/local-seo/5-benefits-of-local-seo.
You can prevent duplicate content issues associated with tags and categories by installing either the Yoast SEO or All In One SEO Pack plugin. Both plugins support canonical URLs, which you can use to pinpoint search engines to the original URL on which a post has been published.
How to Use Tags and Categories on Pages
By default, you can only add tags and assign categories to posts.
WordPress doesn't support them for pages. A workaround, however, is to use a plugin like Category Tag Pages. Once installed, it will enable the use of tags for pages.
The use of parent and child pages is more common.
While using WordPress categories and tags can help visitors navigate your website more easily, as well as encourage higher search rankings, it's important to understand the differences between these WordPress taxonomy elements.
Categories are broad, whereas tags are more narrow and specific. Categories also support a structured hierarchy, while tags do not.
Lori Ballen is a real estate agent in Las Vegas. She's a digital marketing specialist, speaker, and marketing coach and loves to share her "Ballen Method" to generate website traffic and leads online. Lori's specialties are SEO content writing (ranking on the search engines), social media strategies, and affiliate marketing. Need a website? Contact Lori's brothers Jeff and Paul Helvin at Ballen Brands.