Good podcast marketing tactics will increase your business's online traffic and conversions. So, here are nine marketing must-haves to promote your podcast and maximize your returns. Podcasts are a powerful content marketing tool for businesses to build brand awareness.
According to Forbes, 62 million U.S. residents listen to podcasts weekly. The number of podcast listeners has skyrocketed by 226 percent since 2013.
There are already more than 800,000 established podcasts with 54 million audio episodes online.
How can your business compete? Recording informative, insightful talks on digital podcasting platforms only work if you attract an audience. Developing a strong podcast marketing strategy is critical to draw in and retain listeners.
A Podcast Website
Podcasting platforms usually offer a basic webpage to showcase your podcast series.
You likely already have an optimized business website too. However, you must have a separate website for just your podcast.
Use WordPress to build a podcast website from the ground up. Download the Blubrry PowerPress plug-in for podcasting or get your podcast hosting with Blubrry.
Embed a podcast playlist player right on this website for easy access. Write strong blog content related to your podcast episodes. Follow search engine optimization (SEO) rules to get your blog posts ranking on Google.
Insert backlinks on your WordPress blog to your business website to boost both.
---
A Free Anchor Account
Anchor is a 100 percent free application that will automatically distribute your podcast. Creating an Anchor account takes seconds and $0. Next, upload your recorded audio files to Anchor. One mouse click gets Anchor busy spreading your podcast episode across numerous channels.
Anchor ensures your podcast is visible on every popular platform, including Spotify, Google Podcasts, iHeartRadio, and Apple Podcasts.
Being present on multiple platforms will attract more ears and expand your listener base. Anchor is also a podcast marketing must-have for running analytics. The user-friendly dashboard tells you how many people played your podcast episode and when.
An Apple Smart Banner
Setting up a podcast website was a great first marketing step. Now, optimize your business website for attracting podcast listeners too. Apple Smart Banners advertise your podcast to your regular online traffic.
Banners drop down from the top of the webpage with a clickable link. Apple Smart Banners only appear on mobile iOS devices that use the Safari browser.
Having the banner pays off though since Apple reports there are 900 million active iPhones globally. On-the-go smartphone users are perhaps the biggest demographic of podcast listeners.
Creating an Apple Smart Banner only requires adding one line of code to your website header.
A Subscription Form
Podcast marketing depends on accruing a solid list of loyal listeners. You can't promote your podcast like a pro without any subscribers. Code your podcast website to create a subscription form.
Software Options:
Subscription boxes can be stagnant, pop up, or float around your page.
Make the subscription form big and bold with a bright color that attracts people's eyes. Ask for intrigued subscribers to input their name and email address.
Have a two-step email confirmation process to authenticate the info and prevent bogus subscribers. As your subscribers grow, plan marketing emails to prop up your newest podcast recordings. Also, send weekly newsletters that recap past episodes and foreshadow upcoming episodes.
Convert and Monetize Your Website Traffic
Stop losing visitors! Instantly grow your email list, get more leads and increase sales with the #1 most powerful conversion optimization toolkit in the world.
---
Social Media Promotions
Getting listed on all the right podcast directories isn't sufficient. Today's podcasters need to engage in social media actively. Find out where your target podcast audience hangs out online. Adult listeners might be frequent flyers on Facebook and LinkedIn. Teen listeners may be more tuned into TikTok and Instagram.
Determine which social networks are the perfect match for your business niche. Then, use social media to hype your podcast episodes.
Choose the right hashtags to appear for relevant search keywords. Share behind-the-scenes photos from your podcast recording. Transform notable quotes into captions or tweets. Post teaser snippets with cliffhangers to pique followers' interest as well.
---
An Influential Guest List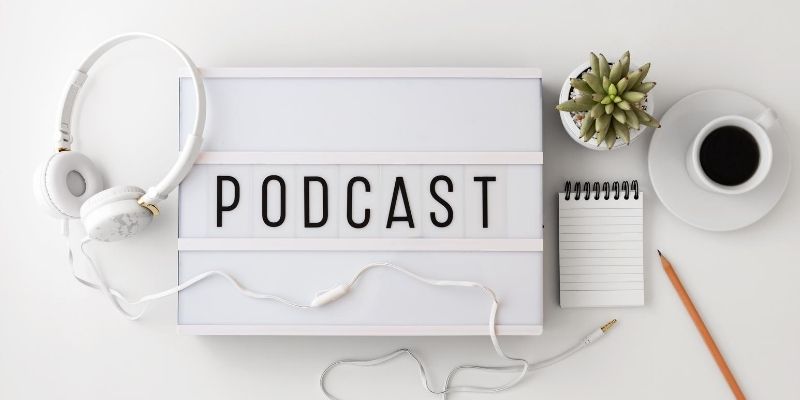 Podcasts aren't meant to be one person droning on like a college lecture.
Keep things exciting by having multiple voices on your podcast episodes. Different people will share unique perspectives and stories to connect with all listeners.
Therefore, another podcast marketing must-have is an influential guest list. Invite noteworthy industry leaders and subject-matter experts to your podcast.
Partnering with well-known influencers will amplify your brand. Influencers bring a whole new audience of fans who want to hear their takes and tips.
Reach out to influential online personalities to request an interview or co-hosting gig.
---
An Audio Transcription Service
Google crawlers can't listen to podcasts as humans can. There's no way for search engine bots to know what's said in audio content. Spoken words won't further your SEO efforts for improved website rankings. Thus, your podcast material must be transcribed. Transcripts outline every sentence read and sound made during your podcast.
Some podcasting platforms have automated transcript creation. Others require working with a third-party audio transcription service.
Software like Podcast.co and Rev helps transcribe content affordably. Hiring translators to convert transcripts into multiple languages can also appeal to a more global audience.
---
A Strong Call to Action
Having a call-to-action statement isn't only necessary in written or video content. Successful business podcasts need a strong CTA to convert listeners.
Request specific actions at the beginning and end of each podcast. Great CTA examples include asking listeners to shop your products, call for an estimate, or download your eBook.
CTAs can also help promote your podcast to other audience members. For example, ask listeners to write a review for your podcast episode.
Call for ratings to hopefully achieve five-star status. Have listeners subscribe to or "like" your podcasting channel.
People are more likely to listen to podcasts with lots of views, high ratings, and many active followers.
---
A Viral Podcast Contest
Podcast hosts need a fun, exciting way to engage with an audience they can't physically see. Hosting a contest is an excellent podcast marketing tactic to fire up current and pull in new listeners.
Make the competition go viral by offering grand prizes that people want.
Don't pick lame rewards that won't persuade the masses to participate. Cash prizes and gift cards are popular podcast giveaway items.
Listeners also love competing for exclusive new products before their launch date.
Get creative with brainstorming Podcast ideas.
For instance, listeners may need to solve a tricky riddle or gather scavenger hunt clues from every episode. Perhaps have listeners post drawings or product designs on social media for judging.
How else can you promote your podcast online?
The podcast marketing tricks are as endless as available podcast topics. Network with other podcasts to earn valuable mentions on their shows.
Create a catchy title and visually appealing podcast cover art to draw eyes to your brand. Peruse Quora for popular industry questions and host an educational Q&A session.
Repurpose podcast episodes into videos for posting on YouTube.
Appear at in-person events and hand out postcards to invite new listeners.
Respond to listeners' feedback and give on-air shout-outs to fans.
Get discovered by entering and winning coveted podcast award programs.
Having the marketing must-haves above and shaping a stellar podcast promotion strategy is the key to digital stardom.