Landing pages are like book covers; they need to entice people to read. Otherwise, your online traffic will simply head somewhere else to purchase.
Most bloggers know that SEO is essential to drive online traffic.
Attracting consumers to your website from search engines is only half the battle though. You'll also need to impress online visitors enough to stay and engage with your business.
Are you still struggling to convert leads into subscribers and paying customers? Your landing page design is likely lacking then. The landing page is the first page people see when clicking on your ads or typing in your URL.
To increase your website's conversion rate, here are seven practical tips for a perfect landing page.
Write a Persuasive Headline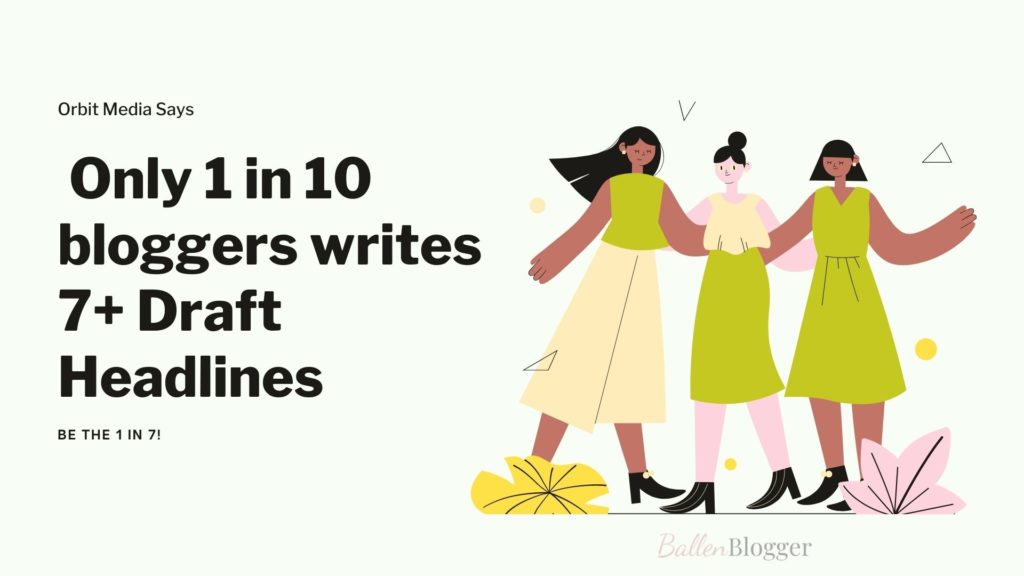 Every landing page needs a good headline in big, bold text. Headlines should tell online visitors in clear, concise terms what you offer.
For example, an online tutoring business might choose the headline "Studying for Final Exams Just Got Easier." A fitness company may pick a headline like "Burn Stubborn Belly Fat Fast."
Aiming for brief headlines under 10 words is smart. Get right to the point of your business mission.
Don't leave online visitors guessing about what you're all about. Headlines must be compelling and informative about your company's services. You want to grab your visitors' attention immediately and lure them toward your products.
I found an excellent tool for creating more compelling headlines. It's called Jasper, and it's an AI writing assistant. For headlines, I enter the intro paragraph of the landing page or short description, and Jarvis creates a list of possible headlines. It's genius.
Add High-Quality Images
According to Forbes, 65 percent of people are visual learners. Online users want to visually see what your business offers.
Landing pages must include clear, eye-catching images. Pictures with plenty of pixels are important to avoid blurriness. You can take these pictures yourself or download stock photos.
Don't infringe copyright by simply copying images from Google.
The photos should be related to your business services and headline. Perhaps upload an image of a smiling person using your product.
I use Canva to find images for my blog. Canva is an excellent, free online graphic design tool with a wide selection of images. While photos you take yourself are ideal, Canva has stock images as well.
Enter your keyword in the search bar, and Canva will return photos, graphics, and even video for you to use on your landing page.
Pictures with people often perform better because visitors will feel more connected. landing page videos are also helpful to show your business in action.
Create Supportive Subtext
The landing page headline draws online visitors in, but supportive subtext keeps them. People work hard for their money. They need to know exactly what they're buying into. Use your landing page to describe what your product or service is.
Outline the features that make your product or service unique. Tell and show visitors why they should choose you over competitors. Avoid exaggerating or making false claims. Remember to use bullet points and numbered lists that are easy to scan.
Make the content user-focused too. Provide concrete examples of how your business will benefit them. Don't use generic and uninspiring terms, such as "We design software." Try something like "Get user-friendly accounting software to simplify your tax filing."
Publish Social Proof
Let's face it: Many businesses lie. Consumers are rightfully skeptical and cautious. Therefore, your landing page needs to build trust. Social proof is one powerful method to develop confidence in your company. It relies on the fact that people often copy what others are doing.
Knowing that many people have successfully used your product or service will ease their fear.
Social proof can assuage their worries about being ripped off and scammed.
How do you showcase social proof? Publish testimonials, reviews, and ratings from past customers.
If given permission, include customers' pictures for a face-to-face connection. Share honest data about your client base. Real statistics, such as "1 million active members and counting," are enticing.
Offer a Satisfaction Guarantee
Landing page conversion rates will lag if your online visitors are unsure. Don't let the "what ifs" derail your sales. Instill confidence in your customers by writing a guarantee statement.
Satisfaction guarantees take away the uncertainty by providing a full refund if customers aren't happy. Put your money where your mouth is and show you live up to your promises. Successful e-commerce companies will typically honor refunds for 30 to 90 days.
Some choose a lifetime guarantee or a free trial period. Customers will be less concerned about something not working because it could be free.
Your company can use this guaranteed time to prove its fears wrong. Place an emblem with your satisfaction guarantee above the fold on the landing page.
List Correct Contact Info
Never make online visitors search for your contact information. Getting in touch with your business shouldn't require a scavenger hunt. Feature multiple ways people can contact you on your landing page. Encourage people to contact you with questions or concerns they have.
Always include a phone number and email address. Double-check your digits to prevent a misdial. Listing a physical street address is also crucial. Cautious online shoppers look for addresses to prove a company is legitimate.
Sharing your location may even increase your online traffic with local SEO. landing pages with built-in contact forms for visitors to fill out are generally successful.
Consider adding an interactive chat widget for easy virtual talks.
Optimize Your Call to Action
What do you want landing page readers to do? Perhaps you want them to purchase your new product. Maybe you hope they subscribe to your blog, download your eBook, or request an estimate.
Whatever the case may be, explicitly tell them. Make it known exactly what interested online visitors should do.
Create an urgent call to action. CTAs are literally designed to get your business conversions. Quick, ultra-concise CTAs are usually the most effective. For instance, some good calls to action would be "Shop our online store now" or "Pre-order our book today and save $10."
Embed a working link in the CTA text to transport online visitors. Moving from the landing page to other desired pages is the goal.
There isn't a one-size-fits-all approach to landing pages.
Businesses won't find surefire success strategies that always work. It's all about tweaking your landing page until you find a web design that works. Watch your lead conversion rates to see when your landing page is most profitable. Small changes might be necessary, but don't forget the seven landing page necessities above. Ensure your design is user-friendly with convincing text, vivid images, testimonials, and a stress-reducing guarantee.
Direct attention to your CTA to get the most conversions. These practical tips for a perfect landing page will help capitalize on your strong online traffic.
Market Your Landing Page
Marketing your landing page is a crucial step to lead generation. If there's no one to see it, how can the landing page do the most good?
1) Utilize blogging and article marketing that offers value to your target audience. This type of content marketing will help establish you as an expert in your field.
2) Find out where your target customer hangs out on the Internet and market there. It might be a forum, social media group, or email list. By reaching potential leads in these places, they'll most likely have a need for your product or service.
3) If you have a large budget to work with, advertising offers the most potential. Display ads on top sites will draw more attention. You can run banner ads or commercials that target specific demographics.
4) Email marketing offers a great ROI for small budgets. This form of communication is better than social media because people expect to receive emails from companies they communicate with. Use this list to ensure your customers are receiving your emails.
5) Promote third-party websites by buying leads. Buying leads guarantees you get new customers while allowing other businesses to sell their services or goods.
6) Sponsor search engines ads that are relevant to your target audience's interests. If the person searching for information is in need of your product, they might see your ad and click.
What To Avoid On Your Landing Page
Online visitors are interested in the value your product or service offers. If you make landing page mistakes, they'll leave before finding what they were looking for.
1) Don't use stock images unless you have to. Instead, include real photos of people using your service or holding your products. This increases credibility and helps build a more personal relationship with the customer.
2) Don't use confusing jargon. Make your landing page pleasing to the eye for both novices and pros. Jargon will only confuse potential leads, so don't even bother including it!
3) Keep it short and sweet. Online attention spans are less than one minute long, so keep your design simple with a clear message that gets to the point.
4) Don't forget about your text and images. These two elements are what keep online visitors on your landing page, so include both in your site design! Neither one makes a strong impact without the other.
5) Don't overlook your CTA. If you're asking for their email address or phone number, make the CTA stand out from the rest of your landing page. Don't distract them with a call to action on top of everything else!
Upsells and Downsells
A landing page isn't complete without an upsell or down-sell.
Simply put, these are two choices you give your customers on each purchase. For example, if you buy the first choice, you get one item for $30. If you buy the second option instead, the total is $50.
Upsells- the first choice you offer to customers, typically with a lower price point
Downsells- the second option you give your customers, usually with a higher price point and more features than the first
The Landing Page Layout
The most effective landing pages have a few vital characteristics in common. The layout of your page will vary depending on whether you choose to use an upsell or downsell, but the basic design is the same.
A landing page typically includes a header, an arrow, a section for the landing page copy, a form, and a footer.
Headers
Headers are banners at the top of your page that catch people's attention. When you are designing the header, consider adding an image to the left-hand side with your product or service name on it. This area also contains your main headline and subheadline, so think of the most engaging words you can put here.
Arrows
The arrow points at where visitors will click next after they've made their choice. The arrow either directs them towards a down-sell or an upsell.
Sections for Landing Page Copy
Start with a bold headline and include bullet points underneath it to provide more information about your product or service in a brief manner. You can also add a paragraph at the bottom of this section that expands on the detail in the bulleted list, but don't make it too long!
Forms
There are three main types of forms, each with a different purpose. A lead capture form asks for an email address or phone number so you can contact them in the future. Consulting firm McKinsey has mastered this type of form with their entry-level call to action asking visitors to sign up for job alerts rather than sending them to McKinsey's homepage.
The second type of form is a freebie form. This form requires no email address or phone number, but it does ask for information on what your visitors are interested in so you can provide them with more valuable content later. HubSpot's landing page example includes an area for people to sign up for their blog which provides other resources that can be used for marketing.
The third type of form is a free trial form. This form should require an email address to sign up and also include a CTA button encouraging people to click. Here's one great example from Vimeo's home page:
The Footer
After you've gathered all the information you need from your visitors, you can include a footer that includes legal information or copyright statements.
Check out Elementor, a page builder for WordPress. It includes landing pages that you can build and apply throughout your website.
Another popular landing page builder is Unbounce, and one that has been around for a while is called Lead pages.
In Summary,
Landing pages are pages with a single focus. The goal of a landing page is to convert. The design of your landing page and the elements you build around are key to creating a successful, converting, page.