After trying many CRM's and Email marketing software over the last few years, I came back to Infusionsoft, now called KEAP. With KEAP, I can send email broadcasts, manage contacts and communication easily, create marketing automation funnels, collect payments, etc.
What Is KEAP?
Keap is a database program that you can use to manage your clients. Using Keap, you can track your prospects, customers, and more. 
Here are just a few of the things you can do with KEAP
Simplify the appointment scheduling process using appointments
Collect new leads and find new opportunities
Organize contacts, and business details
Track daily activities and Processes
Manage Follow up Communication
Promote and Market Your Business
Request and Collect Payments
Send and receive texts from your desktop
Create and send emails to your contact lists
Track every opportunity in your sales pipeline
Track every opportunity in your sales pipeline
Getting Started
When you first log into KEAP, you'll see a getting started button with a light bulb icon. Click the icon to open the getting started page.
This dashboard will guide you through activities that you can do to create more marketing automation with your KEAP CRM.
---
Collecting New Leads and Finding Opportunities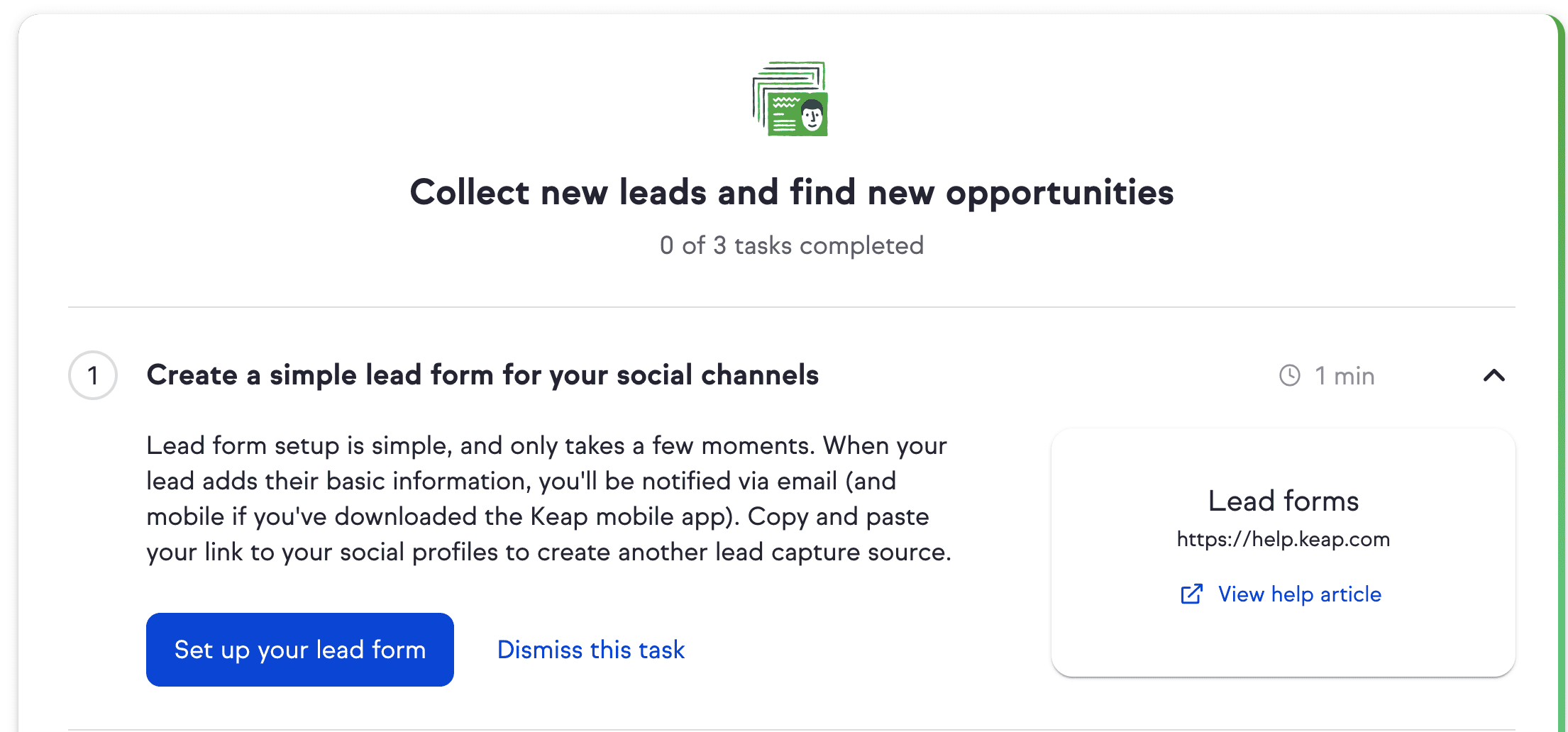 Lead form setup is easy and only takes a few minutes. When your lead inputs their contact information into a form, you'll receive a notification via email (and mobile if you are using the Keap mobile app). You can also share your link to your social profiles to launch another lead capture source.
It's worth noting that my brothers Jeff and Paul at Ballen Brands work with Keap by Infusionsoft to build your automation campaigns and help with your database needs. Call 702-917-0755.
The Main Features of Keap
Some of the top features of Keap include client scheduling, automation of certain functions, SMS marketing, email marketing, and a robust CRM database.
There are a few main benefits of Keap; however, the most important is the ability of Keap to house all of your client activity and communications in a single place.
Using Keap, you can handle customer contacts, update your client records, and collect money while providing your customers with an excellent service that will set you apart from the competition.
Because Keap has experienced rapid growth, everyone needs to take note of its features. It might be the software program you need to level up your marketing skills.
---
If you are wondering how Keap can help your business, there are a few features that you need to note.
Some of Keap's features are:
Contact Management
The most prominent feature of Keap is its contact management capabilities. Contact records are the most common way that Keap holds data related to a particular contact.
As a result, you will have a single central location where you can see all of the information related to that individual, including contact details, notes, tags, SMS history, email history, and more.
Message Automation
When you sign up for Keap, you can set up "Keap Phone" issuing a business phone line that you can use to run your business. You can use the phone line to send SMS messages to clients automatically in campaigns.
In addition, Keap offers a library of templates that work well for simple emails, newsletters, video campaigns, and more.
Tasks
The tasks section is one of the essential parts of Keap. In the tasks section, you can tie tasks to each contact, helping you figure out everything you have to do with a particular contact during the day.
You can also set up general tasks that help you stay on schedule.
Tasks can even be included in your campaign automation, meaning that you can have Keap create tasks for you.
Appointments
There is also an appointment section in Keap.
The appointment section is excellent for scheduling calls and appointments with prospects and clients.
You can then create links that you can share with others, allowing them to book meetings with you online.
Invoices
Keap has an invoicing feature built into it. You can quote and invoice your clients with ease. You can then receive online payments and even set up automatic, recurring bills and payments in certain situations. 
You can even run special promotions for clients who haven't purchased anything from you yet.
These are a few of the main features of Keap.
To get the full picture, you need to compare the pros and cons of Keap. Call Jeff at 702-917-0755 for a demo of the different plans available.
A Review of Keap Features
There are a few pros that set Keap apart from the other options in its field.
These include:
Keap has a campaign builder that allows you to drag and drop various parts of a marketing campaign, setting up a flow that makes sense for your business with specific goals and benchmarks that define a successful campaign
Keap provides an all-in-one solution, making it easy for you to launch campaigns and manage your contacts from a single, central location
You can see past communications and orders from clients, allowing you to quickly and easily remember the history that you have built with each of your clients
The Keap program is segmented easily to see all parts of your list in a comfortable, intuitive format
Comparing Keap and the Alternatives
There are a few alternatives to Keap as well. Some of the biggest competitors include:
ActiveCampaign: ActiveCampaign provides a wide array of automation features and a robust CRM and visual campaign builder, but it doesn't offer the option to accept online invoices
Ontraport: Ontraport is an extensive software program that has been designed for online businesses and offers a robust CRM
ClickFunnels: ClickFunnels is a funnel builder that provides a secure landing page to help you move clients through the sales process; however, it doesn't have many content management features
Overall, Keap compares favorably with the competition, including some of its main alternatives above.
Using Keap To Grow a Business
In the end, you should use Keap if:
Your business is focused on customer service and building rapport using one to one relationships with clients
You have an extensive list of contacts that you would like to track more easily
You would like to automate your prospect and client flow processes
You are looking for a tool that can help you create a robust strategy that includes lead generation
Keap has grown by leaps and bounds during the past few years. It might be the tool you need to develop stronger relationships with your clients as well.