Dropshipping is an ever-growing business model, and the key to its success lies in the tools you choose to power your online store. With the right dropshipping software, you can streamline your operations, boost sales, and improve customer satisfaction. But how do you know which tools best fit your unique business needs?
In this guide, we'll dive deep into the world of dropshipping software, examining its essential features, top all-in-one solutions, product research tools, marketing tools, and efficient shipping and order management options. We'll also offer tips to help you choose the perfect tool for your business. Let's get started!
Key Takeaways
Dropshipping software automates e-commerce tasks to streamline business operations.
When choosing a dropshipping solution, look for features such as inventory management, order fulfillment, and customer service.
Consider budget, platform compatibility, and features offered before selecting the right tool for your unique needs.
Dropshipping Software List Quick List
Here's a comprehensive table that lists various dropshipping software options and their primary functions:
| Dropshipping Software | What it Does |
| --- | --- |
| Shopify | Offers a user-friendly interface, a wide range of functionalities, and an ecosystem of apps. |
| AliExpress Dropshipping | Helps automate processes such as product sourcing, order management, and inventory tracking. |
| Spocket | Facilitates product sourcing and management, with a focus on quality and fast shipping. |
| Modalyst | Offers a marketplace of dropship products and integrates with e-commerce platforms. |
| Doba | Helps you find products from suppliers and automates order management. |
| Oberlo | Simplifies adding products from AliExpress to your Shopify store. |
| AliDropship | Provides a WordPress plugin for dropshipping from AliExpress and custom store creation services. |
| Wholesale2B | Grants access to various dropshipping suppliers and integrates with multiple e-commerce platforms. |
| Inventory Source | Automatically uploads products, syncs inventory, and routes orders with dropship suppliers. |
| Wholesale Central | A directory of wholesale suppliers and manufacturers, suitable for bulk purchasing options. |
| Dropified | Automates product importing, order fulfillment, and inventory management for dropshippers. |
This table provides a comprehensive overview of various dropshipping software options, each with its unique features and functions. You can explore these options further to find the one that best aligns with your dropshipping business needs.
Understanding Dropshipping Software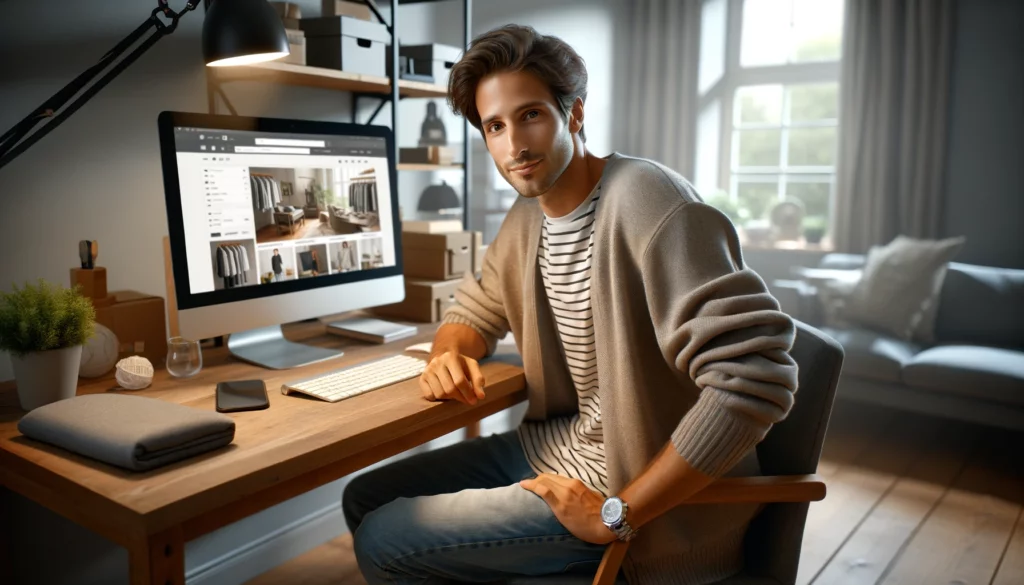 Dropship automation software is an e-commerce tool that automates tasks such as inventory management, order fulfillment, and customer service, thus simplifying dropshipping operations. It is instrumental in enhancing various aspects of an e-commerce business.
The best dropshipping software offers features like order management, shipping tracker, product information management, sourcing management, supplier management, and customer service management. These tools enable businesses to operate from any location, offer a variety of products, provide customers with more seller options, streamline operations, maintain inventory in real-time, integrate with shopping cart and payment gateways, stand out from competitors, ensure ongoing brand loyalty and reorders, automate the listing of products, fulfilling orders, and tracking stock levels.
Top Features to Look for in Dropshipping Software
It's important to take into account the key features of dropshipping software when choosing the perfect one for your e-commerce business. These should include:
Inventory management
Order fulfillment
Supplier management
Customer service management
A powerful dropshipping tool should also integrate seamlessly with your chosen e-commerce platform, such as Shopify, WooCommerce, or BigCommerce, to ensure a smooth and efficient workflow across your entire online store. By utilizing a cloud-based dropshipping platform and incorporating essential dropshipping tools, you can further enhance your business operations and stay ahead in the competitive market of online platforms.
Some additional features to look for in dropshipping software include the ability to sync inventory across multiple suppliers, import product details from various sources, and manage customer orders and shipping. By choosing a dropshipping tool with these features, you'll save time and effort in managing your online store while providing your customers with a wide variety of product offerings and a top-notch shopping experience.
Best All-in-One Dropshipping Solutions
All-in-one dropshipping solutions are tools that provide comprehensive features for multiple sales channels. These solutions cater to the diverse needs of e-commerce businesses and are designed to streamline various aspects of dropshipping, such as inventory management, order fulfillment, and supplier management.
Let's examine three leading all-in-one dropshipping solutions – AutoDS, Oberlo, and Spocket, which can elevate your business.
| Free plans available, paid plans start at $29.90/mo. | Key Features | Pricing |
| --- | --- | --- |
| AutoDS | – Comprehensive dropshipping automation features. | 7-day trial for $1, various subscription plans. |
| Oberlo | – Seamless integration with Shopify. | Free plans available; paid plans start at $29.90/mo. |
| Spocket | – Access to a large network of pre-vetted suppliers. | Starts at $19.00/mo, Starter plan at $24.99/mo. |
These all-in-one dropshipping solutions offer a range of features to simplify various aspects of dropshipping, including inventory management, order fulfillment, and supplier management, making them valuable tools for dropship entrepreneurs.
AutoDS
AutoDS is a comprehensive dropshipping software that provides a wide range of features to automate and simplify multiple aspects of an e-commerce business. Its advantages include inventory, order fulfillment, supplier, and customer service management. AutoDS offers automation services across a diverse range of dropshipping suppliers and sales channels. It caters to more than 25 providers in total. It includes a product research tool, automatic order fulfillment methods, a price optimization feature, and a stock monitoring system.
AutoDS offers a seven-day trial for $1, allowing you to test its features before committing to a paid subscription. With its robust set of features and compatibility with popular selling channels, AutoDS is an excellent choice for those looking to automate their dropshipping business and improve efficiency.
Oberlo
Oberlo is a dropshipping plug-in that offers the following features:
Product Import
Order fulfillment
Product tracking
Additional services
It facilitates the product import process and fulfillment in an efficient manner, making it an ideal choice for Shopify store owners. Oberlo streamlines the product import and fulfillment process, helping you save time and money while providing your customers with access to a vast selection of products and suppliers.
Oberlo provides a free plan, allowing you to test its features without any financial commitment. If you're satisfied with the platform, paid plans begin at $29.90 per month. By integrating Oberlo with your Shopify store, you'll gain access to a powerful dropshipping solution that can help you grow your business and reach new heights.
Spocket
Spocket is an e-commerce dropshipping software that offers the following advantages:
Helps you discover optimal products to sell by analyzing thousands of suppliers globally
Provides access to over 8,000 pre-vetted suppliers and 2.5 million products, giving you an extensive selection for your online store
Offers access to US and EU suppliers
Provides automated order fulfillment
Has a G2 rating of 4.4 stars
The initial cost of the Spocket is $19.00 per month, with a Starter account priced at $24.99 per month. Spocket gives you access to a wide range of high-quality products and reliable suppliers, allowing you to create a unique and diverse product offering for your dropshipping business.
Top Product Research Tools for Dropshipping
Keeping abreast of market trends and identifying popular products is key to the success of your dropshipping business. The right product research tools can help you uncover high-demand, low-competition products that can drive sales and boost your bottom line.
Next, we'll discuss three exemplary product research tools for dropshippers: Zik Analytics, Jungle Scout, and Alidropship.
Zik Analytics
Zik Analytics is a product research tool specifically designed for eBay dropshippers. It offers a comprehensive suite of tools to help eBay sellers.
Identify profitable items to sell
Optimize their sales
Gain insights into successful selling practices
Identify areas of improvement
Stay ahead of the competition
Zik Analytics provides access to powerful product research tools, automated pricing optimization, and comprehensive analytics. The cost of Zik Analytics varies depending on the plan selected, allowing you to choose a plan that fits your needs and budget. By utilizing Zik Analytics, you'll be better equipped to drive sales and grow your eBay dropshipping business.
Jungle Scout
Jungle Scout is the premier all-in-one platform for obtaining data and insights to assist entrepreneurs and brands in establishing successful businesses on Amazon. It offers features for:
Product research
Keywords
Listings
Suppliers
And more
Jungle Scout helps users uncover high-demand, low-competition keywords and recognize trends to identify products with maximum profit potential on Amazon.
Jungle Scout offers several pricing plans catering to various budgets and needs.
Basic Plan: $19/month
Suite Plan: $49/month
Professional Plan: $84/month
Master Plan: $399/month
By leveraging Jungle Scout, you'll be able to make informed decisions and grow your Amazon dropshipping business with confidence.
Alidropship
Alidropship is a company that offers a WordPress plugin called "Alidropship Plugin" which allows users to easily create and manage their own dropshipping stores. The plugin integrates with the AliExpress platform, allowing users to import products directly from AliExpress and fulfill orders automatically. Alidropship also provides additional services such as custom store development, marketing tools, and support for dropshipping entrepreneurs.
Essential Marketing Tools for Dropshipping Success
Effective promotion of your dropshipping business is pivotal to its success, and the right marketing tools can greatly aid in this. Here, we'll delve into the significance of marketing tools in the advancement of your dropshipping business, spotlighting leading options for email marketing, social media advertising, and content creation: Mailchimp, Facebook Ads Manager, and Canva.
Mailchimp
Mailchimp is an email marketing platform that provides businesses with the ability to:
Reach their target audience and expand their reach
Offer a range of marketing automation, email marketing, and other tools to manage and engage with subscribers. effectively
Provide analytics and insights to help businesses monitor their performance.
Mailchimp offers a free plan for up to 2,000 contacts and 500 sends per month, with paid plans starting at $9.99/month for up to 50,000 contacts and 1,000 sends per month.
Leveraging Mailchimp for your dropshipping business will allow you to connect with your target audience, expand your reach, and ultimately boost your sales.
Facebook Ads Manager
Facebook Ads Manager is an all-encompassing tool for creating and managing ads across multiple platforms, including:
Facebook
Instagram
Messenger
Audience Network
It enables the creation of targeted campaigns, tracking of performance, and optimization of ads for improved outcomes. Facebook Ads Manager also provides comprehensive analytics and insights to facilitate informed decisions.
To utilize Facebook Ads Manager for dropshipping, you'll need to:
Create an ad account
Establish campaigns
Generate ads
Monitor performance
By leveraging Facebook Ads Manager, you can effectively reach a wider audience, drive traffic to your online store, and ultimately increase sales for your dropshipping business.
Canva
Canva is an online graphic design tool that offers users free access to create social media posts, presentations, posters, videos, logos, and more. It provides an array of features, such as templates, drag-and-drop design tools, and a library of stock photos, illustrations, and icons.
Canva offers a free plan, as well as a Pro plan priced at $12.95/month. By utilizing Canva, you can create visually appealing content for your dropshipping business in a time-efficient manner. This will help you attract more customers and boost your sales, ultimately leading to a more successful business.
Efficient Shipping and Order Management Tools
Efficiently managing shipping and orders is significant for the prosperity of your dropshipping business. Efficient shipping and order management tools can help you simplify daily operations, improve customer experience, and boost your bottom line.
Next, we'll highlight two exceptional tools, ShipStation and Ordoro, that can aid in achieving these objectives.
ShipStation
ShipStation is a shipping software solution designed to help online retailers optimize their order fulfillment process. It offers the following features:
Import, manage, and ship orders from multiple ecommerce channels
Create shipping labels, packing slips, and pick lists in batch
Track shipments and manage returns
Generate reports to analyze shipping performance
With ShipStation, online stores can streamline their shipping operations and provide a better customer experience.
ShipStation provides a complimentary plan for up to 50 orders per month, with paid plans starting at $9 per month. By utilizing ShipStation, you can streamline your shipping and fulfillment process, saving both time and money while improving the overall customer experience.
Ordoro
Ordoro is an all-in-one platform that assists ecommerce sellers with inventory, order fulfillment, and shipping operations. It simplifies the routine tasks associated with running an ecommerce business and is compatible with multiple channels including Shopify, Amazon, eBay, and more. Ordoro provides features such as inventory management, order fulfillment, shipping operations, and more.
Ordoro offers a free plan, as well as paid plans starting at $29/month. By using Ordoro, you'll be able to streamline your daily operations, improve efficiency, and ultimately increase sales and customer satisfaction.
Tips for Choosing the Right Dropshipping Software
Selecting the appropriate dropshipping software is a critical step towards the success of your ecommerce business. When evaluating software options, it's important to consider factors such as:
Your business size
Target market
Budget
Compatibility with your chosen ecommerce platform
Additionally, you should evaluate the features, integration capabilities, vendor onboarding, channel integrations, and inventory syncing offered by the software.
By taking these factors into consideration, you'll be able to select the best dropshipping software for your unique business needs. A well-chosen software solution can significantly improve your customer experience and the variety of products you can provide, ultimately leading to a more successful and profitable dropshipping business.
Summary
In conclusion, the right dropshipping software can make all the difference in the success of your ecommerce business. By understanding the essential features of dropshipping software, exploring top all-in-one solutions, product research tools, marketing tools, and efficient shipping and order management tools, you'll be well-equipped to choose the best software for your unique needs. Remember to consider factors such as your business size, target market, budget, and compatibility with your chosen ecommerce platform when making your decision. With the right tools in place, you'll be well on your way to building a thriving and profitable dropshipping business.
Frequently Asked Questions
What software do you need for dropshipping?
For successful dropshipping, eCommerce platforms like Shopify and marketplace tools like Oberlo can be used for product sourcing and management.
ShipStation is also a great option for shipping and fulfillment.
Can dropshipping still be profitable?
Dropshipping is estimated to be worth $197 billion and is expected to grow up to $500 billion by 2027. It is still profitable in 2023 and beyond with a market size of $476.1 billion globally by 2026.
Despite the high failure rate amongst dropshippers, this business model remains popular due to its potential to increase top and bottom lines.
Is 500 enough to start dropshipping?
$500 is a fair starting budget for dropshipping as it allows you to start a store on Shopify and have a marketing budget.
However, if you find that your sales are not increasing after spending $300-400, it may be time to reconsider your approach.
What is the easiest platform for dropshipping?
BigCommerce, Wix, WooCommerce, Squarespace, Adobe Commerce, Weebly, PrestaShop, and OpenCart are some of the most popular and easiest platforms for dropshipping.
How to automate dropshipping?
Automate your dropshipping store by sourcing automated tools from the Shopify App Store, streamlining order processing with your supplier, optimizing pricing for your business model, aligning inventory control across all vendors and automating order tracking.