We may earn money or products from the companies mentioned in this post. Lori Ballen is a member of the Amazon Associates Program
Bloggers who want to get ranked well for their chosen topics often follow specific Search Engine Optimization strategies. One of these methods involves a content strategy consisting of topics clusters.
If done right, topic clusters can be the launching pad that moves your website to the top of the organic search rankings.
"Marketers are 13x more likely to see positive ROI than marketers who don't invest in blogging" ~ Hubspot
What Are Topic Clusters?
Topic clusters, or content clusters, are many blog posts or content pieces that live on your website and are internally linked to a common, overarching subject (known as pillar content).  These internal links allow Google to crawl easily through your site and find related information.
Topic clusters also provide you with an opportunity to create more in-depth articles around each topic, which will help boost your search rankings further down the page.
What is Pillar Content?
Pillars help make websites easy to navigate and understand by providing structure and context. They're essential when there isn't a main navigation menu. The Pillar post is the broad topic, while the content cluster is the subtopics.
Content clusters help to keep visitors engaged and interested in reading more.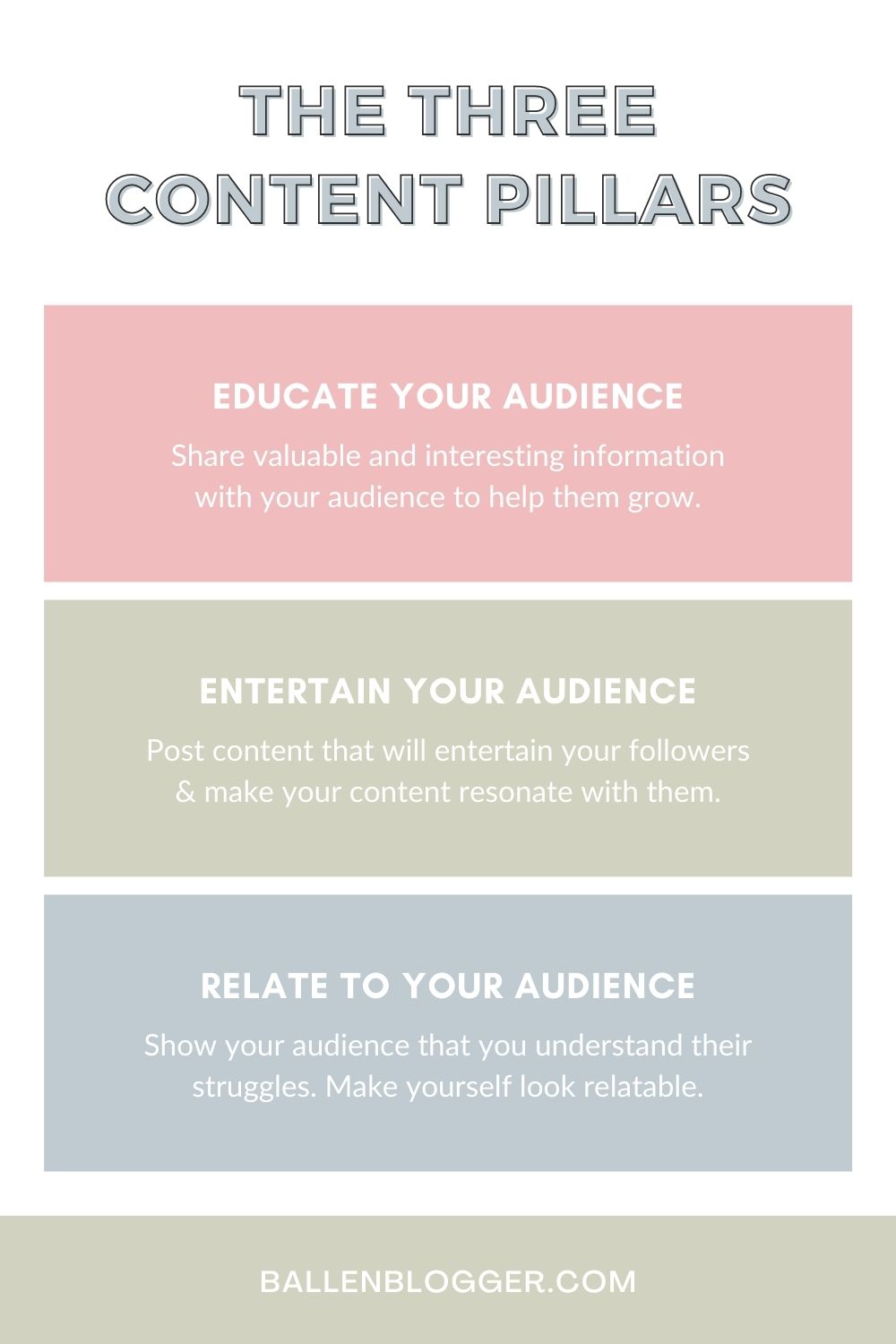 Benefits of Topic Clusters
Enhance Context: The ability to group related topics in a cluster is an integral part of the context that helps users understand what they are reading.
Improve Navigation: Users can easily navigate through the topic clusters and find information quickly. In addition, good navigation helps satisfy search intent.
Organize Content: Topics within a cluster help organize content into logical groups, making it easier for readers to find specific types of information.
Provide More Information: When you have more than one topic on a page, your site will provide more information about each topic. As a result, your readers will get more out of their time spent on your website.
Provide Better Search Query Results: If you use keywords throughout your site, then search engines will be better at finding relevant pages when someone searches for them.
Improve the User Experience: By grouping similar topics together, users will spend less time navigating around your site and more time using it.
Help Establish Authority: Your site's authority is based upon its overall quality, not just the number of pages or posts on it. Having a large amount of content grouped under a single topic increases the likelihood that people will trust your website.
As a rule of thumb, good content should be interesting, challenging, entertaining, and worthwhile. Otherwise, the producer (writer) has wasted their time. – Neil Patel
Topic clusters are essential to a great content marketing strategy.
Examples of Topic Clusters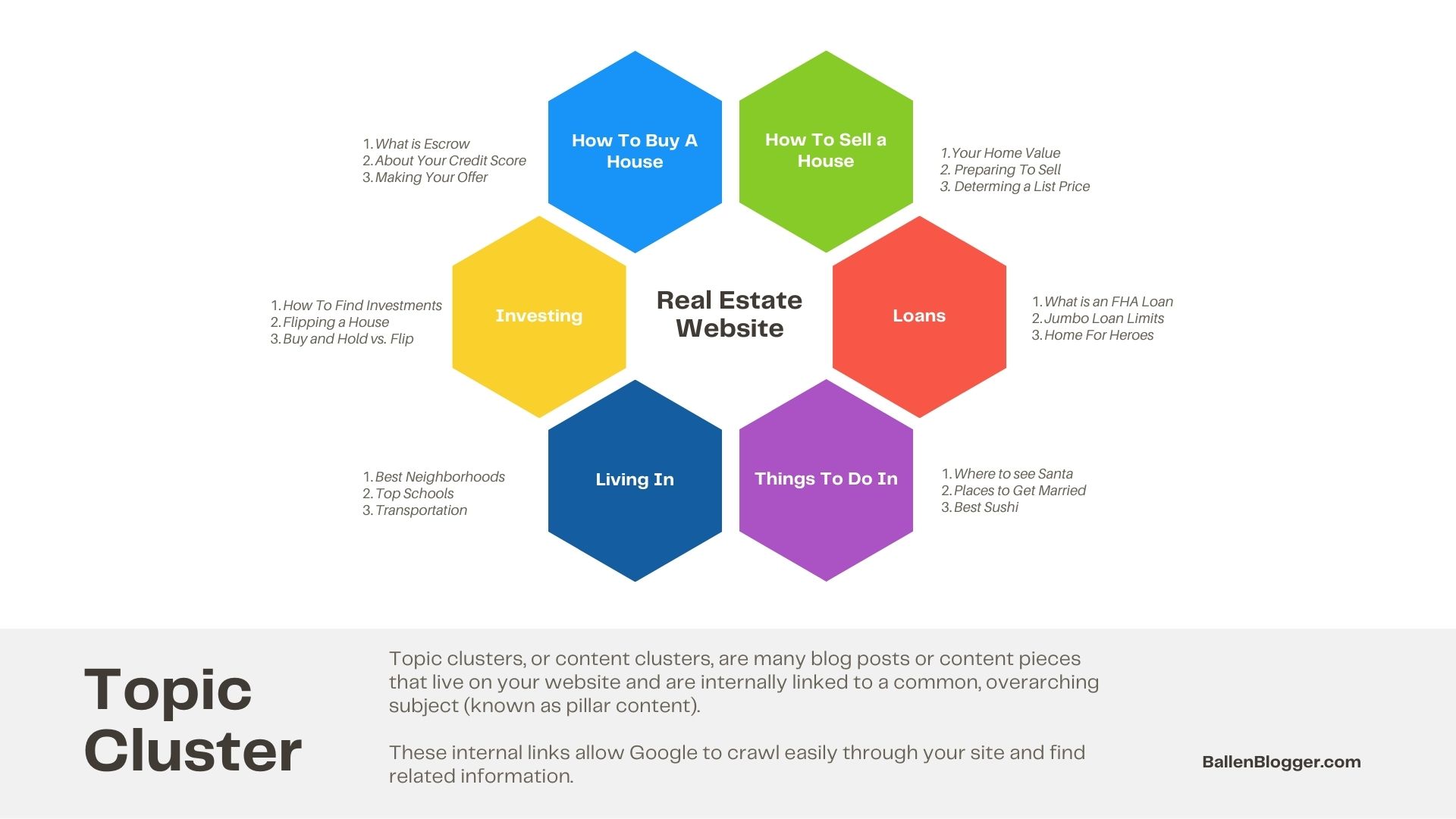 As an SEO strategist, I create real-world topic clusters on my niche websites. I start with the broader topics and drill down to relevant topics to make up the SEO Topic cluster.
Real Estate (Entire Topic for the Website)
Here's an example of cluster topics I created for buying a house (Central Topic). These are interlinked articles, each also linking to the Pillar article. I employ an evergreen content plan which means that it's not time-sensitive and can last for a long time on the website without being updated.  My content strategy for all of my niche websites is heavily based on evergreen content that meets the content quality standards of Google. 
Pillar Post: The Comprehensive Guide to Buying a House
1. How to Determine Your Purchase Power
2. What Credit Score is Needed to Buy a House
3. How to Choose a Real Estate Agent
4. The Prequalification Process to Buy a Home
5. What to Expect on your Home Tour
6. How to Make an Offer
7. Congratulations, You are in Escrow.
8. The Due Diligence Process
9. Buying a Home in an HOA
10. What to expect At Closing.
Choose The Size Of Your Topic Cluster
When deciding on the size of your topic cluster, consider the following factors:
1. How many topic-related blog posts do you want to include?
2. What is the average length of each topic?
3. Do you want to have a lot of long-form content, or do you prefer short snippets?
A cluster can be as few as 3 or 4 content clusters and a Pillar Topic, or as many as 30-40 posts.
How Do I Create a Topic Cluster?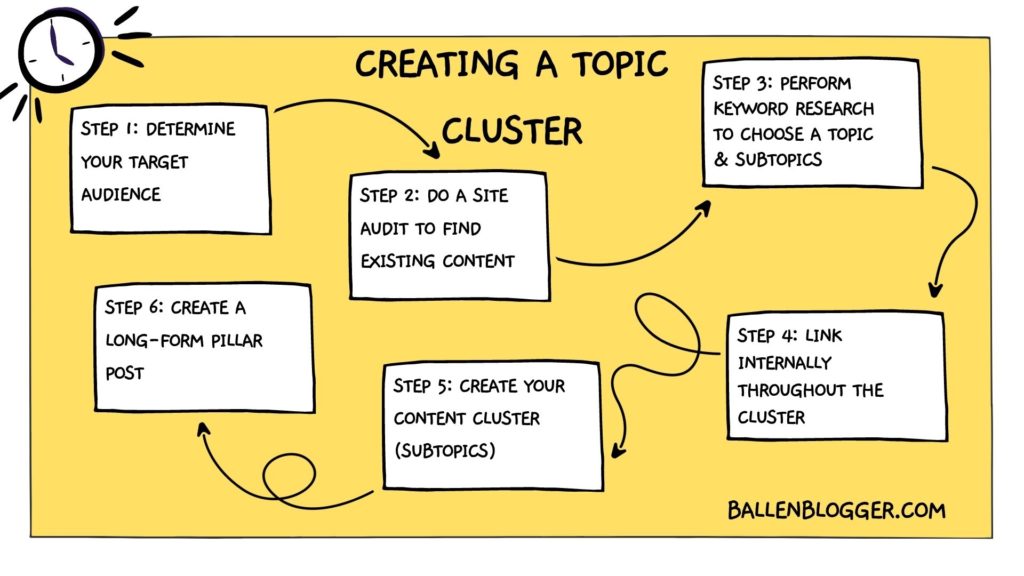 The first step is to identify the main themes or topics you wish to cover on your blog. You may have already done this when setting up your blog, but if not, now's the time to do so.
Identify Your Target Audience
To better identify topics you want to cover, you should start thinking about who your target audience is. What type of topics would interest them? How much time do they spend online?
You might even consider creating a persona for your target audience. Doing this will give you some insight into what kind of topics they like and dislike.
Determine Your Core Topic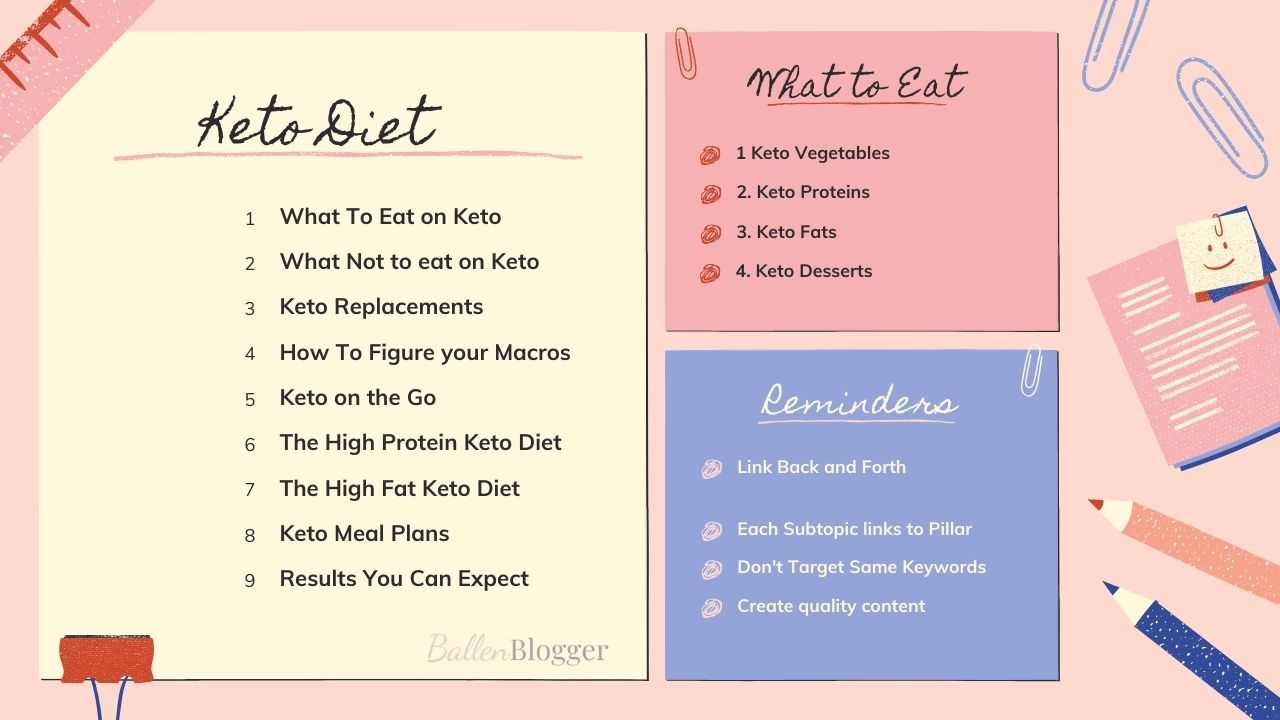 Once you know what kind of content you want to write about, you'll need to decide what those core topics are. Your core topics will be the Pillar posts on your website.  These are generally long-form content that presents themselves as comprehensive guides. 3000 to 5000 word long posts are common for Pillar posts.
To determine your core topics, think about what you would like to talk about most frequently. What kinds of questions do people ask you daily?  What types of problems do they face? Think about what you could answer best, and then start writing!
Perform a Content Audit
Once you know what you want to write about, perform a content audit. First, look over your existing content and determine which topics should be included in the new cluster. You don't necessarily need to include every piece of content you wrote before, but it's helpful to look back and consider whether any of those pieces were too general or didn't fit well with the other parts.
Identify Related Articles
Another way to determine what should go into your new cluster is to review the most popular articles from your previous posts. This type of content tends to be very focused and often contains multiple subtopics. If you notice that a lot of traffic comes from a particular article, you might want to include it in your new cluster. 
To identify how much traffic is coming to a blog, you can use an SEO tool like SEMRush, an analytics tool like Clicky, or Google Analytics.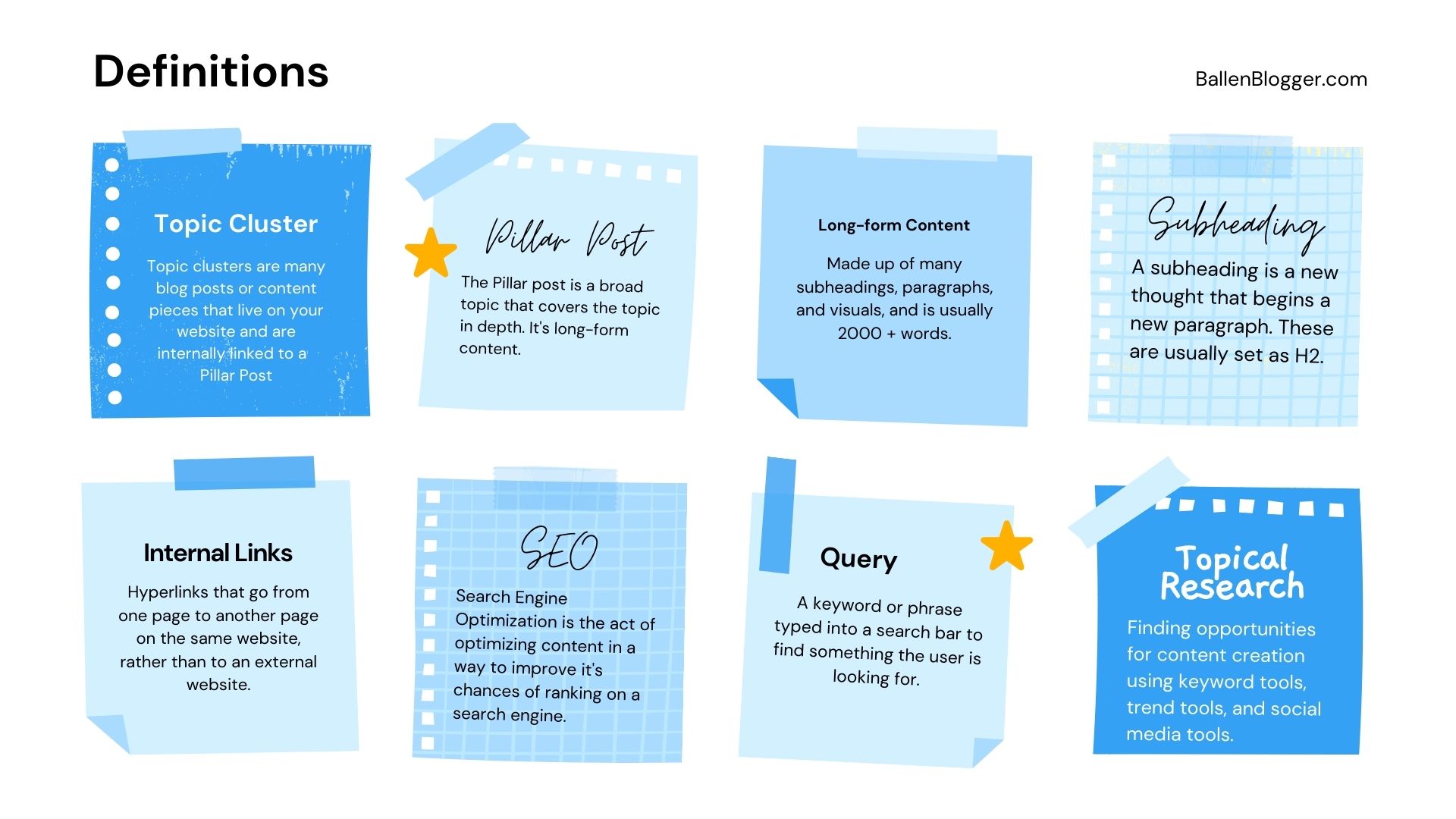 Keyword Research
Now that you know what your core topics are, it's time to research keywords. Keywords are used as part of an SEO strategy.  A single keyword or phrase is typed into a search engine (user query) to find specific things.  For example, if someone were looking for "best WordPress plugins," they might use the keyword "WordPress plugin".
You can use an SEO tool such as SEMrush to discover popular keywords that relate to your niche. Then, click on the questions tab to see questions related to the niche.  A question can be a stand-alone blog or part of a FAQ on a blog.
SEMrush, my favorite SEO Tool, now offers a list of relevant keywords based on search intent. I avoid competitive keywords (which are usually broad) on a new website until my domain authority is high enough to gain rankings in search engines.
You can assume that any keyword with massive search volume will probably be hard to rank for. You can find the search volume keyword number in the SEMrush dashboard.
The beauty of the subtopics in a cluster is that they are usually more targeted long-tail keywords, which are much less competitive, and therefore easier to achieve organic search rankings. These are narrowly-defined subtopics that rank faster. Make a list of topics based on these keywords. 
If you are using a keyword tracker already, it's a good idea to look at your existing keyword rankings to determine which might be good to build a cluster (sometimes called a hub or silo) around.
Create a List of Subtopics (The Content Cluster)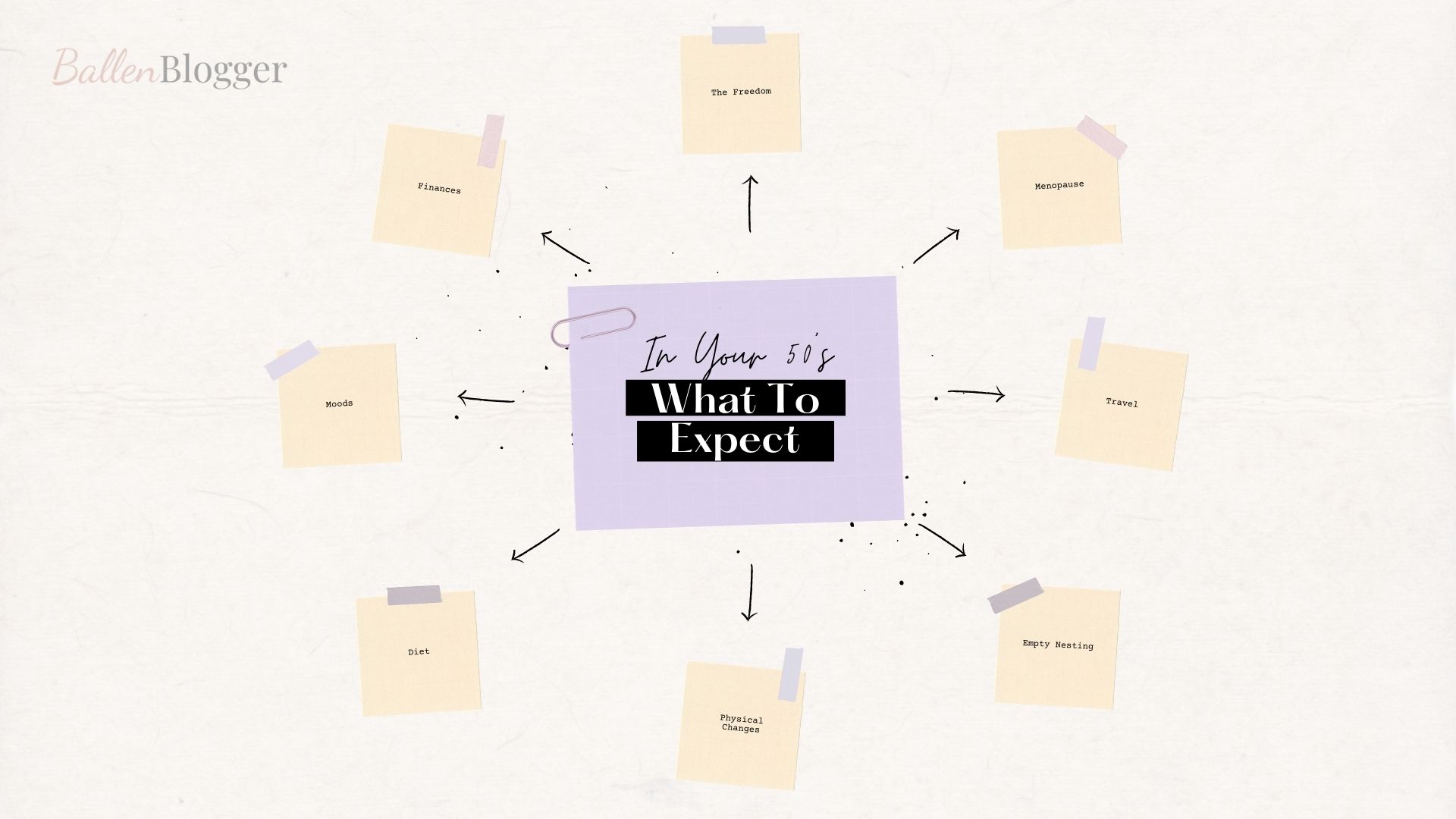 After you've determined your core topics, go ahead and brainstorm some ideas for each one. This place is where you begin to build out your cluster of topics into a cohesive whole.
You don't necessarily have to stick to just one subtopic per post, but try to keep your cluster content at least somewhat similar.
For example, if you were talking about "how to blog effectively," you might include:
How to start a blog
How to find blog ideas
How to write a blog
How to SEO a blog
How to Promote a blog
And so forth.
Your cluster content does not all need to start with How To. Instead, word your titles in the best way to fit the content and target keyword.
You can always add more content topics later on once you're comfortable with your initial list. You can also do a competitive analysis using a tool like SEMrush to get subtopic articles for your idealist.
Write the Pillar Post
Once you've got an idea for your pillar topic, it's time to write it. The goal here is to create a comprehensive guide that answers the question you chose.  Make sure to structure your post around the topic and the keyword you selected.
Here's the framework:
Title (target keyword)
URL (include target keyword)
Intro (about the size of a tweet)
Image or Video
CTA (Optional call to action)
Table of Contents
Several paragraphs with headings (H2)
Include several images
List and Link to sources
Summary
Add a FAQ if applicable. 
Add Internal Links
The pages within a topic cluster link back and forth to one another. Each piece of content in the cluster should link back to the Pillar Post. Some bloggers will write and publish all of the subtopic posts first and then combine them to create a Pillar Post.  On the other hand, others start with the Pillar Post and build subtopic articles from the headings that can be a blog post on their own. 
For example, If you can write 800-2000 words about a heading, it deserves to be a piece of content in the content cluster. On the other hand, if you're writing a series of articles, you may only be able to cover a few topics before moving on to the next. 
In this case, you can still create a pillar post by linking to the previous posts.
Internal linking can be much easier when you use a tool like Link Whisper. If you are blogging on WordPress, Link Whisper is a Plugin that suggests popular pages on your website for links. For Topic clusters, you can select an option that will only offer posts in the same blog category.
What are Content clusters?
Content Clusters are groups of related articles that share common themes. These groupings help readers navigate through your site by providing a logical flow of information.
What is a Pillar Post?
Pillar Posts are the main content pieces of your site. They answer the most critical questions that visitors may have. The Pillar Post is the broad topic in topic clusters, and the subtopic articles make up the content cluster.
Why does my site need a content cluster?
Your website needs a transparent navigation system to make it easier for users to find the information they want. Content clusters provide this navigation system.
Do I need to write every single article myself?
No! many great writers specialize in writing high-quality content for websites. For example, my brothers at BallenBrands.com create content and many content brokers on the web.
What is Organic Traffic?
Organic traffic is free traffic from search engines such as Google, Bing, Yahoo, etc. It's usually referred to as organic because it comes directly from the search engine without paid advertising.
What is a Content Marketing Strategy?
A content marketing strategy is a plan for creating, distributing, promoting, measuring, and managing content assets across multiple channels. This plan includes goals, objectives, budget, and key performance indicators.
What is Content Creation?
Content creation is the process of producing written content for distribution via any channel.
What is a Content Hub?
A content hub is a place where you store all of your content. You can use a WordPress plugin like Yoast SEO Premium to organize your content into categories. You can also use tools like Trello or Asana to manage projects.
What is User Intent?
User intent refers to what people want when they visit your site. For example: When someone searches "how to get rid of acne," they might not know exactly what to expect when they land on your page. But they do know they want to learn something about getting rid of acne. So, they click on an article titled "How To Get Rid Of Acne Naturally."
What is a Call To Action?
A CTA is a button or graphic that tells people what to do next after reading your content. The goal is to get people to take action.
What is Authoritative Content?
Authoritative content is pieces of content that experts in their field have written. People trust authoritative sources more than other types of content.
What is SEO Content?
SEO stands for Search Engine Optimization. SEO content helps search engines understand how to rank your pages to show up higher in search results.
Do I Need Lots of Content for a Topic Cluster?
Not necessarily. If you have a pillar content piece and current related content, you can internally link them to create a small cluster of content. Your content structure could include long-form and short-form content types, listicles, Q & A response posts, guides, informational posts, etc.