Lori Ballen is a member of the Amazon Associates Program and earns money from qualifying purchases. Posts contain affiliate links that benefit Lori as well.
Are business planning applications and tools for the New Year really necessary? Well, if you want your business to have the best opportunity of succeeding, a well-written business plan is the way to go.

Learn To Generate Leads Online at BallenAcademy.com
Having a Business Plan
Having the right business planning application and tools can help you get your plan on paper and, ideally, off the ground. In fact, these applications and tools take the legwork out of writing a business plan by eliminating the need to start from scratch and simplifying the process.
A business plan serves many purposes, so before you start the New Year, you need at least a simple business plan to help you flesh out your ideas and lay out the vision. However, when it comes to planning for expansion or seeking funding, a comprehensive business plan is a must. In addition, when it comes to problems, a business plan can help you foresee issues, make appropriate adjustments and plan for the attack.
Business planning applications and tools can give you the irresistible prose that will make your projections come true. Sometimes in business, important issues can quickly be overtaken by urgent issues. As a business owner, you are so distracted by immediate issues when the ultimate objectives of your business are placed on the ground.
The applications and tools will give a framework that will focus on your daily decisions that are targeted to the ultimate goals. You can also work on your plan at your own pace, instead of relying on someone else and their schedules. With that said, here are some of the best business planning apps and tools for the Year.
iPlanner
The iplanner is a simple business planning application that does not have numerous fancy graphic and extra functions. However, it has enough document creation tools for business planning. It has step-by-step tutorials for every section of the business plan, chart generators and financial calculators to help make analysis easy. With this application, you can easily import financial information from other accounting programs.
It has industry-specific business plan templates that you can use to develop your own business plan. Although it is limited to technology and food services templates, the suggested and information sections are universal for most industries. iPlanner includes budget, financial calculators, chart generators and feasibility tools, making it easier for you to add financial analysis information in your business plan.
Enloop
Enloop is an all-in-one web application that walks you through every step of creating a strategic business plan with intuitive design. It has support and template for several industries except for the nonprofit making organizations that require specific tools.
Often, the vision for your business planning for the New Year will determine the plan you need to write. Whether you want to start a small business, you want to expand your established business or you want to determine which investment plan is ideal, Enloop has everything covered. In fact, it has plans for determining your feasibility endeavor, so you don't have to waste your valuable time on projects that may not work.
Enloop has some of the best documentation tools to easily help you write a viable business plan. Besides, you need not to worry about formatting because this application will automatically format the text you entered, using the AutoWrite feature . It is a cloud-based application, meaning you can give several people access to the document.
Everyone in your team can contribute and see the document, allowing them to contribute their personal strengths to your business plan. It can also track your writing progress and effectively score your plans, enabling you to see how successful it will be. If you are lacking anything, Enloop has built-in tools to give you hints that can make your plans stronger.
Besides, Enloop has a chart generator, financial calculator and budget tools that can help you create key financial sheets in a flash. If you have no idea about the numbers to include, this business planning application will give you access to one of the best business analysis tools that show you the incomes for specific industries and the most current average cost of operation. It can allow you to import financial data from your accounting software and automatically format it.
It has a free version, basic, advanced and professional.For more information, you can visit https://enloop.com/
BizPlan Builder
BizPlan Builder has both download and cloud-based options for its business planning application.
It has numerous industry-specific samples that you include in the document editor to create a template that reflects your own unique business needs.
Basically, this application gives special attention to your financial plans so that you can present your ideas to any investor easily.
It has an intuitive design with an easy step-by-step wizard to take you through the writing process, asking relevant questions automatically inserting text depending on your answers.
With the help of its standard document-creation tools like image importing, spell-check and document preview, you can edit the content to align with your business theme and personal style.
BizPlan Builder has some of the best financial tools, including chart generators, graph generators, calculators and budget feasibility tools. These unique tools allow you to enter numbers into your business plan application, and automatically calculate and present budget sheets, financial projections and cost analysis without having to do the math yourself.
Besides, this business planning application includes excellent technical support options in case you need some help in getting the program up and running. In fact, it offers some business publications and tips on how to effectively start and run your business for the New Year. You should download and save FAQs section and user manual before you can begin using it.
However, you can still have the information on the information page on its website or contact the support via telephone and online support form. For more information, please visit https://www.bizplan.com/
Business Plan Pro
Business Plan Pro is a versatile enough to be used as a professional business planning application and not just a start-up business planning program. It includes funding and investment plans if you want to secure capital for your business.
You can easily create a feasibility plan, which can help you see if a new product, service or other entrepreneurial ventures are worth it. Its growth and operational plans can help you expand your business; while most strategic plans can help you identify a new approach in your target market.
Business Plan Pro has top-notch tools for creating an impressive plan. In fact, it boasts all the traditional features such as auto-save, spell-check, document preview and image importing.
Apart from the standard text tools, this business planning application has important financial tools for creating an excellent budget graph and charts and future income projection.
The handy financial calculator enables you to enter numbers and automatically create growth projection before generating charts and graphs.
If you need some assistance in creating a business plan, this application has over 500 templates and application plans that you can easily edit and use for inspiration. It also gives you access to statistical databases and more up-to-date business planning tools. In addition, if you need expert advice, Business Plan Pro has experts to either assist you with your research or write the plan for you.
Even though, this business planning application includes intuitive and step-by-step instructions that are easy to understand, at times you may need technical support. There are also other help options, including email support, telephone, user manuals, live-chat feature, FAQs and video tutorial on the website of the company. Get Business Plan Pro today.
Liveplan

LivePlan is an excellent business planning application with templates for different industries and very simple to complete with your own business information. It has a guide that ensures the information you fill in the blanks is complete and are in the correct format.
This application can help you project success, determine feasibility and secure funding. It is one of the greatest business planning applications that has a section designed specifically for immigration plans for establishing a business outside the united states of America, sponsoring foreign workers and oversees funding.
LivePlan has some of the best document creation tools that allow you to create a seamless and professional-looking business plan. For instance, you can choose from thousands of business planning templates and edit them to fit your business profile.
It has automatic projection analysis tools and financial calculators. This program can allow you to import financial information directly from your business accounting software like QuickBooks or enter them manually, and automatically calculate financial projections for more than five years.
Besides, the application gives you the opportunity to access different industry reports that you can use to competitive niches and market trends to implement your business plan. It includes in-depth and informative tutorials and videos that cover every section of your business plan.
In fact, LivePlan boasts some of the best customer support options: live chat, email, telephone, Twitter, Facebook and Google Plus. The FAQs are through to the point, making one of the best business planning applications in the market. Sign up today for Liveplan

QuickPlan
QuickPlan is a business planning application with a basic interface. However, each program includes industry-specifics with sections and guidance need for a particular type of business.
It has dozens of tools, each with sample business plan templates that are based on the actual business instead of generic information to help you get started. The only industries not listed in this application is the technology and nonprofit businesses.
QuickPlan majorly specializes in plans for a startup business, including strategic marketing and funding. It doesn't support established businesses, including project, immigration or feasibility plans.
It has the financial calculator to help you determine the budgets and project future profits for your business without having to do the math manually. The graph and chart generator tools format your financial information into beautiful, easy-to-read graphs and charts, which enhance the professionalism of your business plan.
Each tool gives you access to business and marketing statistical data that is specific to your business industry and the important details to incorporate in your business plan. Besides, if you need the help of an expert in writing a business plan for the New Year, QuickPlan has them through its Write My Plan tool, but you pay extra for the service. It has one of the best customer support services: telephone, email and FAQs section on its website. Visit https://www.quikplan.co.uk/ for more information!
PlanMagic Business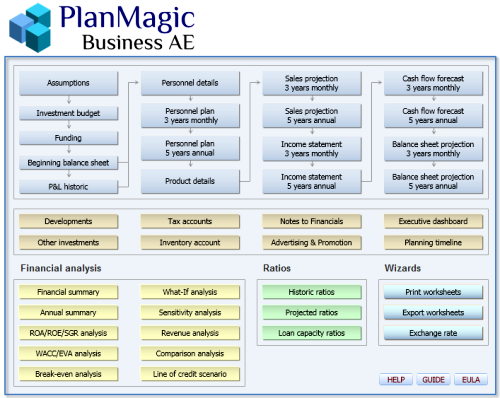 PlanMagic Business is one of the few business planning applications with specific tools for each industry, including food, construction, and retail services. It also includes a program for nonprofit making organizations with their unique financial reporting and required procedures. All the programs are designed for easy navigation and use with step-by-step assistance and in-program guidance.
This business planning application is capable of creating any kind of a small business plan you might need. Apart from small business plans, it can help you write investment and funding plans for securing extra capital as well as the growth and operation of the expansion of your business.
It has reliable financial calculators that quickly take the numbers you enter and automatically give the depreciation values, monthly budget and years of financial projection for your business.
In fact, PlanMagic Business allows you to easily import financial data from your excel spreadsheet or any other accounting software and generates impressive graphs and charts from that information.
Because each industry is different, all the tools for this application include the information you need for your industry.
PlanMagic Business includes all the traditional document-creation tools for writing a business plan, including, document preview, spell-check and the ability to import images as well as hundreds of sample and template business plans to help you create a business plan easily.
It has some excellent research and guidance resources, where you can access multiple marketing and statistical analysis for databases with up-to-date information and business trends for your industry.
It leads you through different funding options and helps you identify specific venture capitalists, angel investors and personal investors that fit your idea.
PlanMagic Business has many hints and tips on its website to help you start and keep your business on the path of success. If you need professional guidance, this application has a team of consultants and advisors that can mentor you or take the burden to write the plan for you.
It has one of the best customer support systems: they answer the email faster; live chat which is very supportive and telephone calls that are answered immediately.
It has also FAQs section, video tutorials and user manual on its website as well as several social media pages for extra support services. For more information about PlanMagic Business, please visit http://planmagic.com/
Ultimate Business Planner
Various entrepreneurs from over 500 industries use Ultimate Business Planner. It is different from other business planning application and for the New Year because it starts by taking you through the financial sections of your business plan. In just a few minutes, you have a very clear financial picture of your idea that allows you to see whether it is feasible or not: a real time-saving feature.
The Ultimate Business Planner application has an intuitive design that can easily be navigated.
It has all the important and traditional document tools as well as numerous financial-analysis tools to let you assess, calculate and create graphs and charts for project budgets and future financial projections. You can easily import financial information from excel spreadsheet or quick books, which allow to even include financial statements.
In fact, it has sample plans and several templates that you can browse through to get inspiration from the key information to include or angles to consider in your business plan.
Ultimate Business Planner outshines other business planning applications in areas of research and extra guidance resources. Besides the business plan writing tools, you have access to professionals to help you track down important business and marketing statistics or fine-tune your plan, potential investors and legal advice.
Its website has links to important business resources and applications, video tutorials, and helpful hints and tips for running your business strong.
It has great customer support systems: better email system; live chat which is very supportive and telephone calls that are answered immediately. It has also FAQs section and user manual on its website as well as several social media pages for extra support services.
www.ultimatebusinessplanner.com/
Business PlanMaker Professional includes both a deluxe and a standard edition with powerful document-creation tools. It is more useful for team collaboration because both editions come with multi-license options, allowing your entire team to work on your business plan together.
This application also has expertly created sample plans and templates for different industries, including nonprofit, construction, retail and food services organizations.
It guides you through creating business plans for investments, funding and feasibility that determine whether your idea will be profitable or not before investing too much money and time into the project.
Even though Business PlanMaker Professional has a very basic design without much appealing, its finished business plan looks more professional and impressive when offered to potential investors. You can easily import financial data and images to help you create a personalized business plan.
This application has very important financial calculators, which automatically crunch your numbers, and financial graph and chart generators that put your projection and budget information into a professional presentation.
When you are through, Business PlanMaker Professional allows you to save the finished plan in a word document or print PDF. It has hundreds of publications and books that you can check for additional help while running your business. It includes user manuals, video tutorial and FAQs section on its website for extra information and help.
You can also use email and telephone support to reach Business PlanMaker Professional team. Although it has a free trial version, the upgraded version has a fee.