Does your website suffer from poor visitor engagement and low traffic? While countless factors can affect your website's performance, one of the most influential is navigation. If visitors struggle to find specific sections or pages of content, they'll probably leave. However, you can improve your website's navigation by using breadcrumb navigation.
What Is Breadcrumb Navigation?
Consisting of links with relevant anchor text, breadcrumb navigation is a graphical representation of a visitor's location on a website. It's typically displayed at either the top or bottom of all or most pages. Breadcrumb navigation shows the visitor's current page as well as all upper-level category pages and the homepage.
An e-commerce store that specializes in footwear, for example, may feature the following breadcrumb navigation on a category page for open-toe high-heels:
E-Commerce Store Name > Women's Footwear > High Heels > Open-Toe High Heels
A business-to-business (B2B) digital marketing website, on the other hand, may feature the following breadcrumb navigation on a page about Facebook Ads:
Digital Marketing Website Name > Social Media > Facebook > Facebook Ads
In both examples, the breadcrumb navigation begins with the website's name and is proceeded by several category pages. If a visitor wants to access an upper-level category page, he or she can click the category's linked title.
Each of the links in breadcrumb navigation is known as a breadcrumb, which is a reference to "Hansel and Gretel." Written by the Grimm brothers in the early 1800s, "Hansel and Gretel" tells the story of a boy and his sister who are kidnapped by a witch.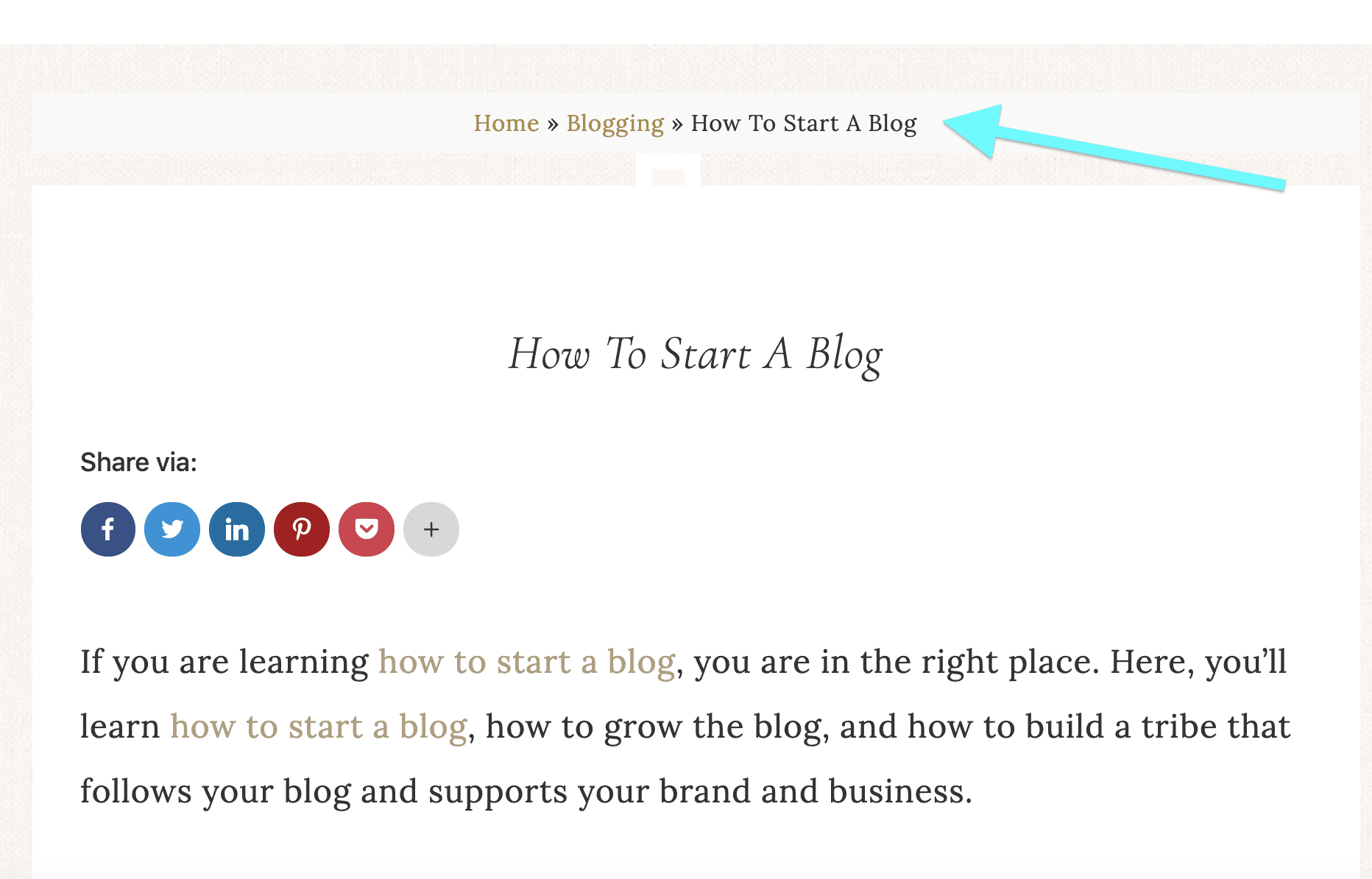 To find their way back home, the siblings leave a trail of breadcrumbs. Breadcrumb navigation works in the same way by showing visitors their exact location on a website while providing clickable links to return to upper-level category pages or the homepage.
Why Your Website Needs Breadcrumb Navigation
Breadcrumb navigation offers several benefits. When included on your website, it provides an alternative form of navigation. Breadcrumb navigation isn't intended to replace your website's primary form of navigation.
If you include breadcrumb navigation on your website, you should still use a traditional form of navigation, such as a sidebar menu or below-header menu.
Breadcrumb navigation simply offers a secondary form of navigation, which some visitors may prefer over your website's primary form of navigation.
You'll probably discover the use of breadcrumb navigation has a positive impact on your website's bounce rate. Available to view using Google Analytics, bounce rate is a performance metric that reflects the percentage of single-page visitors to your website.
If your website attracted 5,000 visitors last month, 1,000 of whom only accessed a single page during their session, your website's bounce rate for that month would be 20 percent.
The descriptive nature of breadcrumb links compels visitors to click them.
Breadcrumb links aren't just generic or otherwise meaningless URLs; they feature descriptive and concise anchor text. As a result, visitors will often click breadcrumb links to explore other pages.
When a visitor clicks a breadcrumb link, he or she won't be counted as a bounce, resulting in a lower bounce rate for your website.
Because of its ability to improve user experience (UX) and promote a lower bounce rate, breadcrumb navigation may drive higher search rankings for your website.
Search engines don't just look at the number and quality of your website's backlinks to determine where it should rank.
They analyze hundreds of signals, including UX and bounce rate. If your website is difficult for visitors to navigate, search engines will probably rank it lower than similar but better navigation.
Of course, search engines use bounce rate as a ranking signal as well. Websites with a low bounce rate generally rank higher than those with a high bounce rate. With breadcrumb navigation, you'll promote a better UX and a lower bounce rate for your website, which may result in higher rankings.
How to Include Breadcrumb Navigation on Your Website
To include breadcrumb navigation on your website, you must create a unique string of hierarchical breadcrumb links on each page.
The links should represent the upper-level category pages under which the current page is located. While creating breadcrumb navigation for each of your website's pages may sound difficult, some tools can help.
If you built your website using WordPress, you could download a breadcrumb plugin like Breadcrumb NavXT or Breadcrumb by PickPlugins. Both plugins allow you to create and configure breadcrumb navigation easily.
Your theme may also allow for breadcrumbs. Check your theme settings.
Yoast SEO is another plugin that supports breadcrumb navigation. Although it's a more versatile plugin — it supports various search engine optimization (SEO) functions — Yoast SEO offers quick and easy implementation of breadcrumb navigation.
It's important to note that many breadcrumb plugins for WordPress and Yoast SEO automatically create schema markup for search engines. When Google discovers this markup, it may add the breadcrumb navigation to your website's organic listings.
Even if you built your website using different content management (CMS) than WordPress, you might be able to download and use a similar tool to create breadcrumb navigation. There are breadcrumb extensions available for Joomla, breadcrumb modules available for Drupal, and breadcrumb apps available for Shopify.
Regularly Test Breadcrumb Links
With breadcrumb navigation up and running on your website, you should regularly test the breadcrumb links to ensure they function as intended.
If you entered the wrong URL when setting up a breadcrumb link, visitors might still see the appropriate anchor text, but clicking it will direct them to a 404 error page.
To ensure your website's breadcrumb links direct visitors to the appropriate pages, you must test them. Place yourself in a visitor's digital shoes and click the breadcrumb links.
If a link takes you to a 404 error page or any other page than the intended destination, you should fix it.
As your website grows, it will encompass more pages. Breadcrumb navigation allows visitors to navigate your website easily.
Whether you have 10 or 10,000 pages of content, it offers a visual map of a visitor's location while simultaneously allowing them to return to upper-level category pages or the homepage.