Obtaining a number one ranking requires a full-time effort and a team of experts, all utilizing the best Google ranking software the industry has to offer. What once started as a few simple SaaS membership sites that gave you the inside scoop on keyword search volume and competition has turned into a field of intricate programs that deliver a multitude of data about every website hosted online.
The best Google ranking software no longer simply drills down keyword data – modern tools now do everything from helping you place the keywords in your content to helping you research and procure backlinks.
The Battle for Page One
The battle for Google page rank is fierce, and there's more people jockeying for position now than ever before. Unfortunately, the days when one could purchase a brand new domain name, groom the site for a month by posting a new article weekly, and rank on Page 1 are long gone.
Currently, you'll find the top 10 sites more often than not have a team of SEO experts, copywriters, data miners, and social media managers working as a well-oiled machine, sometimes taking upwards of a week to produce a laser-focused, optimized piece of content to snatch the coveted Page 1 designation.
We live in a world of instant gratification that could be taken for borderline laziness – spoiled if nothing more, where consumers rarely look beyond the depths of the first page to find the solutions to their problems.
In a time long forgotten, one person could craft a respectable website and easily land on the first page of Google. Even in the worst-case scenario, landing on page two or three still meant hundreds, maybe still thousands of visitors each month and a generous amount of revenue from their chosen method of monetization.
Currently, the sad reality is landing anywhere beyond the first page is often a kiss of death, landing you abysmal traffic numbers where the juice isn't even worth the squeeze. With mega-teams working collaboratively to produce a single website, staying relevant as a one-person show is difficult, to say the least.
However, the playing field is leveled somewhat by those who know how to leverage the power of the ultimate Google ranking software. This new class of SEO tools does it all from on to off-page duties and everything in between.
A Comprehensive Offering
Purchasing the best Google ranking software money can buy gives you unchecked power at your fingertips. Keyword reserach has morphed into a completely different animal, going far beyond simple volume and difficulty checks.
The best offering will allow keyword research, help optimize on-page SEO, provide pre-made prompts with a plethora of supporting keywords, craft your marketing and social media campaigns, locate backlinks, and even help you with your guest-post outreach. Each new release is better than the last – which plays into the hands of the little guy.
More competition breeds bigger and better tools – it also helps keep prices in a respectable range. In the past, when tools like Majestic, Moz, and Ahrefs first hit the scene, it wasn't unheard of to pay $500 monthly for the corporate version of a keyword tool.
Fast forward to our present market, and you can find tools that accomplish all of the above for under $50 per month. In the following section, we'll give you the rundown on how to stay competitive in the most cutthroat sector of internet marketing.
What to Look for In Your Google Ranking Software
Depending on the scope of work you're trying to accomplish, different tools may be more appropriate for different jobs. For example, if you're first beginning on a page and hashing out the structure, including your primary and secondary keywords, a tool that does more in-depth keyword research is more fitting.
Ideally, you want an application that allows you to do research on your competition in-depth, and finds keywords that they may be ranking for but aren't very high. One of the best strategies to use is called the "low-hanging fruit" method.
This is when you find groups of keywords your competition has essentially neglected that are low competition and easy to rank for. Typically, these words may only generate a volume of about 100 searches per month, but if you can rank in the top three and find fifty of these words or terms, the results add up.
On the other hand, if you're in the latter stages of your SEO process – the content development portion, you want a tool that includes AI services that provide you with lists of LSI or NLP and similar keywords to help you craft your article. This portion of your research helps you really nail down what search intent you're looking to nab for the Google algorithm.
If you're more experienced with your SEO game and you've gotten to the point of building backlinks and reaching out for guest posting spots, you'll want something that analyzes competitor backlinks, looks for gaps between your site and theirs and finds potential sources for those links.
These tools typically offer some kind of outreach function and tracking system that allows you to monitor the status of which websites you've contacted.
The secret sauce is all in knowing which step of the process you're in and using your tools correctly so your process is as optimized as possible. And with the market as saturated as it is with a seemingly infinite number of SEO tools, you'll have no problem with a lack of options.
The problem lies in knowing which ones to pick without wasting your money and wasting your time with a bunch of duds that do you no good. This is why the following list is invaluable for those who are taking on getting their feet wet or looking to overhaul their SEO process and accomplish it correctly. These are the best Google ranking software options, in order based on the areas they're most effective.
The Best Google Keyword Ranking Tools: A Complete List
1. SE Ranking
Along with SEMrush (more on that tool below), We found that SE Ranking was the most effective tool for monitoring keyword positions. It strikes a happy medium between low cost, high utility, and simple operation.
When you sign up for an account, you gain access to much more than just a tool to monitor your site's position in the search engines. In addition to the on-page checker, backlink tool, and keyword research, you will also have access to an extensive website audit tool.
However, the keyword rank tracker itself allows you to monitor positions across multiple search engines, including Google, Yahoo, Bing, and YouTube. You can narrow down your search results by entering a specific country, city, or zip code. Also, both desktop and mobile user information is available separately.
SE Ranking considers not only organic search results but also paid search and Google Maps results. Moreover, it may evaluate how well your site performs in terms of snippets and videos that appear on search engine results pages.
Up to five of your rivals can be added to a search for an in-depth analysis of how well they fare versus you on Google.
"But I don't know who my rivals are."
No worries. The same instrument may then be used to get an understanding of the leading one hundred results in a search. Knowing your opponents at this moment is essential, as we mentioned above, especially during the initial planning phases.
When it comes to cost, SE Ranking is one-of-a-kind. The price you pay will be determined by factors such as the number of keywords you choose to monitor, the length of your membership, and the frequency with which you wish to check your ranking.
It's almost unbelievable how cost-efficient this tool is. In an industry where $150-$250 per month is the standard, SE Ranking is a breath of fresh air at a generous $23.52/month when you pay yearly.
Take our word for it – based on cost and overall functionality, you won't find a better tool for your money. The makers could easily charge $150 per month and consumers would gladly pay it.
You might want to jump on it before the price increases.
2. SEMRush
One of the greatest digital marketing tools available to SEO specialists is SEMRush. It's known as one of the best SEO content marketing tools, and it also has a powerful rank-tracking feature.
The one drawback of SEMrush's premium price structure is that it is best suited for medium to big businesses rather than small ones. It's certainly not cheap.
Your domain's performance for the keywords you've chosen to focus on may be monitored using a rank-checking tool. Competitor analysis is another option. Additionally, the rank tracker feature allows you to detect and address cannibalization and disavow toxic backlinks.
The daily ranking fluctuations of Baidu and Google may also be monitored. If Google's algorithm has changed, this should help you anticipate the effects. The highest-ranking domains in organic search results will also be displayed. If you want to spy on your competitors, you may utilize this function to find out who is getting the most clicks from sponsored searches.
There's also a feature that helps with keyword clusters and mindmaps, allowing you to take elements of the top-ranking content and create your own article using an authoring tool. In addition, a social media tool is worked into the offering, rounding out a robust gallery of SEO weapons.
Grow Your Organic Traffic
55+ SEO, content marketing, competitor research, PPC, and social media marketing tools to help you attract and grow your audience online faster.
Keep in mind that you're receiving all of this in addition to the cutting-edge web advertising tools of today. The plans may be on the pricey side, but they are well worth it.
There are three tiers of service available, each with a different price tag: Pro ($119.95), Guru ($229.95), and Business ($449.95).
3. Ahrefs
Ahrefs is one of the most popular, and comprehensive tools on the market. You've probably heard countless big-time bloggers talk about it and market it to no end – but this is for a good reason.
When you're in the initial phases of keyword planning, Ahrefs is the number one tool on the market. Not only does it give you the most updated information on keywords and their competition levels, but it also gives you groups of keywords that are used in a similar manner, in addition to questions asked in reference to your selected keyword.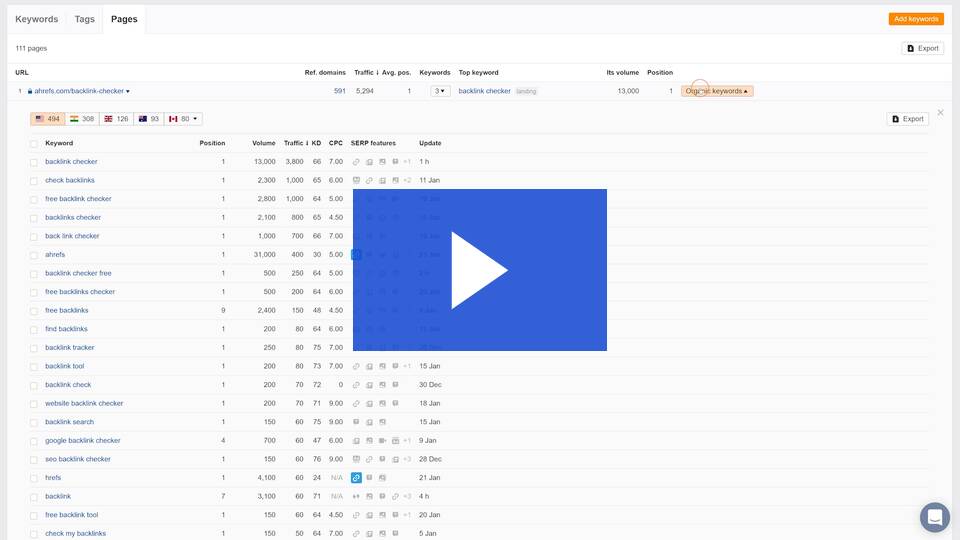 Rank Tracker by Ahrefs: Check & Track Keyword Rankings
However, where the tool really shines is the competitive research features. With Ahrefs, you're able to dive into the most intricate SEO elements of your competitor's website. You can locate which pieces of content perform the best, which keywords are ranking the best on these pieces of content, and even use filters to find out which pages get the most traffic using keywords with the lowest amount of competition.
Ahrefs does a great job at measuring CPC – so if you're using Adsense or a similar monetization tool, Ahrefs is invaluable. If you're in the business to monetize sites through ad spend or generating multiple, niched-down blogs, this tool is essential.
For the planning phase and finding keywords with the highest traffic and least amount of competition, it doesn't get any better. With Ahrefs, it's possible to use filters and find keywords ranking for the most traffic, with the least competition, and the highest CPC. It's a little pricey, but if used correctly, it's a goldmine.
We recommend this tool for people who prefer to find juicy keywords first and build a site around the keyword instead of choosing a niche and finding keywords later.
Ahrefs is priced at $99/month for the Lite plan, $199/month for Standard, $399/month for Advanced, and $999/month for Enterprise. There's no free trial available.
4. SERPWatcher by Mangools
Along with KWFinder, SERPChecker, LinkMiner, and SiteProfiler, SERPWatcher is one of Mangools' several search engine optimization (SEO) offerings. Collectively, they aid users in keeping an eye on the progress of their digital advertising.
Their Sitemap Feature
Incredibly straightforward, this program has almost no learning curve to get up and running. If you're new to SEO and find the complexity of more advanced ranking checker tools overwhelming, this one is for you. Mangools boasts a lightning-fast 30-second setup and evaluation of keyword ranks.
SERPWatcher also has several other cool extras. Using data like keyword rankings and monthly searches, the Performance Index may estimate how many people your site could attract organically.
You may see a preview of your search engine results page (SERP) and check your rankings every day with SERPWatcher. And if it detects a major shift, you will be notified by email.
Precise rank monitoring allows you to view mobile and desktop search results separated out by the state, county, city, or DMA area. Afterward, you can send a link to an interactive report to clients or coworkers and share the results with them.
Prices range from $49/month for the basic plan to $69/month for the premium plan and $129/month for the agency plan.
5. Nightwatch
Nightwatch is a feature-rich rank tracking solution that won't break the bank, making it suitable for both small businesses and marketing firms with several clients.
Nightwatch allows you to monitor the performance of individual keywords over a wide range of metrics, including search volume, competition, and ad spend.
Not only Google, but also YouTube, DuckDuckGo, and Bing are monitored daily for their keyword usage across mobile and desktop devices. All of your SEO data, from Google Analytics to Search Console and Keyword Planner, is compiled in one place by Nightwatch.
Tracking your site's organic search, featured snippet, local pack, and knowledge panel rankings will help you learn how to improve your site's discoverability.
In addition to a site audit that can help you monitor and enhance your on-page SEO, Nightwatch also provides a reporting tool that can generate white-label reports (Optimize & Agency plans).
There are three price points to choose from: the $39/month Starter plan, the $99/month Optimize plan, and the $369/month Agency plan.
6. Advanced Web Ranking (AWR)
Due to its exclusive focus on rank verification, Advanced Web Ranking is the ideal option for some. It includes the basic tools for analyzing the competition and generating SEO reports.
Over 4,000 search engines, including Google, Yandex, Baidu, DuckDuckGo, YouTube, and Amazon, are accessible to AWR for data collection. That is true for both mobile and desktop search engine positions.
Tracking your local rank allows you to focus on only your local area's search engine results, which is very useful if your firm is focused on the local market. You may also tell it to keep tabs on certain GPS pin drops.
You can generate reports based on the schedule you select, at any date or time. It also has Google Ads, Analytics, and Search Console integration. Keeping tabs on your development in this way is far more convenient. You may also identify the problems that are causing your organic search engine rankings to drop and work to correct them.
Prices range from $49/month for the "Starter" plan to $99/month for "Pro," $199/month for "Agency," and $499/month for "Enterprise."
7. Wincher
When it comes to rank monitoring software, Wincher delivers one of the best values. Don't be fooled by its low price, though. It has all the same capabilities as other keyword tracking software, so you can be confident in its accuracy.
It offers an uncluttered user interface that makes tracking your progress easy. Your keyword rankings, traffic, volume, and more will all be shown for you to easily navigate and save.
It's also excellent at keeping tabs on the content your competition is posting. Comparing your site to theirs gives you a better idea of exactly where you stand.
Improve your chances of success by expanding your keyword list with the aid of the Keyword Research tool.
In addition, you'll get access to the API in its entirety to develop custom integrations. You can make your own reports, dashboards, and docs with Wincher. Google Data Studio integration is also available, making this an extremely efficient tool for agencies to take advantage of.
The ability to create reports and share them adds to the attractiveness for larger organizations to take advantage of Wincher. The pricing is between $24 and $199 monthly, depending on your specific package.
8. SEO Power Suite
Unlike SaaS offerings, SEO PowerSuite is downloadable computer software. Although data retrieval requires an internet connection, report viewing may be done without one, making it convenient for those who are frequently offline.
It's really cheap, therefore it's a good option for newcomers testing the waters. The only limitation is that you need to utilize a proxy in order to track an infinite number of keywords.
SEO PowerSuite is a bundle that includes four products: SEO Spyglass, Website Auditor, LinkAssistant, and Rank Tracker.
The interface of Rank Tracker is simple. After initial setup, one click shows you whether your site has risen or fallen.
Rankings in pictures, and videos, as well as the top 327 search engines, are all displayed. You may also view your global rating and see how you stack up in other regions.
As an added bonus, you can use the white label option to provide clients with polished rankings reports under your own brand name if you're selling services.
There are three price points available: free, $299 per year for "Pro," and $499 per year for "Enterprise."
9. AccuRanker
It is said that AccuRanker is the quickest and most precise rank tracker available. Whether or not that's the case, the fact that it provides live, on-demand changes to your rankings is noteworthy. Not all SEO options are able to provide this as a service.
Using the data provided by the SERP History tool, you may determine what aspects of the search engine results pages (SERPs) are most effective in bringing people to your site. With the help of In-Depth Analysis, you may divide and analyze your data before presenting it to your team or clients.
Digital marketing technologies such as Google Search Console, Google Analytics, Google Sheets, Adobe Analytics, Google Data Studio, and Databox may be integrated with AccuRanker.
You have infinite domains available for tracking, with no limits on the number of projects you can monitor. Marking landing pages also helps you categorize massive amounts of keyword data, and higher subscriptions allows unlimited everything.
.The monthly fee rises and falls depending on how many keywords you want to monitor. At any moment, you may change the duration of your membership, switch to a different plan, or cancel it entirely.
Keywords are $109 a month for a total of 1,000. The cost will increase as more search terms are entered. If you pay yearly, you'll get a 10% discount.
10. Authority Labs
White label features make Authority Labs a great option for digital marketing firms looking for rank tracking software. The option for printing custom reports with your agency information gives you a professional look with tons of credibility.
This option may automate local and mobile rank tracking and report regularly. When using other rank checking tools, you may notice that certain data is missing – Authority Labs will help to bridge this gap.
The competition tracking feature is pretty robust, allowing you to gain an edge over the top-ranking sites in your niche. You're also able to create an infinite number of users, another feature that makes it so efficient for agency use.
White label these reports with your company's name, colors, and emblem. The GDS reports can be enhanced with information such as search engine rankings, search volume, and rich snippets. Integration with other Google services, such as Search Console and Google Ads, is also as easy as a couple clicks of the mouse.
Prices range from $49/month for the Plus plan down to $225/month for the Pro Plus plan and $450/month for the Enterprise plan.
11. SERPStat
Serpstat is yet another all-in-one SEO tool with built-in keyword monitoring. SERPstat isn't a terrible option if you're looking for a ranking tool with extra capabilities like keyword research, site auditing, competition analysis, and backlink analysis.
Track both organic and sponsored search results for your domain or your rivals' domains, allowing you to highlight gaps in keywords and close them more efficiently. Be aware that you may see where your brand stands in search engine results throughout the world, and not just in one country – if you're used to tracking solely in the US, this could present a bit of a hiccup.
You may analyze keywords to monitor your market share, and receive statistics on a daily, weekly, or monthly basis.
Prices range from $69/month for the Lite plan, $149 for Standard, and $299 for Advanced.
In Closing
While the closest a tool gets to be the best may lie in SERanking, there truly is no best overall. No tool does "everything," regardless of how efficient it claims to be. There's always at least one area a tool lacks that something else is more efficient at completing.
The key is to stay versatile and remain aware of your stage of the keyword optimization process. Use your tools efficiently and at the right times, and you'll find yourself generating content that ranks.
After using this process and optimizing your strategy, it should only take a month or two before you start to notice significant improvement. If it takes a bit longer, don't be discouraged – eventually, your hard work will pay off, assuming you stick with what works and don't stray from the plan.
FAQs
What is the best ranking keyword?
There is no "best ranking keyword." However, there are ways to rank a keyword in the most efficient manner. Choose your keyword, check the competition through research, consider the user intent, craft your content, create your article, then optimize it. This includes cleaning up everything for on-page SEO, photos, videos, etc.
What is the easiest way to rank keywords?
The easiest way to rank keywords is by setting your goals and sticking to your guns. Choose low-competition keywords, or "low hanging fruit," and use larger groups of keywords that all pertain to the same topic, Using multiple, small, low-volume keywords in one piece will generate larger traffic jumps and much higher rankings as opposed to going after high-volume words that have stiff competition.
What is the best tool to check website ranking?
Again, this depends on what step of the process you're currently in. Different tools are efficient at completing different tasks. The most important thing to remember is keeping a gauge on what step of the keyword process you're currently in. The simplest tool to check website ranking (and the cheapest – free, in fact) is Google Search Console. This integrates with your website and monitors your keywords and where they rank for free.
What is a good SEO difficulty score?
Ideally, you want your SEO difficulty to hover somewhere between 10 and 20% – if you're looking for something easy. if your site already has traffic, you can go afterwords that rank between 30 and 50%.