There's no question that the Internet has made our lives easier in many ways. We can now access information and communicate with people worldwide with just a few clicks of a mouse. But for all its benefits, the Internet can also be a source of distraction and procrastination. We must find ways to stay focused and productive to get the most out of it. One way to do this is by using the best Chrome extensions.
Here is a list of the best Chrome extensions for productivity.
Best for Video Publishing
We've compiled a list of the best Chrome extensions for productivity. We researched reviews, guides, and social comments, and tested many ourselves. Some are free, others are free to install and offer premium upgrade options, and others require a paid subscription.
Best for Documenting Workflows: Scribe
Best for Task Management: Todoist
Best for SEO Content: Keyword Surfer
Best for Editing Copy: Grammarly
Best for Video Productivity: VidIQ
Best for Passwords: Dashlane
Best for Project Management: Clickup chrome extension
ClickUp (Free with upgrade options)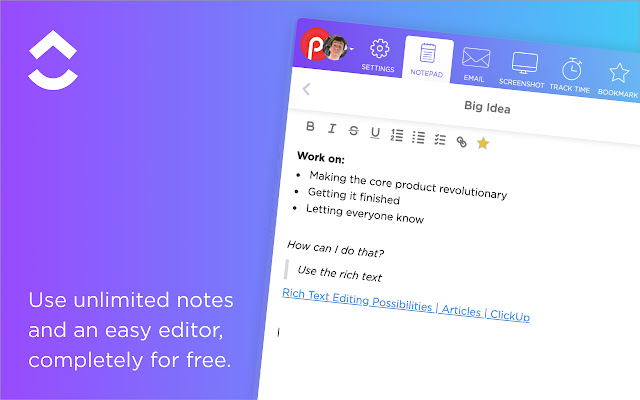 ClickUp is an online task management tool that helps teams stay organized and productive. It's the perfect combo of simple yet powerful features—creating tasks, assigning them to team members, setting due dates, tracking progress, and more. ClickUp also offers a Chrome extension to create tasks and manage projects without ever leaving your browser. Work efficiently right from your browser tab.
Get ClickUp Now!
Jasper AI (Free trial with upgrades)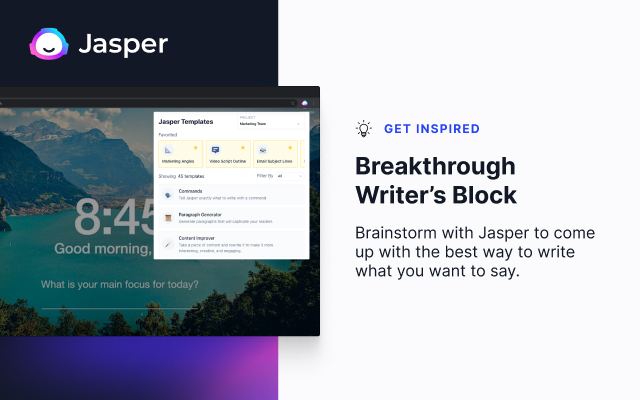 Jasper AI is like having your own personal assistant. The app uses artificial intelligence (AI) to help write blog posts, newsletters, emails, headlines, and more. If you need help writing copy or want to speed up the process, Jasper AI is a great tool for both beginners and experienced content creators.
Jasper recently introduced a chrome extension, allowing you to use the tool within your browser. This makes creating a web page quickly and efficiently as you browse websites or research topics easy.
With a free trial and upgrades available, Jasper AI is an excellent chrome extension for productivity.
Get Jasper AI Now!
Dashlane (Free with low-cost upgrades)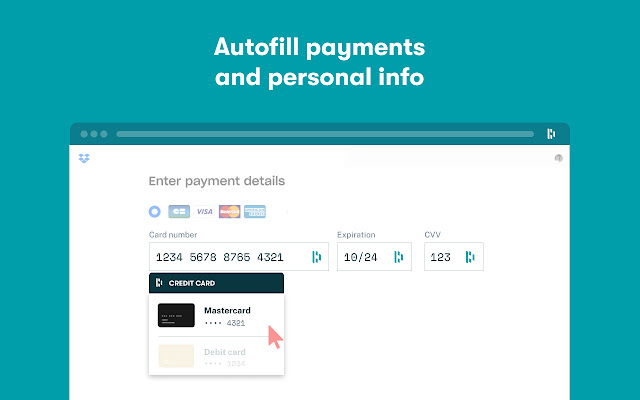 Dashlane is the best password manager that provides a secure and reliable way to store all your passwords. Dashlane encrypts your passwords, stores them securely in the cloud, and provides easy access from any device. There's no need to remember complex passwords – Dashlane does it for you.
Dashlane also offers several tools to help boost productivity. For example, the autofill feature automatically enters your password in any browser or app. The sharing feature allows you to share passwords securely with other people.
And the dark web monitoring tool helps protect you from potential data breaches by alerting you if your personal information is exposed online.
Dashlane is a free password manager with limited features, or you can upgrade to the Premium version for full access.
Get Dashlane
Keyword Surfer SEO (Works with Paid Surfer SEO Subscription)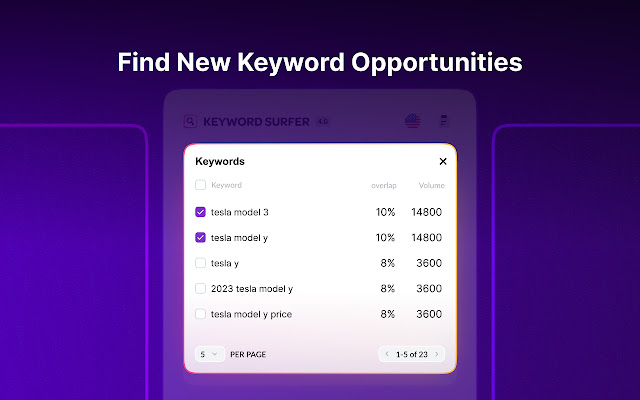 Keyword Surfer is a Chrome extension that displays search volume directly in the SERP. For every new search in Google, you'll discover valuable insights on keyword search volume, CPC (cost per click), keyword ideas, related terms, visibility numbers, and on-page SEO info.
You can easily build keyword collections that let you bookmark essential keywords without performing a Google Search every time. Export collections with no hassle as a .csv file whenever you need to.
Get Surfer SEO
Grammarly (Free with optional paid upgrade)
Grammarly is a great tool for quickly and accurately catching grammar mistakes. Its built-in spell checker can help you ensure your emails, blog posts, and other documents are error-free. It also offers an extensive thesaurus to help you find the perfect words for your project.
In addition to its spelling and grammar tools, Grammarly also offers a plagiarism checker. This tool ensures that your content is original and not copied from another source without proper citation.
Overall, Grammarly is an excellent choice if you need help with proofreading or want to ensure your work is original.
Get Grammarly
VidIQ (Works with Subscription)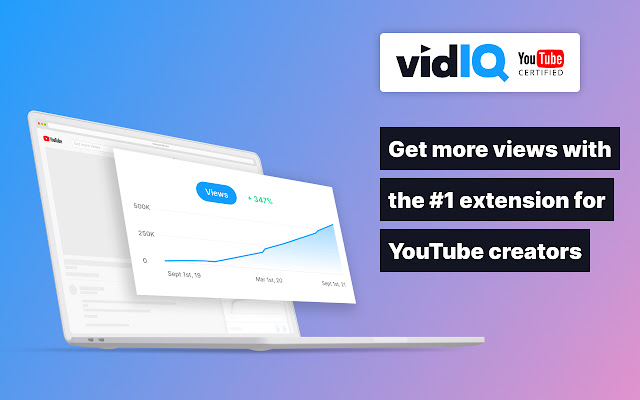 VidIQ is one of the best Google chrome extensions for YouTube creators and marketers. This Chrome extension provides detailed analytics about your YouTube videos, so you can see how viewers interact with them and make improvements where needed. VidIQ also offers customizable overlay tools to help you promote your channel and grow your audience.
If you're serious about YouTube marketing, VidIQ is an excellent choice. It can help you stay organized and keep track of your performance right from your chrome browser. Plus, its features make it easier to develop new ideas for content and grow your channel faster.
Get VidIQ
Aeroleads Email Finder (Free Trial)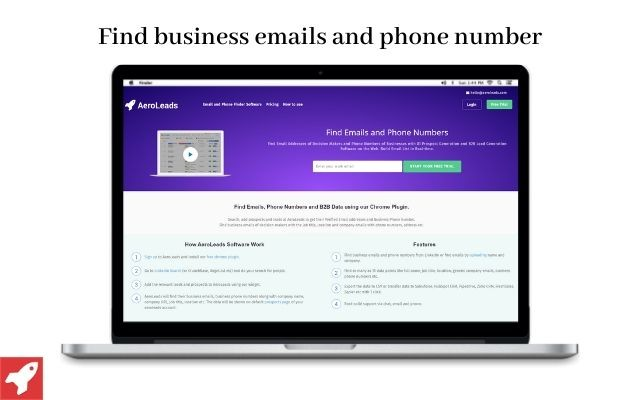 Have you ever tried to find an email address for someone and come up empty-handed? If so, you're not alone. Trying to track down a person's email address can be a frustrating experience. Fortunately, there's a tool that can help.
Aeroleads is an email finder that allows you to find anyone's email address with just one click. In addition, Aeroleads also provides tools to help you build an email list in real time. And if that's not enough, you can also use the Aeroleads chrome extension to extract all of the emails from LinkedIn so you can start your cold emailing campaign immediately.
Get the Chrome Extension Trial
Markup Hero: (Free with upgrade option)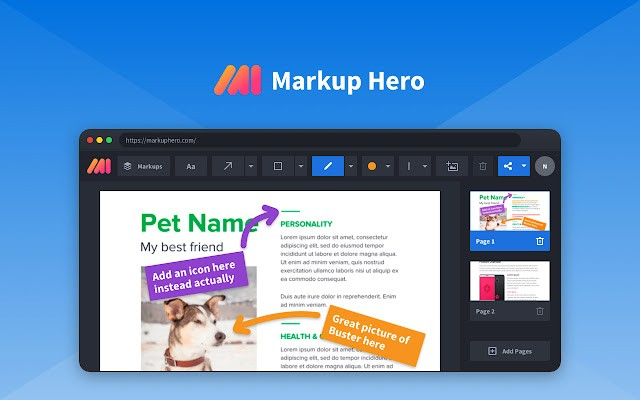 With the power of the internet, we have access to more information than ever. But with this vast wealth of knowledge at our fingertips, it can be difficult to sift through everything and find what we're looking for.
That's where annotation comes in. Annotation is a powerful tool that can help us make sense of the barrage of information by helping us take notes, highlight important passages, and ask questions.
And with Markup Hero, annotation has never been easier.
Markup Hero is a screenshot and annotation tool that works on Mac, Windows, Linux, and Chrome. With Markup Hero, you can keep all your markups organized and safe on the cloud for easy search or sorting. Plus, you can access all your markups and annotations from any device and make edits on the fly. And best of all, it's free! So why not try out Markup Hero today?
Scribe (Free with Upgrade Options)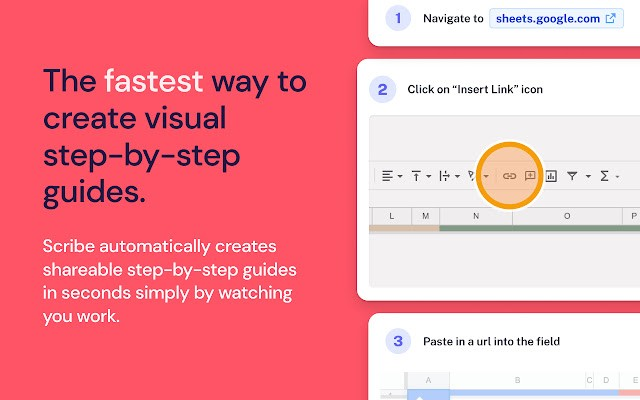 The Fastest and Easiest Way to Document Your Processes
I recently tried the free chrome extension Scribe, and I have to say that I was impressed. Scribe automatically records your activity and creates step-by-step tutorials with screenshots.
This is an incredibly fast and efficient way to document a process, making it much easier to share with others. With just a few clicks, I created a well-documented process that anyone can follow.
How Scribe Works
Scribe is very easy to use. Once you install the extension, it will start recording your activity automatically. You can then add annotations and descriptions to each step in the process. Scribe also makes it easy to share your process with others. You can either share it directly through the extension or export it as a PDF or other format.
Why Use Scribe?
You would want to use Scribe to document your processes for many reasons. First, it is much faster than writing down each step or taking screenshots and then uploading them separately. With Scribe, everything is done automatically, so you can focus on completing the task.
Secondly, this method is much more efficient because it eliminates the need for manual documentation. This means you can spend less time documenting processes and more time working on them.
Finally, Scribe makes it easy to share your processes with others so they can easily follow along. Whether you need to create standard operating procedures (SOPs) or want to share your workflow with a colleague, Scribe is the perfect solution.
While the basic plan is free, if you want branded guides, customizable screenshots, exports, knowledge base integration, etc. – you'll need to upgrade to one of the paid plans ranging from $23 to custom pricing.
Overall, I was very impressed with Scribe. It is an incredibly useful tool for documenting processes quickly and easily. If you are looking for a fast and efficient way to document your workflows, I highly recommend giving Scribe a try.
Momentum (Free with Upgrades)
Daily Inspiration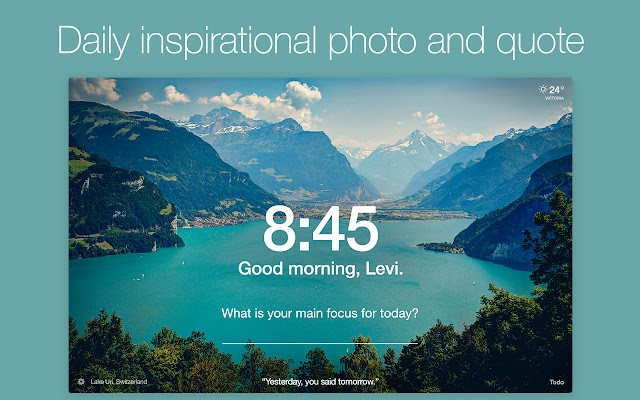 There is something to be said for starting each day with some inspiration. That's why Momentum is such a powerful tool. It provides you with a beautiful and inspiring quote each day and gives you a to-do list, calendar items, weather, and more. It's the perfect way to start your day on the right foot.
It's a beautifully simple start page that can transform your New Tab page into a productive and inspiring dashboard.
Noisili: Free with Upgrade Options
3 Benefits of Noisili for Your Productivity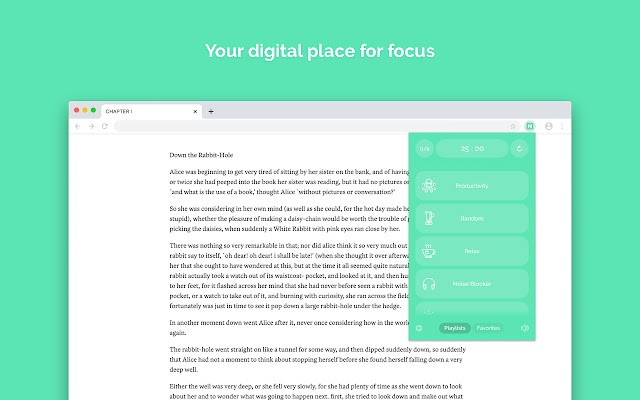 In a world where we are constantly bombarded with distractions, it is important to have a tool to help us focus. Noisli is a website and chrome extension that helps users create their perfect sound environment to work and relax.
With Noisli, you can mix different sounds and adjust the volume to create your perfect soundscape. This can be helpful in many situations, such as when you need to focus on a task or when you want to relax after a stressful day.
Checker Plus for Gmail (Free)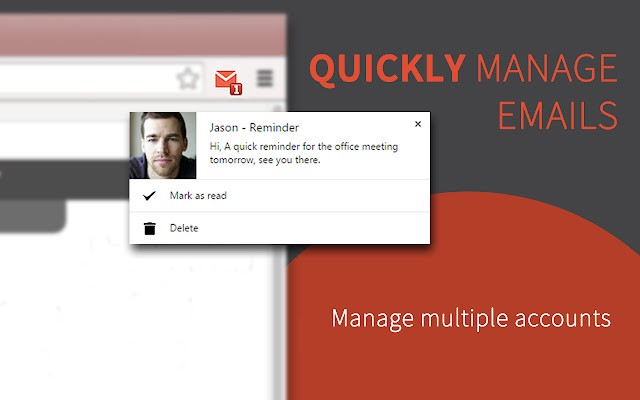 Are you tired of continuously clicking on your Gmail browser to check for new emails? Do you wish there was an easier way to stay on top of your inbox?
Well, there is! With Checker Plus for Gmail, you can relax and stop worrying about missing important emails. Checker Plus is an extension that adds an envelop widget to your toolbar, which alerts you as soon as new emails arrive.
Not only does it notify you of new messages, it also lets you read and respond to them directly from the extension. So say goodbye to clicking on your browser every few minutes and hello to a stress-free inbox!
With Checker Plus, you can display and answer messages directly from the extension without opening your Gmail tab. This is a great time-saver, as you no longer have to leave whatever you are working on to attend to your inbox. In addition, Checker Plus allows you to customize how notifications are displayed.
For example, a popup notification can appear whenever you receive a new email or opt for a sound or visual notification instead. You can also set notifications for messages, such as VIP emails or messages from specific contacts.
That way, you can prioritize which messages need your immediate attention and which can wait.
OneTab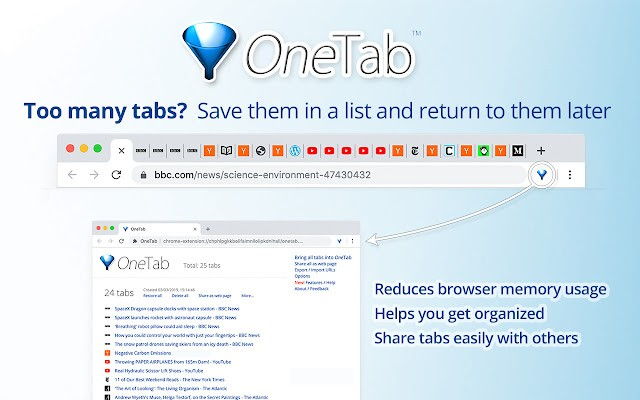 Do you ever find yourself with too many tabs open in your browser? If so, you're not alone. It's a common problem, especially for juggling multiple tasks simultaneously. Fortunately, there's a solution: the OneTab chrome extension.
OneTab is a Chrome extension that allows you to convert all of your tabs into a list. When you need to access the tabs again, you can restore them individually or all at once. OneTab is especially useful for people who tend to have a lot of tabs open at once, as it can help reduce memory usage by up to 95%.
When you find yourself with too many tabs open, click on the OneTab icon to convert all of your tabs into a list. Once your tabs are in the OneTab list, you can access them again by clicking on the icon and restoring them individually or all at once.
OneTab is designed to be simple and easy to use, so you can get back to what you were doing without hassle.
Clockify Productivity Tracker: Free with Upgrades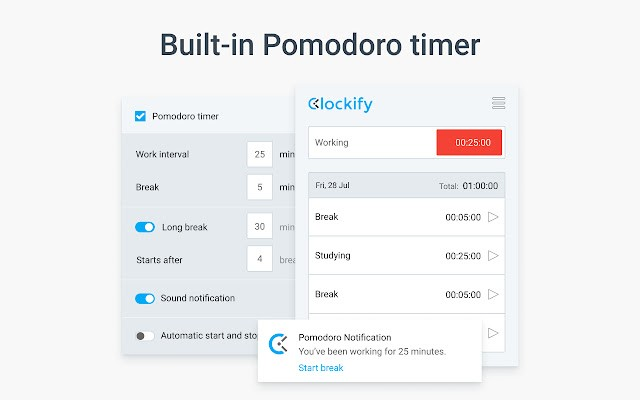 Time is a precious commodity. We all have the same 24 hours in a day, but some people seem to get more done than others. If you're looking for a way to increase your productivity and find out where you're wasting time, Clockify's productivity tracker can help.
Clockify is a software that tracks how you spend your time. It displays your activity in a simple graph to see where you spend the most time. It also shows you how long you've been on certain websites and can help determine if you're spending too much time on non-productive activities.
The tracker will show you a list of all the websites you've visited and how long you spent on each one. It will also show you which apps you use and how much time you spend on them. The tracker runs in real-time, so you can see exactly what you're doing with your time as you're doing it.
You can also use the productivity tracker to set goals and get alerts when you've reached them. For example, if you want to limit your Netflix time to 2 hours per day, you can set that as a goal in the app. The app will then send you an alert when you reach 2 hours of Netflix time for the day.
Strict Workflow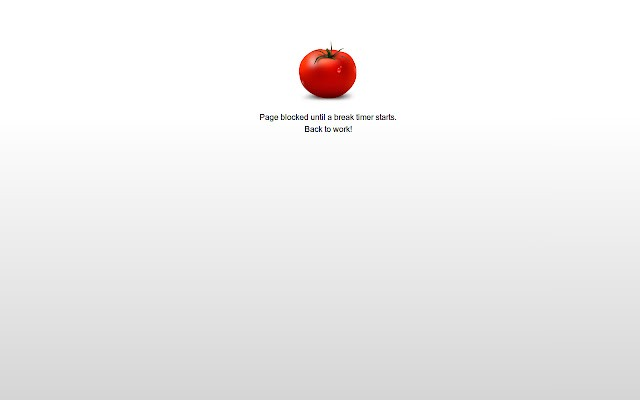 The Strict Workflow extension is designed to help you stay focused and productive while you work. It does this by blocking distracting websites and providing a timer to keep you on track. Here's how it works:
First, you'll install the extension onto your browser. Once installed, you'll need to configure it by adding the most distracting sites. Once you've done that, you're ready to start using Strict Workflow!
To begin, click the start button on the extension. This will start a 25-minute timer. For the next 25 minutes, all of the sites you've designated as distracting will be blocked. That means no checking Facebook, Twitter, or any other site that might derail your work.
After 25 minutes, the timer will end, and you'll have a 5-minute break. During this break, check any blocked sites if you need a break from work. After 5 minutes have passed, the timer will start again, and it will be time to get back to work!
The beauty of this system is that it's completely customizable. You can adjust the length of each work period and break period to better suit your needs. Additionally, if there are certain sites that you find more distracting than others, you can block them for longer periods of time or even permanently.
Zoom Scheduler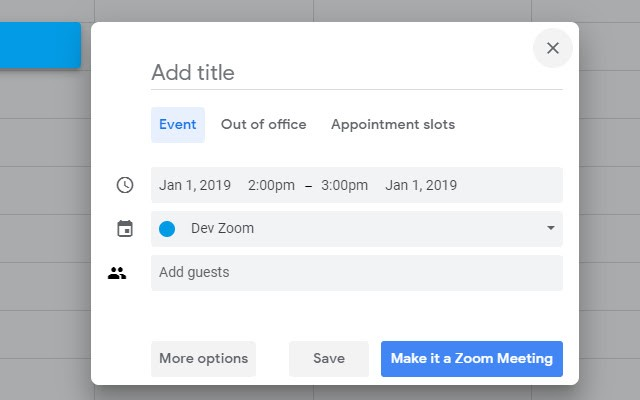 Imagine being able to schedule all your video meetings in one place! Now you can, with the Zoom Chrome extension. The extension allows you to start an instant meeting or schedule a future meeting directly from your Google Calendar. With the click of a button, the meeting URL and information are sent via a Calendar invitation, making it easy for participants to join with a single click.
Here are some things you can do with the Zoom Chrome Extension.
Starting an Instant Meeting
You can start a meeting instantly without leaving your Google Calendar. You can begin your video conference call with just one click without hassle. This is perfect for impromptu meetings or when you need to collaborate with team members on short notice.
Scheduling a Future Meeting
You can also schedule future meetings in advance to plan your week accordingly. Schedule weekly team check-ins or one-on-one coffee chats with ease. You must select a date and time that works for everyone's schedule and send out the invitations. The meeting URL and information will be automatically included in the invitation.
Scheduling Meetings for Others
If you're scheduling a meeting on behalf of someone else, no problem! The extension makes it easy to input the right email address, so the person gets notified about the upcoming meeting. They'll even be able to join the meeting with just one click.
Toby for Chrome (Free with Team Upgrades)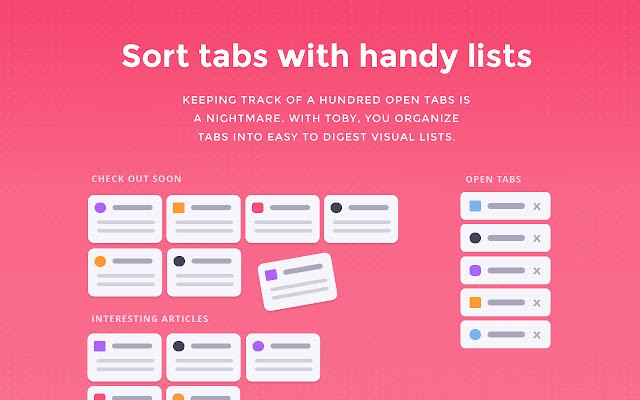 "Toby is better than bookmarks, it levels up your Chrome browser." If you're anything like me, that statement immediately caught your attention. I'm always looking for new ways to optimize my workflow and be more productive, so I was intrigued when I came across Toby.
Toby is an extension that helps you organize and quickly access your browser tabs. It's like a filing cabinet for all your open web pages: You can sort them into collections, making them easy to find when needed.
FAQ
How Can I Make Google More Productive?
The best way to make Google more productive is by utilizing Chrome extensions. Extensions such as Zoom Scheduler, Papier, StoryXpress, Win the Day, Switching, Todobook, and Right Inbox all have their own unique features that can help you stay organized and productive. Hundreds of other free extensions are available to help you customize your productivity workflow.
Can I Trust Chrome Extensions?
Yes, most Chrome extensions are trustworthy and secure. Be sure to do your research and read reviews before downloading any extensions. Additionally, all Chrome web store extensions must abide by the Google Developer Program Policies, ensuring that your data remains safe and secure.
Are Chrome Extensions Free?
Most Chrome extensions are free to install. However, some do require a subscription fee or other payment for use. Be sure to read the terms of service before installing any extensions.